Today, HJ is pleased to share with you

Sara Goodman Confino's

new release: 

She's Up to No Good

For two women generations apart, going home will change their lives in this funny, poignant, and life-affirming novel about family, secrets, and broken hearts by the author of For the Love of Friends.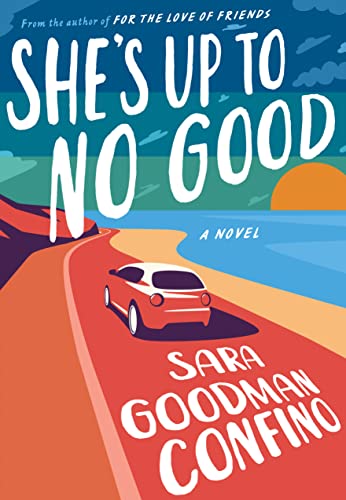 Four years into her marriage, Jenna is blindsided when her husband asks for a divorce. With time on her hands and her life in flux, she agrees to accompany her eccentric grandmother Evelyn on a road trip to the seaside Massachusetts town where much of their family history was shaped.
When they hit the road, Evelyn spins the tale of the star-crossed teenage romance that captured her heart more than seventy years ago and changed the course of her life. She insists the return to her hometown isn't about that at all—no matter how much she talks about Tony, her unforgettable and forbidden first love.
Upon arrival, Jenna meets Tony's attentive great-nephew Joe. The new friendship and fresh ocean air give her the confidence and distance she needs to begin putting the pain of a broken marriage behind her.
As the secrets and truths of Evelyn's past unfold, Jenna discovers a new side of her grandmother, and of herself, that she never knew existed—and learns that the possibilities for healing can come at the most unexpected times in a woman's life.
Enjoy an exclusive excerpt from She's Up to No Good 
July 1950
Hereford, Massachusetts
"What's going on in that head of yours?" Tony asked warily. She quickly wiped her face free of machinations. "I don't want to know, do I?"
Evelyn stuck out her tongue. "So serious. Does your family even know about me? Other than Lipe?"
"Yes," Tony said, opening the car door for Evelyn. She climbed inside, and he shut the door behind her. "That's where we're going tonight. My mother wants to meet you."
"Your mother?" He nodded, putting the car in drive. "You let me out of this car right now." She reached for the door handle.
He turned to look at her, amused. "Why, Evelyn Bergman. Are you afraid of my mãe?"
She squared her shoulders. "I'm not afraid of anything, but I'm also not walking into your"—she hesitated—"mãe's house empty handed." She butchered the pronunciation—it sounded like the month instead of the Portuguese word for mother—but he smiled at the attempt.
"No, that wouldn't do, would it?" He reached into the back seat and pulled out a bouquet of flowers. "You'll give her these. And if you really want to impress her, you'll say, 'Prazer em conhecê-lo.'"
"Won't 'nice to meet you' suffice?"
He chuckled. "That is 'nice to meet you.' Say it with me now. Prazer."
"Praz-eh."
"No Massachusetts accents now. You're going to have to say an 'r.'"
"Not like you talk any better!"
"I do in Portuguese. Come on. Prazer."
"Praz-ER," she said exaggeratedly, rolling her eyes.
"Good. Em conhecê-lo."
"Em cone-ye-se-lo."
"All together now. Prazer em conhecê-lo." She repeated it. "She'll love you."
"And if I accidentally say something that means 'I neck with your son in his car down by the jetty most nights'?"
"She probably won't love you as much, although she has her suspicions. You did leave a mark last week."
Evelyn grinned. "Might have gotten a little carried away. Someone always says we have to be good."
He looked over at her again. "Be good tonight, huh? I want my family to like you."
She leaned back against the car door and put her legs, bare in the summer heat, up on the dash near the steering wheel, her dress riding up to show sun-bronzed thighs. "They'll love me, darling."
"I hope so," he said, not daring to look at her. "Because I do."
"Pull over." She sat up suddenly, removing her legs from the dash.
"What?"
"Pull over right now!"
He pulled the car to the side of the road, still two miles from town, glancing at her nervously. But as the car rolled to a stop, she climbed on top of him, straddling his lap, the steering wheel digging into her back.
"Say that again."
"What?"
"What you just said. Say it properly."
He looked into her eyes, lost forever and never wanting to be found. "I love you."
Her lips spread into a slow, sultry grin, and she wrapped her arms around his neck, leaning in to kiss him deeply. His hands came up around her waist as he forgot that he and Evelyn had plans.
But Evelyn pulled away, kissed him once more lightly on the lips, then climbed back into the passenger seat, where she pulled a compact out of her bag to check her reflection. "I'd really better be on my good behavior now."
He swallowed. She hadn't said it back. "Why's that?"
She looked at him, then reached over and wiped at the lipstick on his mouth. "Isn't it obvious? I love you too." She handed him a handkerchief. "Wipe that off well. You just raised the stakes. Let's go. I don't want to be late."
Excerpt. ©Sara Goodman Confino. Posted by arrangement with the publisher. All rights reserved.


Giveaway:

US Giveaway She's Up to No Good  Influencer box with book

Check out what's in the Influencer Box here – https://www.instagram.com/reel/CfSlg5MFqHZ/

To enter Giveaway: Please complete the Rafflecopter form and post a comment to this Q:

What did you think of the excerpt spotlighted here? Leave a comment with your thoughts on the book…
Meet the Author:
Sara Goodman Confino is the author of She's Up to No Good and For the Love of Friends. She teaches high school English and journalism in Montgomery County, Maryland, where she lives with her husband, two sons, and miniature schnauzer, Sandy. When she's not writing or working out, she can be found on the beach or at a Bruce Springsteen show, sometimes even dancing onstage. Her For more information visit www.saraconfino.com