In Shielding Her Son by K.D. Richards, Erika Powell has spent years hiding her son from his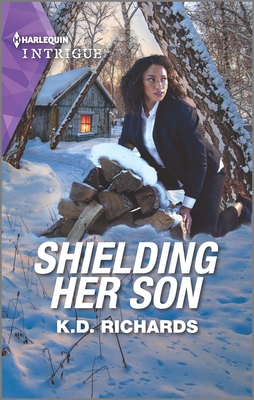 grandfather, knowing that the wealthy man would try to take him away from her. West Investigations has been hired by the grandfather's estate to track her down and confirm her identity. James West rents the cabin next to hers to get to the bottom of it. It doesn't take long for Erika and her young son, Marcus, to worm their way into his heart. As soon as he realizes the truth of why Erika was hiding Marcus, he regrets taking on the job for the Overholt estate.
Suspicious things start happening, and it soon becomes clear that someone is targeting Erika. She believes someone from the Overholt family has finally found her and trying to kill her to get her son. James isn't so sure about that, but one thing is clear—someone wants Erika gone, and James is determined not to let that happen.
This is the fourth book in the West Investigations series, but it can be read as a standalone. While there are some mentions of the other West siblings, especially Ryan, who runs the business, there's nothing that will leave feeling like you're missing something if you haven't read the previous stories.
The romance is a bit of a slow burn, but it was worth the wait. The suspense is well-written and will keep readers guessing as to who exactly is behind what's going on.
The one thing that did bother me was that at the beginning of the book, the author calls Erika's ex-sister-in-law the name of another character, and then later calls her something else. Normally I can overlook that, but it does play a role later on in the book. I read an advanced copy of the book, so I'm hoping that it may be something that will be corrected before it's published.
Shielding Her Son is action packed with twist and turns that will keep readers engaged from beginning to end. If you enjoy romantic suspense, this would be a book for you.
Book Info:

Publication: July 26, 2022 | Harlequin Intrigue | West Investigations #4
Erika Powell has lived in hiding for years to protect her son from his wealthy, tyrannical grandfather. Wary of strangers, she's suspicious of James West, who's renting a neighboring cabin, despite their sizzling chemistry. But when attempts are made on Erika's life, James fears he may have endangered her—because the undercover PI's investigation of Erika may have led someone dangerous right to her.