Today it is my pleasure to Welcome author
Sarah Smith
to HJ!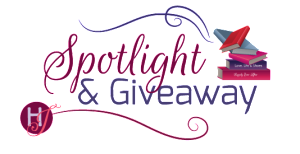 Hi Sarah and welcome to HJ! We're so excited to chat with you about your new release, Simmer Down!

Hello! Thank you so much for having me!

Please summarize the book for the readers here: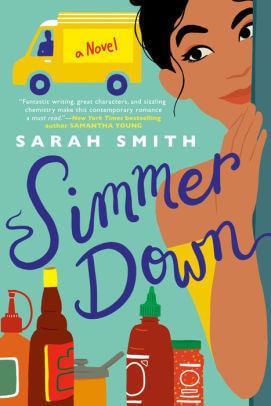 Simmer Down is a multi-cultural rivals-to-lovers romcom about two competing food truck owners vying for the same coveted parking spot in Maui. The main character is Nikki, who runs a Filipino food truck with her mom. Her rival (and eventual love interest!) is Callum, a sexy Englishman who runs a pub food truck with his brother. It's got tons of steam, banter, and yummy food descriptions.

Please share your favorite line(s) or quote from this book:
Oh I have so many! Here are a couple:
When his voice is this low, this gentle, it makes my eyes roll to the back of my head. The hottest sound in the world is Callum's English accent rolling off his tongue in a soft, guttural tone.

I can't talk, I can't breathe, I can't see straight. Not when his mouth is this good.
Please share a few Fun facts about this book…
The coveted parking spot that Nikki and Callum are vying for is an actual spot near Makena in Maui that I visited years ago. I was on a trip with my mom and sister, and we were walking around the area by Big Beach. I noticed there was a food truck parked nearby. I didn't think much of it at the time, but when I was brainstorming ideas for the book, that memory hit me randomly and I thought it would make an adorable idea for a romcom.
There's also a very cute feline side character that I promise will steal your heart. I'm a certified crazy cat lady and writing a cute caat into the story was my way of shouting out to all the cat lovers who happen to read this book.
What first attracts your Hero to the Heroine and vice versa?
Well, Callum is attracted to Nikki right away. Their meet-cute turns into a meet-hate pretty quickly…and that's actually a big turn-on for Callum. He has a weakness for sexy women who give him a hard time or argue with him.
And Nikki is definitely attracted to Callum from the moment she sees him (he's tall, leanly muscled, with a great tan and thick blonde hair…and a super hot accent). Her physical attraction to him is at first an annoyance to her because she doesn't like him at all–he's trying to steal her food truck parking spot after all. But after spending so much time working next to one another, Nikki starts to see what a kind-hearted, generous, and selfless person Callum is. And that is what Nikki ultimately finds the most attractive about him.
Did any scene have you blushing, crying or laughing while writing it? And Why?
Yes! There's a self-pleasure scene that happens fairly early on in the book. Don't get me wrong, it's super hot and I had the best time writing it. I'm not embarrassed by it at all–quite the opposite. I'm proud to have written such a steamy scene that prioritizes self-pleasure. But at the same time it was still a pretty intimate thing to write about in such detail…I definitely blushed a few times while writing it. Here's a preview:
I switch it to the highest setting. This will be quick and dirty. Nothing lingering or sweet about it. The vibrations hit, and immediately my toes curl, my jaw drops, and I'm moaning up a storm…Pressure builds from within my core, and I gasp. Holy shit, I'm nearly there. And it's barely been a minute.
There's also a couple of scenes between Nikki and her mom that were really emotionally difficult for me to write. A good chunk of their relationship mirrored my relationship with my mom at the time. Sometimes when I read them back I get a bit teary eyed.
Readers should read this book….
…if they want to smile, laugh, fan themselves, tear up, and cheer. The world is so chaotic right now, and losing yourself in a romance set in a beautiful place like Maui is a fun way to pass the time.
It also has a lot of heart. There are some complicated family dynamics that are explored in Simmer Down that I think give it a sort of depth you don't always see in a romance or romcom.
What are you currently working on? What other releases do you have in the works?
Right now I'm writing my third romance book titled On Location, due out next year! It's a romcom about a woman of Filipino descent who clashes with a crew member on the set of the outdoor adventure show she's producing. Eventually the heat between them turns very, very sexy.

Thanks for blogging at HJ!
Giveaway:

e-copy of Simmer Down by Sarah Smith
To enter Giveaway: Please complete the Rafflecopter form and Post a comment to this Q:

You have a hot date coming up. They're cooking for you. What should be on the menu to ensure you fall for them?
Book Info:
In this finger-licking good rom-com, two is the perfect number of cooks in the kitchen.
Nikki DiMarco knew life wouldn't be all sunshine and coconuts when she quit her dream job to help her mom serve up mouthwatering Filipino dishes to hungry beach goers, but she didn't expect the Maui food truck scene to be so eat-or-be-eaten—or the competition to be so smoking hot.
But Tiva's Filipina Kusina has faced bigger road bumps than the arrival of Callum James. Nikki doesn't care how delectable the British food truck owner is—he rudely set up shop next to her coveted beach parking spot. He's stealing her customers and fanning the flames of a public feud that makes her see sparks.
The solution? Let the upcoming Maui Food Festival decide their fate. Winner keeps the spot. Loser pounds sand. But the longer their rivalry simmers, the more Nikki starts to see a different side of Callum…a sweet, protective side. Is she brave enough to call a truce? Or will trusting Callum with her heart mean jumping from the frying pan into the fire?


Meet the Author:
Sarah Smith is a copywriter turned author who wants to make the world a lovelier place, one kissing story at a time. Her love of romance began when she was eight and she discovered her auntie's stash of romance novels. She's been hooked ever since. When she's not writing, you can find her hiking, eating chocolate, and perfecting her lumpia recipe. She lives in Bend, Oregon, with her husband and her adorable cat, Salem.
Website | Facebook | Twitter | Instagram | GoodReads |