Today it is my pleasure to Welcome author
Cassandra Rose Clarke
to HJ!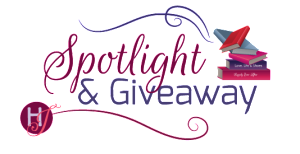 Hi Cassandra and welcome to HJ! We're so excited to chat with you about your new release, Singing with the Devil!

I'm glad to be here!

To start off, can you please tell us a little bit about this book?: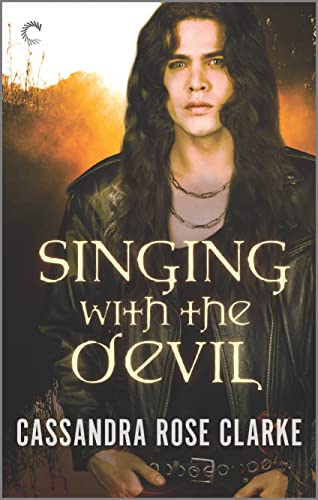 Singing with the Devil is a dark paranormal romance about Helena, a former demon hunter who gets called back on one last case by her sister. They need to investigate Aleksi, the lead singer of a metal band who just might just be a demon in disguise. Things go sideways, and Helena finds herself on the road with Aleksi—who, it turns out, really is a demon, although he's much more appealing than she would have expected.

Please share your favorite lines or quote(s) from this book:
"I keep telling you." Helena's voice came out raspy as she tried to hide her breathlessness. She didn't know why she wasn't horrified; why, in fact, she was really just stunned: a demon, a king of Hell, had felt a connection with her, a woman so utterly normal.

Aleksi smiled, ducked his head. "Yes, that was a relief, I have to admit. But I still—" He stopped, looked away.

Helena's heart thudded.

"I didn't want you to go," he said. "Having you beside me—I just feel—" He hesitated. Helena stared at his profile, resisted all those urges, every single one, she'd ever had to touch him. "I feel almost like I'm home."
What inspired this book?
Probably the biggest inspiration came from my love of metal music, which forms the backdrop for the whole book, from Aleksi's band and performances to the book's general aesthetic. The show Helena attends in the early chapters was definitely inspired by the many shows I've been to in my life! Finally, the book's rural Louisiana setting was inspired by my desire to write a southern gothic sort of story, as well as my own experience living in east Texas, which has a similar climate—very hot, humid, and lush.
How did you 'get to know' your main characters? Did they ever surprise you?
I'm very much a discovery writer, so I sat down to write the book with a vague idea of who Helena and Aleksi were and let them develop from there. Helena probably changed the most over the course of drafting the story; originally, she was a lot more reserved and shy, but the more I worked on the story, the more I realized she just thinks she is, and there's a secret rock star waiting to be let out. That was how I developed the secret music project she's working on throughout the story.
What was your favorite scene to write?
I love writing dramatic magical sequences, and there are a couple in the book that were a ton of fun to write. Probably my favorite was one that comes relatively early on in the book. A friend of Aleksi's is trying to get Helena home after he accidentally kidnapped her (thinking she was someone much more dangerous), but they're attacked by the true villain of the book, a cult leader named Gavin Vargo. It's in this scene that Helena first glimpses the full breadth of Aleksi's power. Here's a little sneak peek:
Gavin fell silent. Then he leaned forward, pressing his face up to Helena's hair, and took in a deep breath through his nose.

"You're tainted with Lineage magic," he said. "It makes the blood reek, did you know that?"

Helena glanced back at Corina, still lying unmoving on the ground. The Inner Liminal. Helena had never heard of such a thing. Whatever it was, it didn't look good.

Gavin was right—Corina wasn't going to be able to save her.

"Which family do you belong to?" Gavin said, breathing in the other side of her hair. "I can't quite pick up on it."

"I don't—I don't know what you're talking about."

Gavin lunged forward in a streak of white light. Helena was lifted off the ground. For a moment she was weightless.

Then she slammed up against the trunk of a tupelo tree. Pain radiated down her spine. Her feet dangled free. The tree's bark scraped at the bare skin of her arms.

She was pinned like a butterfly.
What was the most difficult scene to write?
Hmm, I wouldn't say any of the scenes were particularly difficult to write, actually! This book came fairly easily.
Would you say this book showcases your writing style or is it a departure for you?
It's a bit of a departure for me. Most of my previous books are speculative fiction, some of which have a romantic storyline and some of which don't. But Singing with the Devil is my first book where the romance came first, and the speculative elements were there to drive the love story. That said, I do think you can see a lot of my favorite romance tropes in some of my earlier books, especially The Mad Scientist's Daughter and Magic of Wind and Sea.
What do you want people to take away from reading this book?
That sometimes, the real monsters aren't who we think they are—and that you shouldn't let your own prejudices get in the way of finding love.
What are you currently working on? What other releases do you have planned?
I just finished polishing up the sequel to Singing with the Devil, which is called Demon Song and continues Helena and Aleksi's story. I also have a couple of other projects in the works, although I can't talk about them yet!
Thanks for blogging at HJ!
Giveaway:

One (1) ebook copy of SINGING WITH THE DEVIL. (Open to US and Canada only).
To enter Giveaway: Please complete the Rafflecopter form and Post a comment to this Q:

What was the best concert you ever attended?
Excerpt from Singing with the Devil:
A trail of laughter lifted up from the girls at the picnic table, and for a moment Helena's anxiety about the job drifted away, and she thought about The Project. Coming to shows always did that to her. Made her want to leave early and go back to her apartment and sit down with her keyboard and her guitar and the drum machine and pull out chords and beat patterns like loose threads until she formed something as dark and chaotic and beautiful as the music she reviewed for her channel.

When was the last time she had worked on The Project? A few months ago, after scribbling some lyrics down in her notepad during a particularly dull meeting at work. The melody she'd written for those lyrics wove through her thoughts, and she hummed it softly in the back of her throat, her head dropped back against the fence, her gaze fixed on the sky, its loose scatter of stars.

And then the fence collapsed under Helena's back.

She screeched and stumbled backward, slamming into a body that was firm and warm and whose owner gave a shout of angry surprise. The back of Helena's throat itched; she suppressed a sneeze.

"What the hell were you doing?" said a voice like crushed starlight.

Helena whirled around, panic rising high in her scratchy throat. Aleksi Haakanen stood in front of her, black hair gleaming, dark makeup smudged around his eyes, leather jacket pulled on over his bare chest. The tattoos creeping down his skin.

"I—I'm sorry," Helena stammered, and then she realized that the fence hadn't collapsed: she'd just been leaning up against the gate. "I didn't realize it w-was a door."

Haakanen stared at her, the makeup turning his eyes into sockets. Infernal magic rose off him, prickling over her skin. Fear coiled tight inside her stomach, and the scar around her heart itched. No blood mage could exude Infernal magic from his person like that.

How the hell could a demon be working on its own?

Haakanen tilted his head, his hair pooling around his shoulder. Helena knew she was staring, but she couldn't tear her eyes away from the sharp angles of his face. "They should put up a fucking sign." He quirked his mouth in something like a smile. "If you'll excuse me."

Helena stepped to the side, her whole body shaking. Haakanen loped past her, his strides long and powerful. But he only walked a few steps before turning back around, his eyes latching onto hers. Helena was vaguely aware of the smoking girls off to the side, all of them chattering fervently to each other. But in the space of Aleksi's gaze they felt a million miles away.

"I'll see you inside, I hope." This time, he smiled fully, showing his gleaming teeth. "For the show."
Excerpt. © Reprinted by permission. All rights reserved.


Book Info:
She'd risked her heart once hunting demons. Now she'll risk it again trying to save one.
When a demon tries to literally rip out your heart, it changes you. At least, it did for Helena Muir. Now estranged from her demon-hunting family, Helena spends her days working as a quiet accountant and her nights reveling in a secret love of hard-core metal music, her hunting days behind her. Or so she thought—until a surprise visit from her sister sucks her right back in.
With Helena's affinity for music and magic, she is perfectly suited to track their newest target: Aleksi Haakanen, tattooed demon and lead singer for Black Moon, known for infusing his dark music with even darker magic. But when the night goes horribly wrong, Helena finds herself the unwitting "guest" of Aleksi—and unaccountably drawn to the powerful and charismatic demon.
The deeper she falls into Aleski's world, the more she questions her mission. And whether proving herself to her family is worth bringing down the one man who can truly see into her heart.
Book Links: Amazon | B&N | iTunes | Kobo | Google |


Meet the Author:
Cassandra Rose Clarke's work has placed in the Rhysling Awards and been nominated for the Philip K. Dick Award, the Romantic Times Reviewer's Choice Award, the Pushcart Prize, and YALSA's Best Fiction for Young Adults. She grew up in south Texas and currently lives in Virginia, where she writes and tends to multiple cats. She holds an M.A. in creative writing from The University of Texas at Austin, and in 2010 she attended the Clarion West Writer's Workshop in Seattle.
Website | Facebook | Twitter | Instagram | GoodReads |