Today it is my pleasure to Welcome author
Meg Benjamin
to HJ!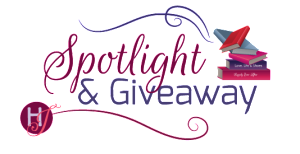 Hi Meg and welcome to HJ! We're so excited to chat with you about your new release, So Happy Together!

Hi Everybody. Thanks for inviting me.

Please summarize the book for the readers here: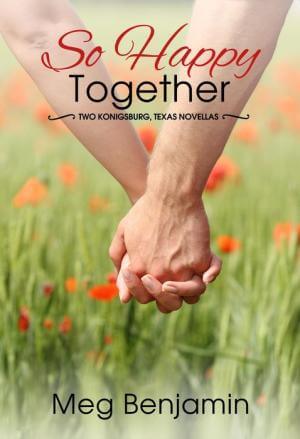 So Happy Together is two novellas: Shelter From the Storm and Going Up In Flames, both of them with characters from my Konigsburg novels. In Shelter From the Storm two of my favorite characters—Chico Burnside and Andy Wells—struggle to escape from the elaborate wedding Chico's mom has planned for them. Andy decides they don't need to be married at all. Chico disagrees, but before they can argue it out, Andy is stranded in the back country by a flash flood. Chico finds her and they have to hike to safety. But safety turns out to be a lot more than that! In Going Up In Flames, Jorge Delgado takes the Barbeque King food truck to Sapphire Falls, Nebraska, for the town carnival. An internationally experienced chef, he's not expecting much, but his local assistant, Kirsten Engstrom, turns out to be both a great cook and a knockout. Jorge would be happy devoting all his spare time to wooing his assistant except someone's trying to sabotage his barbeque, something no Texan in good standing can put up with.

Please share your favorite line(s) or quote from this book:
From Shelter From the Storm:
He was thinking about what Andy had said. Just because I don't want to be married, that doesn't mean I don't want you. I want us. He was glad to hear her say she wanted the two of them to be together. But something about it rankled. Somewhere at the back of his mind, it didn't feel right.
Because he wanted them to be together, too. But he wanted them to be together for as long as he lived. He wanted her to be his wife.
From Going Up In Flames:
Several things occurred to Jorge more or less simultaneously. First, his "assistant" had actually done what he'd needed her to do, although she'd been annoying as hell. Second, he now potentially had an assistant—a real one—to help him sell plates this evening, assuming he could convince her not to quit. Third, Kirsten Engstrom was one hot female. Her blue eyes still flashed fire, but beneath that apron there was clearly a lot of woman.
If he wanted her to stick around, and he obviously did, desperate measures were called for.
"I'm sorry," he said, although it almost killed him.
Please share a few Fun facts about this book…
This is my first new Konigsburg book since Hungry Heart in 2014, but I enjoyed going back to Konigsburg so much I've worked out two more full-length novels since.
A version of Going Up In Flames first appeared in Erin Nicholas's Sapphire Falls Kindle World.
Two of my writer friends were a big help on So Happy Together. PG Forte did the cover, and Delilah Devlin edited Shelter From the Storm.
All my Konigsburg books have titles that are song titles (e.g., Venus In Blue Jeans, Wedding Bell Blues, Be My Baby, etc.). But Going Up In Flames was chosen to go along with the format for Erin's Kindle World. Fortunately for me, after the Kindle World closed down I found out there actually is a great song by Leigh Mulls titled Going Up In Flames.
What first attracts your Hero to the Heroine and vice versa?
For Jorge in Going Up In Flames, it's a mixture of hotness and competence. While he'd probably be drawn to Kirsten regardless, the fact that she's a great cook makes her even more attractive. Kirsten feels sort of the same about him: he's smokin' hot and a great chef. They make beautiful barbeque together.
Chico and Andy actually met first in Hungry Heart, and it was the attraction of opposites. Andy was charmed by the fact that Chico was a gentle giant, a very intimidating man who was really a sweetheart. Chico loved that Andy was out of his ordinary line of women: a quiet, retiring scientist who nevertheless stood up for herself and those she loved. Nobody could have predicted they'd end up together, but they weren't listening to anybody else.
Did any scene have you blushing, crying or laughing while writing it? And Why?
I'm a crier, so I usually end up in tears at some point when I'm writing. I cried at the wedding scene in Shelter From the Storm and again when Chico and Andy got back home and had to explain to his mother why they'd gotten married without her and the rest of the family. Andy's speech did it for me. Here's a bit of that:
His mother still wasn't smiling, not that he expected her to. The real question was how long it would take her to forgive them.
Andy took a deep breath. "I'm sorry, Blanca."
His mother raised an eyebrow. "Oh?"
Andy nodded. "I know you worked so hard on this wedding, and I know our getting married on our own was rude. I'm sorry about that. But the thing is…"
She took another breath, and Chico tried not to show how apprehensive he felt. If she said anything about the two of them not wanting his mother's wedding plans, if she even implied it, though it was absolutely true, his mother was likely to walk out. And it would take the devil's own time to make her feel better.
"The thing is…?" His mother stood ramrod straight, with her arms folded.

Andy manages to say the right thing, but I worked really hard on her speech, believe me.
Readers should read this book….
If you like light-hearted contemporary romance (that nevertheless has some definite heat), you'll get a kick out of So Happy Together. If you haven't read any of my other Konigsburg books, that's okay. These two novellas stand alone, and you don't have to have any prior knowledge to understand the characters. If you're already a Konigsburg fan, I hope you'll enjoy reacquainting yourself with some familiar people and places. Either way, here's hoping you'll like reading these novellas as much as I liked writing them.
What are you currently working on? What other releases do you have in the works?
I have two more Konigsburg books in the works, with the first, Late Bloomer, scheduled for late 2021 or early 2022.

Thanks for blogging at HJ!
Giveaway:

I'm giving away a $10 Amazon gift card chosen from the commenters.
To enter Giveaway: Please complete the Rafflecopter form and Post a comment to this Q:

Do you like small town romance? Why (or why not)?
Excerpt from So Happy Together:
Here's a bit from Shelter From the Storm. Andy's car has become stuck in a low water crossing and she's trying to walk to safety wait out the rain under a live oak tree. But it doesn't seem to be stopping and she'd running out of options.
After a half hour of getting wetter under the branches of the live oak, Andy decided the rain wouldn't slack off. She might just as well accept she was going to get wet. Correction, she was going to get even wetter. Her fingers already felt uncomfortably cold. She had to flex them now and then to keep them from getting stiff. There were Neoprene gloves in her sampling kit, but her sampling kit was still in the back seat of her car.
Woulda, coulda, shoulda, Andy. Right. She hadn't considered what she'd need for an extended hike.
She took a deep breath and pushed herself out from under the tree. Immediately the deluge picked up. Even with her rain poncho, she was going to get soaked soon. But at least she was moving. That should create some small measure of warmth even as she got wetter.
She put her purse over one shoulder, her tote over the other. Fortunately, they were both covered by her poncho, although she wasn't sure how much protection it afforded.
The road ahead of her was awash, water streaming down the sides toward the low water crossing. She trudged up the incline, keeping her focus resolutely ahead. Maybe there was a house at the top of the hill. Or a gas station. Or a bait shop. At this point she'd take anything, anything to keep her from being out here by herself in the gathering darkness.
Almost unwillingly, she remembered another time she'd been by herself in the darkness with a non-functioning car. She'd had a breakdown in the back country and had been considering a long walk back to civilization when an SUV had driven by her disabled car and stopped a little way ahead. The driver who'd gotten out of the SUV was one of the biggest men she'd ever seen, and she'd appreciated the fact he'd walked up slowly to give her a chance to understand he wasn't a threat. When Chico hadn't been able to fix her car, he'd given her a ride back to Konigsburg, and she'd found herself thinking about him after he'd dropped her off at her house.
He wasn't her type at all, or what she'd thought of as her type at the time. But there had been something about him that had made her heart race. There was still something about him that made her heart race, and now she knew he was definitely her type. She'd just never realized what her type was before.
Thinking about Chico made her eyes sting. She'd dropped a bombshell on him last night and then had left the house in a huff this morning. She hadn't even sent him a text when she'd headed off to do her sampling. Now, she really wished she had. Particularly if she ended up lost out here.
Stop it. You're not lost. You're just wet. She was far too practical to think this way. She'd find someone to help her out, even if it meant walking most of the night. Even wet and cold, she'd be all right. She knew she would. She had to be.
She had to tell him she was sorry for being mean. He'd just been trying to help, and she loved him so much…
She just didn't want to marry him.
Andy grimaced. Crying while walking in the rain was a cliché, besides it was making her even more wet. She needed to get out of here.
"Andy!"
She paused, pulling her purse tighter against her body. Probably just some trick of the wind. Nobody was out here calling her name. Nobody was out here period, except for her. She started trudging again, climbing toward the top of this incredibly wet hill.
"Andy! Dammit, wait up."
Her breath caught. Then she whirled around, almost losing her footing. In the watery twilight, she could see a man trotting up the hill after her. A very large man, who was also very familiar. And very, very dear.
She ran back down the hill, heedless of the water splashing beneath and into her hiking boots.
Excerpt. © Reprinted by permission. All rights reserved.


Book Info:
So Happy Together: Two new novellas from Meg Benjamin's beloved Konigsburg, Texas, series.
In Shelter From the Storm, Chico Burnside and his beloved Andy Wells are being driven slowly crazy by Chico's wedding-mad mom. Andy's ready to call off the marriage, but then she's trapped in a low-water crossing during a flash flood, and it's up to Chico to rescue her. Can the two of them find a way back to Konigsburg and a way out of the Wedding From Hell? Maybe— with the help of some backcountry neighbors.
In Going Up In Flames, Jorge Delgado can cook anything, and now he's running the Barbecue King's food truck for the Sapphire Falls Town Festival. But his new assistant has him feeling some heat that doesn't come from the firebox. And as if that weren't enough, someone's trying to sabotage his smoker and keep the people of Sapphire Falls from discovering the delights of Texas barbecue. Can a couple of cooks beat the odds and stir up something sweet together? We'll see. For now, they've got a vandal to catch—and barbecue to cook.
Book Links: Amazon | B&N | iTunes | kobo | Google |


Meet the Author:
Meg Benjamin is an award-winning author of romance. Meg's Konigsburg series is set in the Texas Hill Country and her Salt Box and Brewing Love trilogies are set in the Colorado Rockies (all are available from Entangled Publishing). Along with contemporary romance, Meg is also the author of the paranormal Ramos Family trilogy from Berkley InterMix and the Folk trilogy from Soul Mate. Meg's books have won numerous awards, including an EPIC Award, a Romantic Times Reviewers' Choice Award, the Holt Medallion from Virginia Romance Writers, the Beanpot Award from the New England Romance Writers, and the Award of Excellence from Colorado Romance Writers.
Website | Facebook | Twitter | Instagram | GoodReads |