Today, HJ is pleased to share with you

Jessica Peterson's

new release: 

Southern Seducer

We are so excited to share this excerpt from Jessica Peterson's Southern Seducer!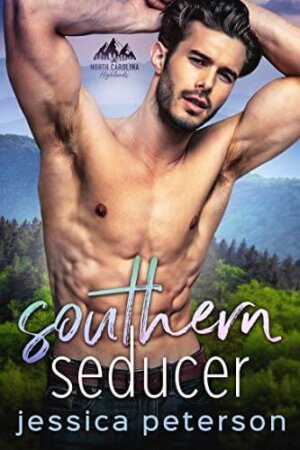 I've done a lot of stupid stuff in my life. But sleeping with my best friend tops the list.
Annabel and I have been close since college. When I left school to play pro football, she was there. While I collected Super Bowl rings and cars worth more than the house I grew up in—she was there.
I always assumed we'd end up together. Everyone did.
But by the time I retired from football, Bel was married. I thought I'd missed my shot at love.
So I buried myself in my new job as CEO of Blue Mountain Farm, a five-star resort my family and I built in the Great Smoky Mountains of North Carolina. It seems like a good place to be alone with the secret I have to keep from her.
Now Bel is a divorced single mom, struggling to raise her daughter on her own—and it's my turn to be there for her.
So I invite her and the baby up to the resort for some much needed R&R.
Then, in a moment of bonfire-and-bourbon induced weakness, I kiss her.
And the fallout could ruin everything.
SOUTHERN SEDUCER is a full length, standalone novel. It is the first book in the all new North Carolina Highland series.
Enjoy an exclusive excerpt from Southern Seducer 
Annabel

I glance down at Beau's thigh. It's twice the size of mine, a ridge of solid muscle.
The image pops into my head: Beau between my legs, his naked thighs working as he thrusts into me. Hard and ardent.
And then, in my head, he kisses me, tongue matching the roll of his hips.
My eyes slide to his lips. I bet he's a good kisser.
Slowwwww down.
But the fantasy won't quit. He's kissing my neck now, guiding my knee to my chest to deepen the angle. Then he kneels, pulling out of me, and circles the head of his cock—non-existent piercing is there, interestingly—around my clit. I feel it all.
It's shocking in the most pleasant way possible. I feel like myself again. Young. Free. At home in my skin.
I already want more of it.
"You okay?"
I blink. Beau is looking at me funny.
"What?"
"You just moaned." Oh, Christ. "Your boobs hurtin' or something?"
"Stop the cart."
"You're really not okay? I can—"
"Please, just—stop the cart, Beau."
He hits the brake, and I leap out onto the grass. I run my hands down my own thighs, squeezing them together in an effort to relieve the throb between my legs.
"Bel—"
"I think I'll just walk home." I don't trust myself to stay.
"Like hell you will. It's pitch black out there."
"I'll be fine," I say, and start walking. There's a fancy dock house just ahead on my left. "I just need to, um, clear my head. Fresh air and…stuff."
"Jesus fuckin' Christ," I hear him mutter behind me. "Bel, stop."
He grabs my arm, the feel of his fingers lighting me up, and I stop, spinning around to look at him.
His eyes are on my face, and he's furrowing his brow. That barely restrained hunger is back, and it's turning me inside out. It's filling me with joy and hope and desire so sharp it hurts.
I'm hit by the sudden urge to cry.
"Did I miss somethin'?" I notice his accent has thickened. "I thought we had fun tonight."
"Tonight was great."
"Then what's wrong?"
I look at him, begging with my eyes for him to understand. To let me be, to give me time so I don't ruin the good thing we have going.
My heart is pounding. I look away toward the lake and run my tongue along the inside of my top lip as I search for the right words.
When I look back, Beau's eyes are on my mouth. A muscle in his jaw jumps, and any doubt he's not feeling this too goes up in smoke.
The pull his body has on mine becomes acute. I'm dying.
I'm going to die if I don't touch him.
Excerpt. ©Jessica Peterson. Posted by arrangement with the publisher. All rights reserved.


Giveaway:

1 Signed Paperback copy of Southern Seducer by Jessica Peterson
To enter Giveaway: Please complete the Rafflecopter form and post a comment to this Q:

What did you think of the excerpt spotlighted here? Leave a comment with your thoughts on the book…
Meet the Author:
Jessica Peterson writes smart, sexy romance set in her favorite cities around the world.
She grew up on a steady diet of Mr. Darcy, Jamie Frasier, and Edward Cullen, and it wasn't long before she started creating irresistible heroes of her own. She loves strong coffee, stronger heroines, and heroes with hot accents.
She lives in Charlotte, North Carolina, with her husband Ben, her daughter Gracie, and her smelly Goldendoodle Martha Bean.
Amazon US: https://amzn.to/2XK4RKf
Amazon Worldwide: mybook.to/SouthernSeducer