Marriage by Arrangement by Sophia Singh Sasson is the first sexy romance in her Nights at the Mahal series, a fake engagement story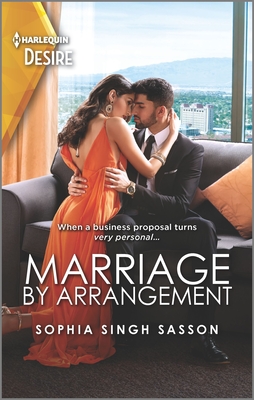 that leads to a real HEA.
Architect Rani Gupta is excited to work on the designs for billionaire hotelier Arjun Singh's new Vegas resort. Her designs for the firm she works with are the ones that Arjun likes the best when they meet with him and she gets put in charge of the project because of his influence. Sparks fly between them on a private level too, leading to a sexy affair. But family and cultural obligations complicate their relationship, especially because Arjun's parents expect him to marry someone that they have already chosen for him. Will Arjun decisions lead to heartbreak or a happy ending?
Marriage by Arrangement is an apt title for this story as it describes the situation Arjun is in and the cultural expectations of many Indian families for arranged marriages. Arjun and his fiancee-to-be haven't officially announced their engagement and keep finding ways to put it off as neither of them is keen on the marriage but know their parents have high expectations for them. And as head of his siblings Arjun feels responsible for the rest of his family and upholding their honor. It's under these realities that he meets and falls for Rani. He doesn't tell Rani at the beginning about his expected engagement and their own fake engagement doesn't come into play until later in the story – when he visits Rani's family and tells them they are getting married, whereupon they have to deal with the complications that ensue.
Rani had a previous marriage that ended in divorce and has vowed never to marry into another traditional Indian family after a poor relationship with her in-laws and the devastation of her estrangement from her own parents who disavow her after her divorce. Fortunately she still has siblings she is close to but her parents only unbend upon her 'engagement' to Arjun. But she has real concerns about Arjun's parents and what they will expect of her if they go through with the marriage, especially because she has no desire to live in India again, her home and career being in Las Vegas. There are lots of compromises that have to be made on both sides to get their happy ending.
I enjoyed the descriptions of Rani's career, the architectural and interior design talents she has and how she is able to turn her understanding of Arjun's background into a hotel that he can be proud of and feel at home in. They share some passionate love scenes but also emotional conversations as Rani exerts her independence and Arjun has to figure out whether defying his parents will be worth the risk.
I would have liked to see Rani gain more of her feelings of self worth on her own and not just as a result of Arjun's feelings for her. She constantly thinks that he's gorgeous and she's not worthy of being with him and doesn't really get over those feelings of inadequacy.
The traditional food and clothing add an authentic feel to the story and the conflicted emotions of a Desi-American woman will be familiar to women from many cultures where elders have a lot of sway. It's a pleasure to read a romance from a non-Western/American viewpoint and I'm looking forward to some of Arjun and Rani's siblings getting stories of their own.
Book Info:

Publication: Aug 01, 2020 | Harlequin Desire | Nights at the Mahal #1
When a business proposal turns
very personal…
Rule #1: Don't fall for the client.
Because he'll rock your world…
Architect Rani Gupta will never let a man compromise her career or freedom again. Which is a problem now that her newest client is irresistible hotelier Arjun Singh—aka the sexiest bachelor in India. A little fling with this gorgeous man would be scandal enough. But a fake engagement might just be more trouble than they bargained for—especially if Arjun has a prior arrangement!