Today it is my pleasure to Welcome author
Robin Lovett
to HJ!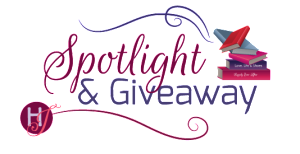 Hi Robin and welcome to HJ! We're so excited to chat with you about your new release, Stolen Desire!

Thanks for having me here to talk sex planet romance today!

Please summarize the book for the readers here: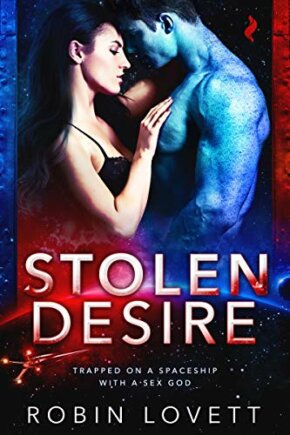 The heroine, Jenie crash lands on this alien planet where the air is an aphrodisiac. It's a do-it-or-die world where the aliens are polyamorous and there's a Sex God who has a thing for Jenie. Except she isn't fully human herself. She has a fated mate bond and bonding to a polyamorous alien would ruin her life. Of course, the Sex God can dream walk and so making all her fantasies come true in her dreams is no obstacle. But she's a badass all by herself, part of a rebellion against an evil empire, and she needs the Sex God's space ship for a mission.
That's right, road trip romance on a spaceship with a Sex God!

Please share your favorite line(s) or quote from this book:
"Tell me what you need," he whispers. "I'll give it all to you."
Please share a few Fun facts about this book…
The hero is blue
He has special sexy skills with his hands.
He has special skills with other parts but it wouldn't be appropriate to talk about those here…oops!
What first attracts your Hero to the Heroine and vice versa?
Jenie goes almost as crazy for the big blue alien as he does for her–she's uptight and he's super into that. She's also wicked strong and super determined and he is all over her for that, too. Also, he's kind of obsessed with her long hair that she keeps pinned up.
Did any scene have you blushing, crying or laughing while writing it? And Why?
Um, well… Jenie works really hard to uphold her boundaries with her Sex God but they eventually crumble when she gives into him in her dreams. Some wicked dirty things happen that…I can't lie. Jenie shocked me a little bit with her dirty mind. I can't include details here cuz, yeah…uh-hem. But for a little snippet:
He breathes with a tone that betrays a heavy longing. "May I take down your hair?"

"Yes."

He probes into the locks I pin daily at the nape of my neck. It is my one luxury. In my life of utilitarian efficiency, I keep my hair long, though it is more work, as a reminder of myself, of who I am, of the fact that I am more than a soldier. I am also a woman.

The way his delicate touch searches for the pins in my hair is slow and somehow erotic. I hear his breath move faster against my neck, and it's clear that his fantasy of undressing me has included taking down my hair. Feeling my hair is part of his need to touch me. It fills me with a sensation of being cared for, of being valued, of his patience to take every minute pleasure in me.

Or, as he says, to make me feel every small and tiny pleasure in myself. "You don't need to seduce me."

"But I do." He presses his mouth and nose to the top of my head, inhales and shudders, as though the scent of my hair is a potent aphrodisiac. "I would not dream of skipping this part."
Readers should read this book….
For a badass heroine with a will of iron and for a Sex God hero who values consent as the law of the land. Oh and for some really dirty sexy dreams that come true.
What are you currently working on? What other releases do you have in the works?
I'm working on the next sex planet book, of course!

Thanks for blogging at HJ!
Giveaway:

A copy of Stolen Desire by Robin Lovett
To enter Giveaway: Please complete the Rafflecopter form and Post a comment to this Q:

What is the last erotic romance you read and loved?
Excerpt from Stolen Desire:
She walks away from me—the curves of her body undulating and hypnotizing me. I'd be on my knees for her, if I thought it would do me any good. As it is, I go after her.

She turns up the path but stops. "Thank you," she says tightly without looking at me.

"If you're thanking me for kissing you, that's…" Irrelevant? Unnecessary? I'm not sure of the right word. I learned her language a week ago, in five days, after she and her crew crash-landed here. I pick a phrase I heard her say once, "The pleasure is mine."

"I mean, for stopping me."

Which is even more unnecessary. "What kind of Fellamana would I be if I took advantage of you and did specifically what you told me not to do because the desire toxin is clouding your senses? Having sex with someone without their full consent is against our code of law."

She heaves an agonized sigh. "I'm grateful for that."

"I am trusting—trustmore—trust—" I groan in frustration. My shock at the thought of evil humans capable of violating someone's consent clouds my new understanding of their language.

"You can trust me."

"Perhaps." She cracks a smile.
Excerpt. © Reprinted by permission. All rights reserved.


Book Info:
Koviye
My people call me the Sex God, but I, Koviye of the Fellamana, am so much more. I read their every desire and satisfy them with a mere touch of my hands. I'm sworn to share my powers, and this thing humans call monogamy is biologically impossible for me, or so I thought until I met the human, Jenie, Lieutenant General in the rebellion against our mutual enemy determined to destroy us. Now, as though Jenie has some power over me, I cannot think of touching anyone but her.
Jenie
I've dreamt of Koviye every night since I landed on this sex planet where every breath I take is an aphrodisiac to my blood. I am not fully human, I am part alien, and the planet has awakened my body's instinct to find a mate. The next person I have sex with I will form an attachment for life, which is impossible for the Sex God. I have a rebellion to lead. Mating a polyamorous alien would ruin me. I can never have him, no matter how much I burn for him.
But I need his help. My best friend was taken prisoner by our enemies, the Ten Systems, and the only person with a ship fast enough to save her is Koviye. And all those dreams I've been having about him aren't just dreams, he tells me. They're real. He can dream walk, so if I can't have him while I'm awake, at least I can have him in my dreams—as if that will ever be enough.