Today it is my pleasure to Welcome romance author
Laurel Greer
to HJ!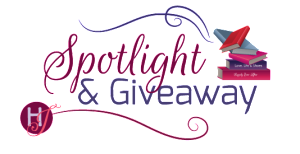 Hi Laurel and welcome to HJ! We're so excited to chat with you about your new release, A Father for Her Child!

Hi, thanks for having me! And hello to everyone reading!

Tell us about the book with this fun little challenge using the title of the book:
Given the title "A Father for Her Child" is long, I went for the acronym instead: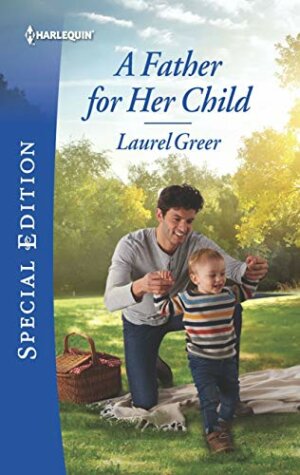 A is for Accident (Zach's – in the prologue)
F is for Fireworks (Who can resist kissing when there's fireworks?)
F is for Family (Brothers and sisters can be so interfering)
H is for Helicopter (No spoilers, so no clue)
C is for Crutches (Zach wants to stop needing them)
Please share the opening lines of this book:
Zach Cardenas wrenched his key in the lock on the first-aid shack near Sutter Mountain's summit and drew another line in his mental tally.

One workday closer to Whistler.

Not to forgiving himself, or Sam.
Please tell us a little about the characters in your book.
Ski patrol director Zach has been supporting Cadie since an avalanche killed her husband when she was four-months pregnant. He's been there in every way except romantically during the first year of her son's life. But when he's injured on the job and she insists on providing his physical therapy to help him out for a change, the close quarters make it impossible for him to keep hiding how he's in love with her. And in the face of his cinnamon-roll goodness and downright competence porn (Canadian guys, I tell you…), can Cadie move past her pain and fear to create a new family with Zach?
Please share a few Fun facts about this book…
Ben's Bun-Bun is inspired by my oldest daughter's blanket bunny, which was a duplicate of the bunny I had as a kid.
I started drafting this book over a decade ago, but only the prologue survived the rewrite.
What first attracts your Hero to the Heroine and vice versa?
Zach noticed Cadie dancing the first moment he saw her in a Steamboat Springs bar, but an ill timed trip to the washroom meant his best friend started flirting with her first. And as his best friend fell for her wit and work ethic and sense of adventure, so did Zach. He's been hiding it for seven years.
Cadie would love to pretend that her affection for Zach ends with his reliability, devotion, and the bond he has with her son, but being his therapist makes it impossible to ignore the strength of his muscles under her palms…
If your book was optioned for a movie, what scene would you use for the audition of the main characters and why?
The scene where Zach uses Cadie's nickname instead of calling her Cadence – it gets at the root of some of the emotional conflict between them and would be a good test to see how the actors would work with Zach's unrequited love and Cadie's avoidance tactics.
"You called me Cadie." She hugged her knees to her chest.

"I did?" Uh-oh. He never used her nickname. That extra layer of formality had always served its purpose well. "Does it matter? Everyone calls you that."

"Not you."

The seriousness of the gaffe had thoroughly dealt with the situation in his shorts. He rolled to sitting. "No." He shook his head slowly. "Not me."

"Why is that?"

His heart rate picked up.

What had he told her in the past? She'd asked before and he'd said… What had he said? "I like how it sounds?"

"No, that's what I told you about you calling me Cadence. You just told me you liked it. And that's crap, Zach. What's the real reason?" Her gaze, slightly wild and a whole lot of vulnerable, sucked him in. A desperate, animalistic need rose in his belly, clawing for him to gather her up and soothe away her upset.

His mouth was too dry for him to sound unaffected. He worked his tongue along the inside ridges of his teeth, trying to get some saliva going. Nope. Not happening. Time to accept he'd sound like a fool. Swallowing in a last-ditch effort to regulate his tone, he admitted, "Sam called you Cadie. I wanted to be different."
If your hero had a sexy-times play list, what song(s) would have to be on it?
Brantley Gilbert's "In My Head" and Keith Urban's "Break on Me"
I have a Spotify playlist! Link: https://open.spotify.com/playlist/33irRyd15nwOQGRR7djObA?si=7UpJNDgITaqcHy8YbAE27w
What are you currently working on? What are your up-coming releases?*
I'm currently finishing up Sutter Creek Book 5, which I love to pieces because it stars a sexy male librarian, a commitment phobic veterinarian, and a goofy Great Dane on the verge of failing service-dog training.
My next release is Holiday By Candlelight, Caleb and Garnet's story (both characters are secondary characters in A Father for Her Child). Avalanche survivor Caleb is intent on a risk-free life. But planning a holiday party with free-spirited mountain rescuer Garnet tempts the handsome doctor to take a chance on love.

Thanks for blogging at HJ!
Giveaway:

Rafflecopter: A $15 Amazon gift card and a print or e-copy of A Father for Her Child (US and Canada)
To enter Giveaway: Please complete the Rafflecopter form and Post a comment to this Q:

A Father for Her Child includes a couple of romantic tropes – friends to lovers and best friend's widow. Do you have a favorite trope? What is it, and why?
Excerpt from A Father for Her Child:
Meet me in the pool at one tomorrow.
Cadie cringed as yesterday's instructions to Zach echoed in her head. What had she been thinking? She floated in the shallow end of the public aquatic center and watched him amble along the pool deck toward her, supported by his crutches. Shirtless. Showing off a perfect sprinkling of trimmed hair leading down abs that could grace a fitness magazine. Her skin tingled and not from the water kissing her limbs. Yeah, the pool had been a brilliant move. If only she could change history, go back to when she was three and not learn how to swim. Then she could throw herself in the deep end and be done with it. Drowning sounded way smarter than taking him on as a client.
Nice choice of words, Cadence.
Her mental sarcasm landed like a boulder in her stomach. For one, this was her choice, and a necessary one. She could truly help Zach and, in doing so, could boost Evolve's reputation. And she needed to start doing all that without thinking of crappy death comparisons. Sorry, Sam.
Lacquering on a smile, she waved at Zach, who slid into the water and crossed the pool with long, muscled strokes. He stopped a yard or so away, close enough that she had to tilt her chin a little to keep her attention on his face. He was a good six inches taller than her own five-seven. The height difference held so many possibilities. If he were healthy he'd be able to pick her up and—
She pinched her thigh under the water. He's your client. Your best friend. Do not screw that up. "Ready to work?"
He nodded curtly.
"We'll start with walking back and forth across the shallow end and work up to a jog." The pool wasn't too crowded—a parent-and-tot class occupied the splash pool and a dozen-odd people were swimming laps in the deep end.
"Uh, sure." Following his gaze was a challenge. It seemed to land on her tank swimsuit for a second and then everywhere but, darting from the waterslide to the diving platforms and settling somewhere on the wall behind her. "Walking. Okay."
She raised a brow. "Quite the conversationalist today."
A faint rosiness bloomed on his cheeks and he rumpled his already disheveled hair, dampening the strands with his wet hand. "I…"
Way to make your client feel self-conscious, idiot. "Zach. Deep breath. You've done this before."
"Right."
Ri-ight. She loved the way he drew out his vowels sometimes. His voice had become her touchpoint when she'd been in her darkest moments. Blaming herself and Sam and the universe.
Smiling encouragingly, she motioned for him to follow her. He complied. And as long as she kept her eyes fixed on the oversize lap clock on the wall, and her attention on counting their steps backward and forward, she could almost ignore the way the water swirled around his waist, drawing her gaze to the delicious V of muscle dipping below the ripples.
Good grief. Focus. And not on that.
She went to pinch her thigh and brought her elbow up, accidentally deflecting off his forearm.
"Ow." He brought his other hand to his arm in an exaggerated gesture.
"Oh, no. I'm so sorry!" Heat flooded her face. Could she not do anything right these days?
"Cadence." His thumb dragged along her jaw and she blinked long, trying to ignore the shimmering trail on her skin. "I wasn't serious. You barely touched me."
"I know," she said, trying to throw a duh tone on the retort.
He moved his hand from her face to her shoulder. His pupils flared wide despite the bright pool lights and his mouth parted. Snapping it shut, he yanked his hand away.
"What's the next exercise?" he blurted.
"L-lunges." And thankfully his legs would be under the water while he did them, because the unyielding strength of Zach Cardenas's thighs could make a nun renounce her vows. Neck heating, Cadie splashed her skin and silently begged the clock to tick faster. Why couldn't she have stayed in her blissful, mothering fog, unaware of the perfect definition of his quads?
Excerpts. © Reprinted by permission. All rights reserved.


Book Info:
She was always his best friend's girl…
But then their whole lives changed.
Widow Cadence Grigg is slowly putting her life back together—and raising her infant son. By her side is her late husband's best friend, Zach Cardenas, who can't help his burgeoning feelings for Cadie and her baby boy. Though determined not to fall in love again, Cadie might find that Cupid has other plans for her happily-ever-after…
Book Links: Amazon | B&N | Goodreads |


Meet the Author: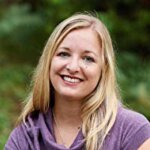 Raised in a small town on Vancouver Island, Laurel grew up skiing and boating by day and reading romances under the covers by flashlight at night. Ever committed to the proper placement of the Canadian "eh," she loves to write books with snapping sexual tension and second chances. She lives outside Vancouver with her law-talking husband and two daughters. At least half her diet is made up of tea.
Website | Facebook | Twitter |