Today, HJ is pleased to share with you

Nalini Singh's

new release: 

STORM ECHO

New York Times bestselling author Nalini Singh takes us into the hearts of two fractured people in a world on the brink of a psychic Armageddon . . .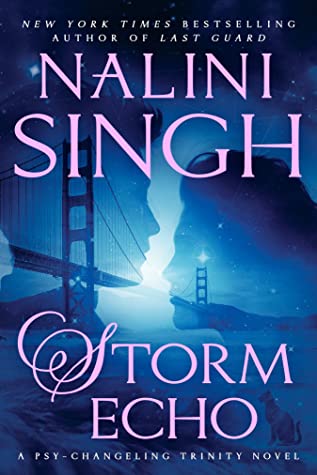 Silence has fallen. The Psy are free to feel emotion. Free to love. But Silence was never a prison for Ivan Mercant. The biggest threat to his future lies dormant in his brain—a psychic monster that wants only to feed. And now, the brutal leash he's kept on that monster is slipping. He prepared for this day, for the end of Ivan Mercant . . . but that was before he met Lei.
As primal as she is human, this wild changeling brings color into his life, laughter to his soul. Then the dream shatters in a rain of blood, in silent bodies in the snow. Lei is gone. Vanished without a trace . . . until he meets strangely familiar eyes across a busy San Francisco street.
Soleil Bijoux Garcia is a healer who has lost everything. She exists in a world of desolate aloneness . . . till the day she finds herself face-to-face with a lethal stranger. The animal who is her other half knows this man, but her memories are tattered fragments. Sorrow and a need for vengeance are all that drive her. Her mission? To kill the alpha of the DarkRiver leopard pack.
But fate has other plans. Soon, a deadly soldier who believes himself a monster and a broken healer might be all that stand between life and death for the entire Psy race…
Enjoy an exclusive excerpt from STORM ECHO 
Lei brought one of her colorful little cat planters to the picnic. The blue and pink striped creature, formed as if it was about to pounce, fit easily on the palm of Ivan's hand. There was a tiny chip on one paw that spoke of its unknown history, and the hole in the cat's back was so small that he asked Lei what plant could possibly thrive within.
Laughter in her expression, she held up her hands, palms up. "I don't know. It'll be fun to find out. Tell me what you decide."
"What?"
She ducked her head a fraction, her unbound hair sliding over the shoulder of the vibrant red-violet dress that she'd paired with a denim jacket. "I brought it for you." A quick look up. "It's silly, isn't it? I'll take it back. Sorry, I shouldn't have—"
He kept it out of her reach. "No. You said I could have it."
Dropping her half-raised hand, she looked at him with eyes that were big and oddly soft. Vulnerable, he realized. As vulnerable as Arwen's. And he knew she truly was afraid he wouldn't want the gift.
Parting those soft lips, she said, "You like it?"
He brought it back down, looked at it again. "Yes." It was a thing he'd never thought to have in his life, but he would now protect it with everything he had. Because she'd given it to him. "Thank you."
Her smile was dawn breaking across the sky; it made his heart twist in ways he didn't understand. He didn't smile back. He didn't know how to smile in truth, had only ever put it on as a mask and he couldn't wear a mask with her—but she didn't seem to mind.
"I packed a whole bunch of things for our picnic, not just the tart." Her joy was a welcoming fire flickering against him, warming places that had been cold for an eternity.
When she handed him small bites to try, he did so without argument. The flavors were explosions of sensation on his tongue, an overload of input. He must've betrayed some response because she laughed—the kind of laugh that said this was a shared amusement. He knew that even though he had never laughed.
"Try this instead," she said, offering him another tidbit.
He took it, but waited. "You, too." Ivan didn't know about relationships like this, but he knew he wanted to take care of her, keep that happiness on her face.
When her smile dimpled the roundness of her cheeks, he realized this wasn't so difficult after all. Arwen was right; he could figure it out if he only listened. So he did exactly that, content—more than content—to stay quiet as she spoke about what she'd got up to with her friend, how she'd made the tart, and myriad other topics. Her mind was a quicksilver place, bright and enthusiastic.
But she wouldn't allow him to listen alone. No, she asked him questions, wanted to know about him as much as he wanted to know about her. He answered with honesty; he would not lie to her, would not steal her by hiding the scars on his mind and psyche.
"I'm part of an unusual PsyNet family," he said. "My cousin turned up yesterday to check that I wasn't dead, after I fell out of contact for a week. I guess you could call us a pack."
Laughter, but hidden within the sparkle was a thread far darker and less joyful. "That's exactly how a pack should be—a strong, cohesive, loving unit."
"Is your pack not that way?"
"No. I'm in Texas partially because I needed space to come to a decision." She swallowed. "I'm thinking about leaving the pack."
Pack was the core of changeling life. Even Psy knew that. For Lei to be considering a permanent break, particularly given the lack of stability in her past, things had to have gone terribly wrong. "Have you decided?"
"No." She twisted her lips. "I love my packmates, but—" An exhale. "Is it okay if we don't talk about this anymore? I'm not being sly by not telling you details about my pack. I will. I just . . . I need time apart from them, even in my own head."
"Just tell me one more thing—are you safe there?" Unspoken was that if she wasn't, he'd handle it.
A blink, her pupils expanding. "Yes," she whispered, then raised her hand as if to touch his face.
Excerpt. ©Nalini Singh. Posted by arrangement with the publisher. All rights reserved.


Giveaway:

Print copy of THE LAST GUARD by Nalini Singh / US only
To enter Giveaway: Please complete the Rafflecopter form and post a comment to this Q:

What did you think of the excerpt spotlighted here? Leave a comment with your thoughts on the book…
Meet the Author:
New York Times bestselling author Nalini Singh is passionate about writing. Though she's traveled as far afield as the deserts of China, the temples of Japan, and the frozen landscapes of Antarctica, it is the journey of the imagination that fascinates her most. She's beyond delighted to be able to follow her dream as a writer.
She is the author of the Guild Hunter series, including Archangel's Sun, Archangel's War, and Archangel's Prophecy. She is also the author of the Psy-Changeling novels, including Last Guard, Alpha Night, and Wolf Rain, and stand-alone novels A Madness of Sunshine and Quiet in Her Bones.
https://www.penguinrandomhouse.com/books/703361/storm-echo-by-nalini-singh/