Today it is my pleasure to Welcome author
Christina Mandelski
to HJ!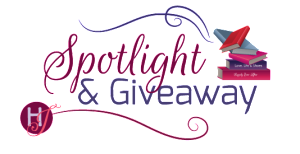 Hi Christina and welcome to HJ! We're so excited to chat with you about your new release, Stuck With You!

Thanks so much for having me, it's great to be here!

Please summarize the book for the readers here: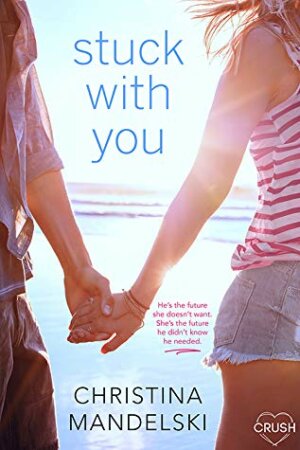 When Caleb Gray escapes to the beach to get his mind straight, he doesn't expect to find Catie Dixon, the pesky girl he grew up with, crashing there with her friends. When the two ex-friends are forced to spend the week together, between awkward water slide incidents, slow dances on the sand, and stolen moments in the rain, long buried feelings emerge and they find their relationship going from not to hot.

Please share your favorite line(s) or quote from this book:
He's going through exactly what I'm going through. I know what he's thinking. For so long, our futures have been planned out for us. Him, sports, then eventually he'll work for the business. Me, always the business. It's no one's fault. Not our parents, or any specific thing. It's just the way things have happened, and it must have sounded good to us at some point. Now all of a sudden, here we are, the lives that we passively agreed to about to unfurl in front of us.
I wonder if knowing this makes him feel as scared and helpless and as lost as I do.
Judging by the way he's studying the table a little too intently, I think the answer is yes.
Please share a few Fun facts about this book…
This book is set in Crystal Beach, Texas, on the Gulf Coast. Much of this area was destroyed during Hurricane Ike in 2008, but has been rebuilt into a thriving community.
The beach is my ideal place to go on vacation, and so I tend to use it as a setting in my books. I love it because I can go on vacation without leaving the house!
The inspiration in my head for the main characters of Caleb and Catie were a very young Matthew McConaughey and Reese Witherspoon. They're who I imagined when I wrote.
This is the third book in a row I've written that focuses a lot on getting into college and figuring out what comes after high school–at the same time I've been writing them I've witnessed my own two kids go through the same thing. It's such a pivotal, exciting/terrifying time of life and one that's worth exploring, whether you're 18 or 80. I'm still trying to figure out what I want to be when I grow up. Wish me luck.
What first attracts your Hero to the Heroine and vice versa?
Caleb remembers Catie as an annoying pest that he was forced to spend time with growing up. Now, at the beach, facing a future he isn't sure he wants, he begins to see her in a different light, or maybe he always saw her in this light, and just didn't want to admit it. She's smart, funny, pretty and sassy, and as they spend time together, he begins to fall for her. When he starts to pick up on her insecurities about her own future, he realizes how much he cares, and decides he'll do anything to help her out.
Catie had a long time unrequited crush on Caleb and was proud of herself for leaving him behind. He was always confident and cute and funny and kind to everyone else, but treated her like she was gum on the bottom of his shoe. Now, he's still the super hot Caleb, cool and easy-going, but she knows something is wrong with him–and she can't seem to stop herself from wanting to help him. As they spend time together, she finds herself falling again, and falling hard.
Did any scene have you blushing, crying or laughing while writing it? And Why?
Ha! The waterslide scene had me laughing and maybe blushing a little, too. The basic setup is this — a guy, a girl, mutual attraction, stuck together on the same water slide mat…
"That's okay," I say.
Catie looks back at me, over her shoulder, blue eyes shining. "You don't have to share—" I
continue, until the lifeguard cuts me off.
"Come on, you're holding up the line. Put your mat down. Sit!"
Is he even a lifeguard? He looks like he's fourteen and obviously hates his life.
"Go!" he orders.
Catie positions the mat, water gushing past her and down the slide. "Come on," she says, patting the small patch she left for me right behind her.
"Dude, go already!" the lifeguard repeats.
I have no choice but to sit, with her between my legs. Shit. This could get bad fast.
Readers should read this book….
because it's a classic enemies to friends love story set at a romantic beach house. There are also lots of laughs, slow dancing in the sand, kissing in a thunderstorm, and an adorable multi-colored mutt named Mo.
What are you currently working on? What other releases do you have in the works?
I've got an adult romance out right now on submission that I'm very excited about, and I'm writing another one set in Alaska, where I vacationed this summer. Then I've got another young adult novel on the backburner too.


Thanks for blogging at HJ!
Giveaway:

A signed paperback copy of Stuck With You. US only.
To enter Giveaway: Please complete the Rafflecopter form and Post a comment to this Q:

If you could spend a week at the beach with any fictional character, who would it be and what would you do?
Excerpt from Stuck With You:
I stop at the bottom step and turn around to face him as he moves toward me. He's mad. I know this, but even in the dark underneath of the house, a single light fixture casting shadows around us, I see more than that. I tell myself not to notice the way he moves, with authority and purpose, like a player taking the field, or the width of his shoulders and the strength in his arms. I tell myself to forget the way they felt around me when we danced at that party, and when they held me on the waterslide, and back on the beach, when he thought something had happened to me and he hugged me like he needed proof I was really there.
I know I need to move up the stairs, go to my bed, get some sleep, but something keeps me glued in place. I don't think it's friendship.
He moves to walk around me. I lift my hand and touch his chest, to stop him. The touch makes my breath catch in my throat. "Caleb, wait. Stop. Let me explain."
"Why?" he says. "I don't care. You can go wherever you want." He pushes against my hand, trying to pass. "I'm tired, Catie. Let me go."
I clear my throat and at the same time try to clear my mind. "No."
"No?"
"Yes. No." I stare hard at him, desperate to make him understand. "I'm sorry, Caleb. She wanted to see that guy again before they leave, and I couldn't let her go alone. And I didn't think you needed to know. I didn't want to fight with you, not after today." His expression isn't changing, but I'm determined to convince him. "It was such a good day. I'm
sorry."
He is inches away from me.
"You scared the hell out of me," he says, his eyes all scrunched together like they'd get when we were kids and he was hurt or upset. I recognize that look better than anyone.I want to say something, because that's what I do. I talk.But he's looking into me, and I'm staring at him, and I can't think of a single word. All I want to do is… I blink. He blinks. He reaches up and touches my hair, pushes a strand back behind my ear, and then I swallow so loudly the sound seems to echo. His finger moves down the side of my face, touches my chin, moves to my lips.
Neither of us says a word.
Excerpt. © Reprinted by permission. All rights reserved.


Book Info:
When Caleb Gray heads to the Texas coast to mentally prepare for a future he isn't sure he wants, the last person he expects to see is Catie Dixon. Yeah, their mothers have been planning their wedding since they were born, but he and Catie are most definitely not friends. He can't see her as anything but the annoying kid who followed him everywhere. Except, it's really bothering him that everyone is staring at her in that bikini…
Catie got over her crush on Caleb ages ago. So why can't she see past his ripped body or how unsettled he seems? She's got her own problems, though. Her future has been set for years and now she's dreaming of pulling the plug. A week at their families' beach house is just what she needs to pull herself together, and she has no intention of letting Caleb back into her heart…which would be a whole lot easier if he'd put on a shirt.
But a forced week of togetherness full of beach parties,
waterslide mishaps, bonfires, and roller coasters sparks more than an understanding. What do you do when the person standing in the way of your future is the one person you grew up hating…but now don't?
Disclaimer: This Entangled Teen Crush book contains summer thunderstorms on the beach, an, er…awkward waterslide incident, and an infuriatingly hot boy who you'll no longer be able to ignore.
Book Links: Book Links: Amazon | B&N | iTunes | kobo |


Meet the Author:
I have a fondness for the beach, my family and good books. I love to read (especially curled up with a cup of coffee), but I also like to travel, shop, go for long walks and obsessively watch Top Chef. When I'm not doing these things, I can be found in a comfy chair with my laptop, working on the next book.
Website | Facebook | Twitter | Instagram | GoodReads |