Wright Rival by K.A. Linde: Hollin Abbey might be a lot of things, reformed party playboy, notoriously charming but one thing no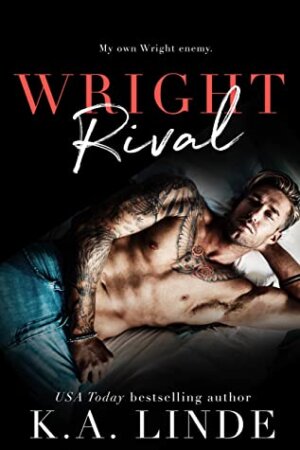 one can accuse him off is slacking of when it comes to making his winery the best in town. Too bad his competition comes in the form of feisty Piper Medina, the only other person as passionate and driven to bring her family winery to the top spot in town. Things really begin to heat up now that both of them want to win top spot in the annual wine competition, however somewhere along the way the lines between their heated rivalry begin to blur into something so much more steamy sweet.
A steamy enemies to lovers romcom? Yes, please! The enemies to lovers trope has to be one of my all time favourites and boy does Linde know what she is doing! First of let me just start by saying this series has to be one of Linde's best to date, there is something for everyone that keeps you coming back for more. I absolutely love that all the books are interlinked and we always get guest appearances from past couples.
Hollin and Piper were just the cutest, I loved their undeniable chemistry and that the novel was full of steamy banter. Hollin was such a charmer but below all that cheeky biker exterior was a really great guy. I loved that once you were part of his inner circle Hollin would care for you fiercely. I really enjoyed seeing him work to prove to Piper that he was not the guy that she has always assumed him to be.
One of the things that I really like about Linde's books is that she always writes such amazing female characters, this was definitely true with Piper. I loved that she was so passionate about their family winery and that she had this never give up attitude. I really loved the relationship that Piper had with her family and the role that they played in the entire story. I absolutely loved the connection that Piper and Hollin formed, Gish these two had the perfect balanced of witty banter, smothering looks and some down right steamy moments.
Wright Rival is an absolute must read this enemies to lovers romcom will have you hooked and wanting to drive right into the Wright world!
Book Info:

Publication: January 11, 2022 | K.A. Linde Inc. | Wright #10
No one on this planet pushes my buttons like Hollin Abbey.
I don't know if it's the rugged, sexy cowboy look or the Harley Davidson motorcycle or the cocky swagger. Or just him.
But whenever we're together we fight like cats and dogs. Now our vineyards are rivals in the annual wine competition, and I'm determined to win.
I just have to take out my Wright rival.