Today it is my pleasure to Welcome author
Maddison Michaels
to HJ!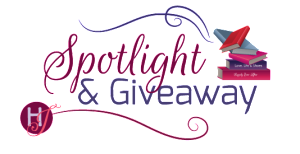 Hi Maddison and welcome to HJ! We're so excited to chat with you about your new release, The Sinful Scot!

Thank you so much for having me!!

Please summarize the book for the readers here: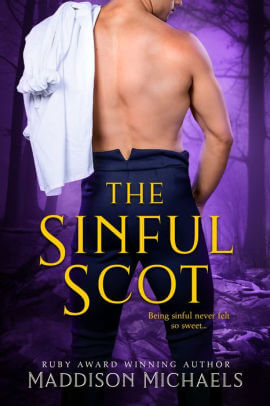 This is a story of second chances and redemption. Constance Campbell, the Duchess of Kilmaine is framed for the murder of her abusive husband. Fleeing with her childhood friend, Dr. Alec McGuiness, they set out to discover who is responsible for trying to send her to the gallows. But even if they can win her freedom and clear her name, can Connie ever open her heart up to someone again?

Please share your favorite line(s) or quote from this book:
• A searing heat jolted through him as her eyes glanced over to his with such an expression of questions and possibilities in her gaze.

• He had to resist reaching his hand over and gently brushing the wisp of hair back behind her ear. Her skin appeared so soft and delicate, he couldn't imagine anyone wanting to mar its perfection.

• The touch of his fingers against her dress was firm but oh so gentle. Her breath hitched in her throat, and she had to remind herself to breathe.

• "Don't fret, Alec McGuiness," she said. "I'm not going to ravish you…At least not yet, anyhow."

• There was a hunger in his eyes. A hunger she didn't want to resist.
Please share a few Fun facts about this book…
I knew when I wrote the first book in the series, The Devilish Duke, that Alec and Connie were destined for each other.
It's a story of redemption and second chances.
Originally the working title was The Sinful Saint – and I sometimes accidentally still call it that, lol!
What first attracts your Hero to the Heroine and vice versa?
They've know each other for years, and have secretly been attracted to each other the whole time.
Did any scene have you blushing, crying or laughing while writing it? And Why?
When Connie recounts some of the abuse she suffered, and Alec recounts being abandoned by his mother, my heart can't help but reach out to them both! And yes, when they eventually make love, I do blush a bit… lol!
Readers should read this book….
If they love a mystery and adventure interspersed with their romance, then they'll enjoy Connie and Alec's story.
What are you currently working on? What other releases do you have in the works?
I'm working on book 1 in a new series – about some very determined ladies who start up a Bachelor Gazette to dish the dirt on the secrets and scandals of the bachelors in society! Book one should be released in September 2020.

Thanks for blogging at HJ!
Giveaway:

An e-Book of The Sinful Scot by Maddison Michaels
To enter Giveaway: Please complete the Rafflecopter form and Post a comment to this Q:

Can you imagine what it would have been like to live in an era when all of your rights were taken away and given to your husband after you married?
Excerpt from The Sinful Scot:
Taking a deep breath, she turned around, only to be caught in Alec's penetrating gaze. She'd forgotten how handsome he was. A strange combination of rugged athleticism mixed with the air of a scholar. But there was also a steadiness to him, a gentle strength, that Connie felt drawn to.

This was a man who would have no need to take out his anger on anyone weaker than he. She'd never met a more honorable or honest man.

She cringed with the thought of how badly she'd once treated him. Often ignoring him at assemblies and the like, simply because he hadn't fawned over her like the other men had.

She'd been a fool.

"Sophie sent you, then?" was all Connie could think to say. She must sound like an imbecile.

"She asked me to check on you." He paused, staring steadily at her. "So how are you, Lady Connie?"

He was still calling her by her maiden title, and there was something so familiar about him doing so, it reminded her of a time long ago. A time she wished she could escape back to.

Unable to withstand his close scrutiny, she strode over to the hearth and closed her eyes for a second, fighting the urge to cry again. She'd thought her tears from earlier were well and truly dried up.

It would be so easy to tell Alec what had been happening. He would believe her. Probably try to save her, too. But what could he do, when up against the powerful Duke of Kilmaine, whose word was law in these parts? And though she knew Alec could defend himself in a fight, Duncan never fought fairly. Her husband had enough servants and guards around the estate to ensure that Alec would be outnumbered.

No. She couldn't risk getting him hurt. She'd never forgive herself if he did.

Filling her lungs with a hearty breath, she turned back to face him, and once again, she plastered a serene smile on her face. "Everything is fine. Absolutely fine, in fact."

But Alec didn't smile back. Instead he frowned. "Don't lie to me, Connie." He strode across to her, until she found herself staring at the crisp white cravat covering his neck.

She gasped softly as his hand gently tilted her chin upward, until her eyes met his. Warring with the frisson of fear from having a man touch her was a giddy sensation fluttering in her stomach. She couldn't remember the last time anyone had touched her with such tenderness. If ever, actually.

"What's going on? And I'll have the truth this time, please." Alec's voice was firm, but she could hear the concern in it. It had been so long since she'd felt that anyone cared.

"As I said before, everything is fine, Doctor McGuiness." She carefully reached up and very deliberately pushed his hand away from under her chin. "And you take too many liberties touching me and calling me by my first name. I am a duchess now. Or have you forgotten?" Perhaps if she sounded condescending, as she'd often done in the past with him, he'd believe her, and go.

"Aye. I'm well aware of that fact." He stepped back and bowed stiffly. "Forgive me, your grace."

There was contempt in his voice, and Connie felt her heart sink. He would forever remember her as being a coldhearted shrew, she was sure of that. And though a part of her hated knowing he would, at least he'd be safe.

"You can tell Sophie that all is well." She was glad her voice sounded steady, when inside she felt like she was shattering into tiny pieces. "Now if you will excuse me, I have duties to attend to." She inclined her head at him before sweeping past him toward the door.

She extended her hand toward the doorknob when, from behind her, Alec reached over her shoulder and pressed his palm against the wood. Preventing her from opening it and leaving.

"You're not going anywhere, duchess. At least not until you tell me what the devil is going on."
Excerpt. © Reprinted by permission. All rights reserved.


Book Info:
Constance Campbell, the Duchess of Kilmaine, once believed that all she needed in life was a duke. But everything unraveled when she realized her perfect husband was a perfect monster. Now broken beyond repair, she hides her misery behind a perfect Society mask…even from her childhood friend, Alec.
Dr. Alec McGuiness reluctantly finds himself back in Scotland, and checking up on the only woman to ever get under his skin, Connie. After she spurned him many years ago, he knows his humble life as a doctor could never be enough for her. But when the Duke of Kilmaine is murdered in cold blood, with Connie sleeping right next to him in bed, Alec knows he must protect Connie at all costs from those who would frame her for the duke's murder.
Now on the run, Connie feels a freedom she only ever dreamed about before, and an unexpected attraction to the man who is keeping her safe. But even if they can win her freedom and clear her name, could she ever open her heart up to someone again?
Book Links: Amazon | B&N | iTunes | kobo | Google |


Meet the Author:
Indoctrinated into a world of dashing rogues and feisty heroines when she was a teenager and picked up her first ever Amanda Quick novel, Maddison Michaels has been a prolific reader and writer of historical romance ever since. She is the bestselling author of THE DEVILISH DUKE (which won the 2019 RWA Australia Historical Romantic Book of the Year), THE ELUSIVE EARL, THE MISTLETOE MISTRESS, and the soon to be released THE SINFUL SCOT.
Maddison's historical novels are her way of time traveling back to Victorian London to experience a cornucopia of intrigue, romance and debauchery all from the comfort of her living room! She lives in Sydney, Australia with her own very handsome hero, beautiful daughter and two fur babies.
Maddison absolutely loves to hear from her readers and you can find her at http://www.maddisonmichaels.com/ or on most social media platforms!
Website | Facebook | Twitter | Instagram | GoodReads |