Today, HJ is pleased to share with you

Kendall Ryan's

new release: 

Trying to Score

Your favorite hot jocks are back with an all new stand-alone novel. If you like sexy, confident men who know how to handle a stick (on and off the ice), and smart women who are strong enough to keep all those big egos in check, this series is perfect for you

!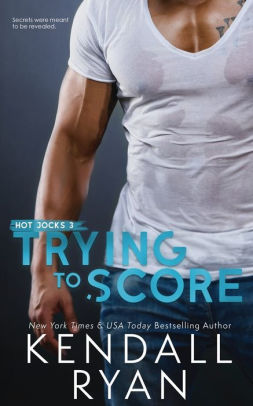 I knew him way back when. Before he was the guy everyone wanted a piece of, he was just a rebellious college co-ed and one of my more energetic study partners.

Despite his demanding schedule, he still finds time to annoy me. I knew him way back when. Before he was the guy everyone wanted a piece of, he was just a rebellious college co-ed and one of my more energetic study partners.

But secrets have a way of getting out, and a steamy encounter from our college days (that we probably shouldn't have filmed) is about to cause a major scandal. Unless we can work together to stop it.

Teddy's no stranger to hard work … but the thing he wants most?

Is me.

Note: This high-heat standalone is chock-full of scorching banter and steamy good times. He's a testosterone-dripping hockey player who wants a second chance. She's a tough as nails attorney intent on making partner. Frienemies to lovers. No cliffhanger. Enjoy!
Enjoy an exclusive excerpt from Trying to Score 
"You have to come up with your own nickname for me."

I scrunch my nose, thinking it over. "What about baby?"

"No way." He scoffs. "I once was hooking up with this girl who kept calling me baby over and over again in bed. Like she didn't know how to say anything else. It was one of the worst hookups I've ever had."

My eyes narrow, giving him a challenging squint over my coffee mug. "Really? That's the worst you've ever had? I don't believe that for a second."

"Okay, okay." He leans back in the booth, folding his arms over his chest. "I'll tell you my worst if you tell me yours."

"Deal." I grin.

"You first, though." His full lips seem to be permanently amused.

Ugh. Of course he's making me go first.

Luckily, our waitress reappears, buying me a little more time to think about it as I place my order for a side of fries. Meanwhile, Teddy orders what sounds like half the menu. The only thing worse than an athlete's appetite is an intoxicated athlete's appetite. The dude can seriously eat.

The waitress leaves to put our orders in with the cook, and as soon as she's out of earshot. Teddy leans across the table, narrowing his eyes at me. "C'mon. Worst hookup story. Tell me."

"Fine." I give in on a sigh. "There was a guy in law school. We hooked up two, maybe three times at my place. But then the first time I went back with him to his apartment, it turned out he had a dog. And this dog absolutely would not leave the room while we were trying to, you know, do the deed." I wiggle my eyebrows.

Teddy throws his head back in an uproarious laugh. "C'mon, Dawson. You just have to lock eyes with the dog right away and show your dominance over it. Let him know who's gonna be the one getting petted tonight."

I hold my hand to my mouth to keep myself from spitting coffee all over the table. "Gross, TK!" Once I've swallowed my coffee and gotten my giggles out, I prop my chin in my hands and blink expectantly at him. "Your turn."

"First, I refuse to believe that's your worst story, but all right, fair is fair." He scans the room to make sure no one is listening in, then wags a finger at me. "But all I'm saying is I wouldn't be telling you this if I were completely sober, okay?"

I blink at him again, not saying a word until he spills.
Excerpt. ©Kendall Ryan. Posted by arrangement with the publisher. All rights reserved.


Giveaway:

e-copy of Trying to Score by Kendall Ryan
To enter Giveaway: Please complete the Rafflecopter form and post a comment to this Q:

What did you think of the excerpt spotlighted here? Leave a comment with your thoughts on the book…
Meet the Author:
About Kendall Ryan
A New York Times, Wall Street Journal, and USA Today bestselling author of more than three dozen titles, Kendall Ryan has sold over 3 million books and her books have been translated into several languages in countries around the world.
Her books have also appeared on the New York Times and USA Today bestseller lists more than 70 times. Ryan has been featured in such publications as USA Today, Newsweek, and InTouch Magazine.
She lives in Texas with her husband and two sons.
Visit her at: www.kendallryanbooks.com for the latest book news, and fun extras.
Subscriber to the newsletter: http://www.kendallryanbooks.com/newsletter/
Facebook: https://fb.com/kendallryanbooks
Instagram: http://bit.ly/2UT2bWM
Twitter: http://bit.ly/2WhFvkk
Pinterest: http://bit.ly/2VycsMi
Goodreads: http://bit.ly/2Va0J7q
Amazon: https://amzn.to/2EDIfBW
BookBub: http://bit.ly/2J4cIvR

Purchase Links
Amazon ➜ https://amzn.to/2lr2dcA
Apple ➜ https://apple.co/30z1fKM
Nook ➜ http://bit.ly/2NuhHbv
Kobo ➜ http://bit.ly/2HpSta8
Goodreads ➜ http://bit.ly/2ZnH0lX