The Proposition by J.C. Harroway is a sexy 'one night stand becomes more' romance for two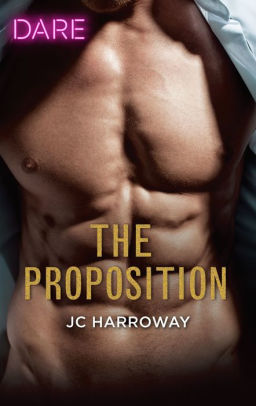 members of the exclusive M Club, and a great addition to the multi-authored Billionaires Club series.
Orla Hendricks knows that she has trouble letting loose. She's a workaholic, driven by the need to prove to her father that he should have given her the reins at their family company. Instead, she's gone solo, a successful venture capitalist with clients all over the world and a membership at the M Club for billionaires only. She's already had a failed marriage so she's wary of getting involved in another committed relationship. When a handsome stranger catches her eye, she decides its time to have a little fun.
Cam North's inheritance is a weight he's trying to ditch. As a long time construction worker growing up poor, he'd made his money with his hands and heart until his absentee father left him a fortune in his will. Now he's spending it all on fast cars, wild card bets and any number of hedonistic pursuits. When he and Orla connect, their one night together is an erotic adventure. And when Orla proposes that he accompany her on a business trip for six weeks to various exciting locations with the offer of no strings sex, he's game as long as she'll follow his rules. But Cam soon discover he wants more from Orla – can he convince her that what they have is worth keeping permanently?
I loved this story! The setup is great, with Orla and Cam both originally thinking one night on a first name only basis will deal with their insta-lust for each other, only for Orla to decide she wants to make things last a little longer. This is an older woman, younger man romance, as Orla is 36 and Cam is 28, but the age difference is not really emphasized and they are definitely equal partners in the relationship. Orla may have been the one to proposition Cam with a 'man-toy' type arrangement but he's quick to make it on his terms. The sex scenes are exciting and varied with some exhibitionism and sex toys to liven things up.
Though the couple meets at the M Club in Monaco, they make stops in several exciting locations, including England, Switzerland, Dubai, and Singapore before they end up in their home town of Sydney, Australia. Along the way, they have several steamy sexual encounters (as befitting their arrangement) but Cam also makes Orla take time to enjoy the sights and sounds of each of the places and do things she's never done before. It puts her workaholic ways, and her need for approval from her father, into perspective, but it also scares Orla with how she's starting to feel about Cam. It's she who pulls away and must come to the realization about what she can have with Cam, and then work to make amends.
As for Cam, Orla helps him come to terms with his feelings about his father who abandoned him as a child only to name him as the heir to his fortune, and how he can get around the restrictions in the will to his advantage. He wants a future with her, and he's not afraid to tell her so. They get their well deserved happy ending after a few bumps along the way. Sexy, exciting, adventurous and with a dose of emotional angst, this is a very entertaining and enjoyable read.
Book Info:

Publication: Nov 01, 2019 | Harlequin Dare | The Billionaires Club #3
CEO Orla Hendricks has a very sexy proposition for devil-may-care billionaire Cameron North in this third installment of The Billionaire's Club quartet—six weeks to help her discover her wild side!
Handsome young men blowing their newfound billions in a decadent frenzy? I've seen plenty of them at the Ÿberexclusive M Club. But there's something different about Cameron North. Tall, toned and tanned, he looks like he'd be more comfortable on a surfboard than in the boardroom… And imagining him without the constricting tux is waking up my long-neglected sexy side.
It isn't long before I'm getting my wish as we explore the instant chemistry between us. But one night with him just makes me want more. So I give him a proposition—six weeks of hedonistic sex and glamorous destinations, then we'll go our separate ways. He agrees—as long as I agree to give him control of our fun…
But as we jet from casinos to horse races to masquerade galas, Cam is becoming more than just a sexy diversion. When the six amazing weeks are up, Cam makes his own proposition. But how can I risk my heart on the only thing I've ever failed at—a relationship?