Today it is my pleasure to Welcome author
Eva Leigh
to HJ!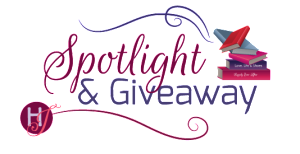 Hi Eva and welcome to HJ! We're so excited to chat with you about your new release, Waiting for a Scot Like You!
To start off, can you please tell us a little bit about this book?: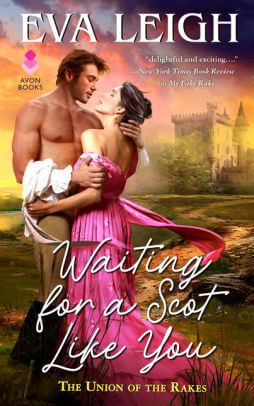 Major Duncan McCameron is a by-the-book veteran, and he's struggling to adjust to life in peacetime. When his friend asks Duncan to escort a widowed countess on a trip, he agrees, believing the assignment will be uneventful. Little does he know that Beatrice Sloane, the Dowager Countess of Faris is far from a quiet, staid widow. After an unsatisfying and confining marriage, Beatrice is finally ready to truly live her life. Her journey with Duncan proves to be anything but uneventful, especially when these two opposites give in to the desire smoldering between them.

Please share your favorite lines or quote(s) from this book:
"Now, be a good lass," he said firmly. "Go stand against the wall and lift your skirts."
What inspired this book?
The whole Union of the Rakes series is inspired by films and music from the '80s, and WAITING FOR A SCOT LIKE YOU is no exception. Some of the inspirations include "Ferris Bueller's Day Off," "The Sure Thing," and tons of other Easter egg references that I don't want to spoil for readers!
What first attracts your Hero to the Heroine and vice versa?*
In addition to being twelve years older than Duncan, Beatrice is unlike any person he's ever met. She's ready to truly live her life and enjoy every experience, even if that means going against the rules that he relies upon. For her part, Beatrice can sense a vital, dynamic man beneath Duncan's buttoned-up exterior, and she's eager to help him find that vibrant core within.
Did any scene have you blushing, crying or laughing while writing it? And Why? (Please share a little snippet of the scene)*
Oh, boy. Duncan and Beatrice have a very hot sexual dynamic that involves him being just a bit of a Dom. The line I quoted is from this scene:
She sucked in a breath, looking back and forth between him and the nearby wall. For the briefest moment he feared that he'd gone too far—after all, this room had no door, only a curtain, offering minimal privacy.

"And if I'm not a good lass?" she asked impudently.

A reckless joy broke inside of him. He brought his hand down to the base of her throat, letting her know who was giving the orders. "Then, I'll punish you."
Readers should read this book….
If they're ready for an older heroine who's living her best life, and a grumpy Scot Dom younger man hero. Plus, there's Just. One. Bed.
What are you currently working on? What other releases do you have planned?
I'm about a third of the way into the first book for my new Last Chance Scoundrels series, in which two rakish aristocratic brothers help their friend flee the altar on his wedding day, and in the wake of the very public scandal the three men are handed an ultimatum by their families: none of them will inherit anything unless all three marry respectable young ladies — but the ladies in question may not be as respectable as they appear on the surface..
Thanks for blogging at HJ!
Giveaway:

2 Paperback copies of Waiting for a Scot Like You by Eva Leigh (International) 
To enter Giveaway: Please complete the Rafflecopter form and Post a comment to this Q:

What tropes (road story, just one bed, grumpy one soft for the sunshine one, &c.) are your catnip?
Excerpt from Waiting for a Scot Like You:
A quarter of an hour later, she and Duncan sat at a table in the kitchen. Her borrowed clothes were a touch snug across the bosom, and the loaned slippers were tight on her feet, but they were warm and dry. Nell provided bowls of stew, fresh bread, and mugs of steaming tea—as
well as two tankards of home-brewed ale.

Once she'd shored herself up with her drink, she said, "With the loss of the carriage, I think our circumstances have changed. I've decided to press on to Nottinghamshire. There's a village about a mile from here, and Nell said that the mail coach stops there late in the morning. There's enough money left for me to secure a seat on it."

"Just one seat?" He lifted a brow.

"Two, if necessary, but since I'll be on a public coach, an escort won't be required. Many unaccompanied women travel that way. I assumed you'd want to go back to London."

He shook his head. "I'm sticking with you."

She didn't want to be pleased by hearing him say this, and it was easy to believe that the only thing that motivated him to stay with her on this now rather mad journey was his sense of duty. But after the scene at the ruin, she hoped that it was more than mere obligation that kept him by her side.

"Why are you so determined to reach Nottinghamshire?" he asked softly.

She turned the notion over and over in her mind. "I've had the goal of attending Lord Gibb's bacchanal for many years," she said pensively. "There's the physical pleasure but . . . it was more than that. It seemed like a place of limitless freedom, the kind of freedom I never had. I've reached a point where I like who I am."

"Your own woman," he murmured.

She felt her lips curve, and though he did not smile back at her, his eyes were warm. "I promised myself that, if I ever had the opportunity to go to Lord Gibb's, I would do so and overcome any obstacle that once stood between me and that freedom. It's . . . thrilling to know I can do this."

For a moment, he was mute, but when he spoke, his quiet voice held the strength of a vow. "I'll get you there."

"I'm grateful," she said sincerely.

"What of Wiggins and Green?"

"We'll all go to the village, and they'll remain behind. I shall give them funds to engage some local men so they might retrieve my belongings. Hold—what happened to your pack?"

"It was inside the carriage. There wasn't time to retrieve it."

She winced. "Did you have many valuables in it?"

"Some fresh linen, a book, other bits and bobs. And my pistol."

"Once our luggage is retrieved, I'll have Wiggins and Green bring everything to Lord Gibb's, and it will all eventually make the return journey with me to London. My coachman and postillion will be amply compensated for all their labors. You'll be reunited with your weapon, and everything will turn out wonderfully."

One of his brows climbed. He clearly did not possess the same faith she did that things would fall into place and that they would suffer no additional setbacks. Yet he kept his opinions to himself, and they were able to finish their meal peacefully. With a full belly and her body now finally thawed, weariness dragged at her limbs. She could barely keep her eyes open.

"Mr. Frye, Mrs. Frye," Bill said, approaching the table. "When you're disposed, we've a room ready for you."

Duncan clearly saw how her head kept drooping forward and then snapping up. "Excellent. We'll go up now."

Bill showed them to a room equipped with plain but sturdy furniture, including a spacious bed. Wearily, she shuffled to it and slumped down, sitting like a marionette with its strings cut. Duncan and Bill spoke in low voices, though she couldn't make out the words. Then the farmer left, and Duncan shut the door.

"Bill rises at dawn," he said, "so I requested that he wake us so we can be sure to catch the mail coach. Didn't ask about a room with another bed, since they're already being so generous."

" 'S fine," she slurred. She kicked off her slippers and tugged at her clothing. Duncan turned, presumably to give her privacy, but she didn't give a damn about modesty when she was so bloody tired.

A nightgown had been thoughtfully draped at the foot of the bed, so she reached for it. He shifted from foot to foot as she removed the last of her borrowed clothing and pulled the fabric over her head. Then she dragged herself under the covers.

"Go 'head. I stripped for you, now you strip for me." When he hesitated, she made a show of clapping her hand across her eyes. "Can't see anything."

"You'll peek," he said without much accusation.

"I will," she agreed amenably. With a more level tone, she said, "Unless you truly don't want me to."

There was a pause—a weighted pause that held immeasurable possibility. And, oh, how she loved possibility.

At last, he rumbled thrillingly, "Go ahead."

He began removing his own loaned garments—and suddenly, she wasn't quite so tired anymore.
Excerpt. © Reprinted by permission. All rights reserved.


Book Info:
Eva Leigh concludes her Breakfast Club and 80s movie-inspired Regency series with a merry widow and a stoic major on a bumpy road to love…
Adjusting to life in peacetime isn't easy for Major Duncan McCameron. Escorting a lady on her journey north seems like the perfect chance to give him some much-needed purpose. That is, until he learns the woman in question is the beautiful, bold, reckless Lady Farris. She makes his head spin and being alone together will surely end in disaster.
Beatrice, the Dowager Countess of Farris, is finally free of a stifling marriage and she has no plans to shackle herself to any other man. Ready to live life to the fullest, she's headed to a week-long bacchanal and the journey should be half the fun. Except she's confined to a carriage with a young, rule-abiding, irritatingly handsome Scottish soldier who wouldn't know a good time if it landed in his lap. But maybe a madcap escapade will loosen him up…
Between carriage crashes, secret barn dances, robbers, and an inn with only one bed, their initial tension dissolves into a passion that neither expected. But is there a future for an adventure-loving lady and a duty-bound soldier, or will their differences tear them apart?
Book Links: Amazon | B&N | iTunes | Kobo | Google |


Meet the Author:
Eva Leigh is a romance author who has always loved the Regency era. She writes novels chock-full of determined women and sexy men. She enjoys baking, spending too much time on the Internet, and listening to music from the '80s. Eva and her husband live in Central California.
Website | Facebook | Twitter | Instagram | GoodReads |