Today it is my pleasure to Welcome author
Adriana Anders
to HJ!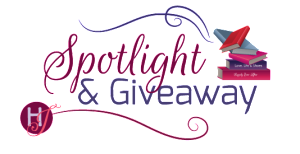 Hi Adriana and welcome to HJ! We're so excited to chat with you about your new release, Whiteout!
Please summarize the book for the readers here: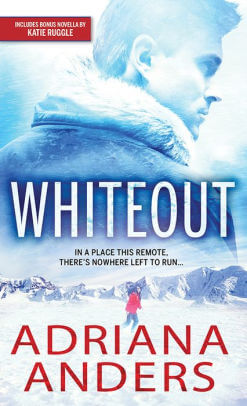 Chef Angel Smith and Dr. Ford Cooper—the annoyingly handsome scientist who's always avoided her like the plague—are forced to team up when the South Pole research station is attacked. The two have to work together in order to survive as they face off against the elements, and the people hunting them down.
WHITEOUT is a book about survival against all odds and about love conquering all.

Please share your favorite quote from the book
Oh no! That's so hard!
Okay. How about: "On the ice, in the antarctic cold, in the middle of freaking nowhere, his tongue showed her how dirty sex could be, his body made her take it, and that dark, raspy husk of a voice broke in to turn the whole thing up a million degrees."
Please share a few Fun facts about this book…
As far as I know, WHITEOUT is the first Romance to take place almost entirely in Antarctica. For example, the hero in Kennedy Ryan's Kingmaker spends a part of the book there, but the love story happens elsewhere. (I'd love to hear about more, if they're out there!)
Because travel windows are so small in Antarctica, with low temperatures making both air and land travel virtually impossible for much of the year, I had to time this even very specifically. It happens early in the year: February/March. Right around the last flight out, but before the sun goes down and temperatures drop. Vostok, which my Volkov Station is loosely based on, holds the record for the lowest air temperature recorded on the earth's surface: −89.2°C (-128.5°F). So, I had to make sure my characters traveled at a time when they physically could, which gave me a very small window… and even then, I tortured them pretty well.
I am obsessed with what we call "Forced proximity" in romance, meaning the trope featuring protagonists stranded or enclosed in a small space together and, well, practically forced to fall in love. ¯\_(ツ)_/¯ Elevators, cabins, locked buildings… I love them all. When writing Whiteout, one of my personal objectives was to write an 'extreme' forced proximity. Not just a book about being stranded, but a book about being truly alone. Together. The fact that it's too cold to touch is just icing on the cake.
Tell us about the book with this fun little challenge using the title of the book
W is for WILDERNESS
H is for HERO/HEROINE
I is for ICE – The Ice is one of the main characters of WHITEOUT, as central to the plot as the hero and heroine.
T is for TENT
E is for ESCAPE
O is for OUTRUN
U is for UNDER THE ICE
T is for TUNDRA
If your book was optioned for a movie, what scene would you use for the audition of the main characters and why?
I love this scene where Angel and Ford are really beginning to share something. They've developed a relationship on the ice—sweet and a little stilted and, honestly, sexy as hell. Anyway, this is a scene that I like because it shows the ease between them (finally)… and then it takes it away.
Coop heard them again the next day.
With the storm out of the way and the cloud cover almost gone, those assholes were up there for the second day in a row, searching for them. Had they somehow spotted them and figured out that they were headed to Volkov, instead of the more obvious South African station? Part of Coop's reasoning in choosing Volkov had been to avoid pursuit, but if they'd been spotted before the storm, then that advantage was gone.
Given their slow pace, they needed all the advantages they could get.
Just thinking about Angel behind him sent a rush of anxiety through him. He couldn't hide or cover or protect her. All he could do was push himself more, go faster, get to shelter sooner, and make sure she kept up. And she was keeping up remarkably well.
He couldn't have wished for a better partner.
He did, however, wish they weren't such easy targets.
His muscles strained as he pushed, his knees tense and weak, his face burning from the wind, his eyes barely open, even behind the dark goggles' protection. The snow blindness would get worse if the sun came all the way out.
They had to hurry. These ten-mile days would kill them.
Coop turned to check on Angel and stumbled. The ice behind him was absolutely empty as far as the eye could see. Disbelief made his brain stop working as he stared at the place where she should be. How many times had he glanced back in the last six days? Hundreds? Thousands? Millions? Under the harsh sun, against the beating wind, through ice and clouds and every other type of weather they'd traveled with, she'd been the only constant.
Her absence was a missing puzzle piece.
He swung left—nothing but choppy, water-like surface. He swayed, as lost at sea as a sailor looking in vain for a familiar lighthouse. Was he hallucinating? Where was she?
He swung back, frantic, her name already out of his mouth, once, twice. "Angel! Ang—"
"Yeah?"
She stood beside him, as if she'd grown tired of following him and decided to keep pace. He shook his head and blinked at the puffy red-and-black shape of her, intimately familiar now.
The sun turned the smooth horizon rough, gave it details and shadows and depth. Through a cold, wheezing breathing cycle, he focused on those variations—followed snakelike shapes to their abrupt ends, moved from one short series of lines to a larger pointed protrusion. Once he'd steadied himself, he focused back on her. Behind her, the sky was clearing to a bright, crystalline blue, the sun breaking through to limn her the way it did the dips and divots in the ice. "You okay?"
"I'm fine."
"Good." He put his hands to his face and exhaled hard.
"How about you, Ford? You seem—"
Annoyance bubbled over, replacing the anxiety from moments before. "Why do you call me that?"
"Call you what?" She sounded confused.
"Ford."
"It's your name." Her head tilted at an angle. "Isn't it?"
"People call me Coop."
"Oh, right. Coop." She popped the final p, clearly displeased with the sound.
"You don't like it?"
"It's not that I don't li—"
"Why don't you like it?"
"Because you're a man, not a henhouse." She sighed. "Not to mention, it rhymes with poo—"
A gruff laugh erupted from his lungs, surprising them both. It relaxed his muscles and broke him from the spell of almost losing her.
Jesus, this woman.
"And I like Ford. The name suits you. You're…" There was something awkward, almost embarrassed about the way she turned away now, but because she was courageous, honest Angel Smith and not cowardly Ford Cooper, she finished. "I don't know. Fording streams, forging a path for us. Coop is too…small a name for you."
"All right then," he managed to say before his bout of embarrassment clogged up his throat. "You want a break?"
"No. Keep going."
"You've got to watch that knee, Angel. I see how you're favor—"
"You heard it too, didn't you?" She didn't have to pull off her goggles for him to know she had that narrow-eyed look on her face. "The engine noise. They're still after us, aren't they?"
"Yeah."
"Then we keep moving."
"You need to rest, or we'll—"
Ignoring him, she skied ahead, leading the way. Stubborn woman.
He grinned, the feel of it unfamiliar on his features, and took off. They'd been going maybe five minutes, skiing beside one another instead of in a line, when he slowed and half turned. "Speaking of names," he said, enjoying the novelty of being heard after days of howling against the wind. "Angel's pretty presumptuous, isn't it?"
"Huh?" She slowed to match his pace.
"You live up to your parents' expectations with that name?" He figured she had. Maybe she wasn't saintly in the biblical sense, but she was kind, good, generous. And beautiful, though he worked to ignore the pulse of want that went through him, turning to stare at the increasingly textured ice. There was a pattern to it that reminded him of something. Striations breaking up the windblown desert. To avoid falls, they'd have to watch their pace with variations like these. He turned, thinking he'd mention it, but she was still laughing at his comment.
"Ha! Right." She pushed off hard, more confident on her skis than she'd been that first day. Graceful, in fact, and faster.
They hadn't heard the plane again, though the weather was holding, with the sun bright enough to warm the air and his body and even his insides.
Who knew, maybe they'd get those thirteen miles in today and make it to Volkov after all.
He'd just set off when she screamed, loud, primal, and frantic, then disappeared—swallowed up by the ice.
Excerpt. © Reprinted by permission. All rights reserved.

What do you want people to take away from reading this book?
I want readers to feel like they've been to Antarctica. I want them to see the beauty, feel the cold, experience the danger. And in the end, I want them coming out of this book full of hope. Life is hard. We all go through trials, some more difficult than others, but everyone deserves a happily ever after. Love will win in the end. That's my ultimate message.
What are you currently working on? What other releases do you have planned?
If you could have given your characters one piece of advice before the opening pages of the book, what – would it be and why?
Ha! That's easy! GET OUT. GO! GO! GO! But then, they'd never get together and, honestly, I don't think either one regrets a moment of what they suffered through to be with each other.


Thanks for blogging at HJ!
Giveaway:

1 Paperback copy of Whiteout by Adriana Anders
To enter Giveaway: Please complete the Rafflecopter form and Post a comment to this Q:

I'm now obsessed with Antarctica. If I didn't have young kids and responsibilities at home, I'd drop everything and find a way to live there—in a heartbeat. What's the most memorable place you've traveled? And if you haven't gotten there yet, what's your dream destination?
Book Info:
With a storm coming and a killer on the loose, every step could be their last…
Angel Smith is finally ready to leave Antarctica for a second chance at life. But on what was meant to be her last day, the remote research station she's been calling home is attacked. Hunted and scared, she and irritatingly gorgeous glaciologist Ford Cooper barely make it out with their lives…only to realize that in a place this remote, there's nowhere left to run.
Isolated with no power, no way to contact the outside world, and a madman on their heels, Angel and Ford must fight to survive in the most inhospitable—and beautiful—place on earth. But what starts as a partnership born of necessity quickly turns into an urgent connection that burns bright and hot. They both know there's little chance of making it out alive, and yet they are determined to weather the coming storm—no matter the cost.
Book Links: Amazon | B&N | iTunes | Kobo |


Meet the Author:
Adriana Anders is the award-winning author of the Blank Canvas series. Under Her Skin, a Publishers Weekly Best Book of 2017 and winner of two 2018 Holt Medallions, has been featured in Bustle, USA Today Happy Ever After, and Book Riot. Today, she resides with her tall French husband and two small children in France, where she writes the gritty, emotional love stories of her heart.
Author Website: https://www.adrianaanders.com/