Redeemed by His Stolen Bride by Abby Green is a sexy and compelling marriage of convenience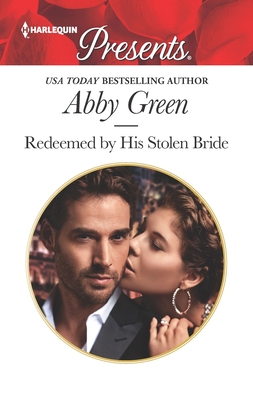 romance. It's also a sequel to Confessions of a Pregnant Cinderella, an equally engaging and enjoyable story.
When Leonora Flores de La Vega's engagement party ends in a shambles, and her decidedly not engaged, one man comes to her rescue – Gabriel Ortega Cruz y Torres. She doesn't know why he was at her party (now her humiliation) but she takes his offer to hide her away from the paparazzi with gratitude. She can't deny she's attracted to him too, and when he seduces her, she's a willing partner. For Leonora, it's a night she won't forget but she's surprised and somewhat mystified when he calls her up to go on a date, and then proposes marriage!
Gabriel hadn't thought of settling down but after his night with Leonora he knows she's the one he wants in his life, to be his wife and mother of his children. He also can't deny that his initial interest was piqued by her being his rival's fiancee first. He doesn't believe in love, but he knows they'd be compatible in and out of bed, and he can help her with her financial troubles – one of the reasons she had agreed to her previous engagement that went awry. Leonora knows it's in her best interests and her family's to agree but can she keep her heart from wanting more?
I was definitely interested in reading Leonora's story after she is jilted in Confessions of a Pregnant Cinderella. I already knew from that tale that she would end up with Gabriel as they were both secondary characters but I really enjoyed reading their story in full. The chemistry between them is sizzling from the moment their eyes meet and their first night together is passionate and sensual. Gabriel makes sure that Leonora is fully consenting and gives her chances to change her mind but Leonora is ready to lose her virginity to the surprisingly tender yet confident Gabriel.
From then on she can't resist his advances and his proposal – he's pretty swoonworthy even if he is clear that love isn't on the table. They have plenty of time together on their honeymoon and even when Gabriel goes back to work he finds that he can't stop thinking of Leonora. Things take a more emotional turn later in the story, problems relating to infertility that affect them both and make their happy ending all the sweeter. Plus, there is some family drama as Gabriel comes to terms with his greatest rival being his half brother, something he had known but not really believed. It's a thoroughly enjoyable romance and I'm so happy to see Leonora find her perfect match.
Book Info:

Publication: Dec 17. 2019 | Harlequin Presents | Rival Spanish Brothers #2
Married for revenge…
But is she the key to the Spaniard's redemption?
Seeking vengeance, billionaire Gabriel isn't above stealing his rival's fiancée for himself! His plan seems complete when, to support her struggling mother, sweet, penniless Leonora agrees to his ruthless proposal. But at his luxury villa, he's blindsided by their powerful attraction—and her innocence!
Gabriel only offers passion, but behind his arrogant pride, Leonora discovers his loyalty matches her own. She sees the honorable man Gabriel could be, if he's prepared to give her more than just pleasure…