Today it is my pleasure to Welcome romance author
Karen Rock
to HJ!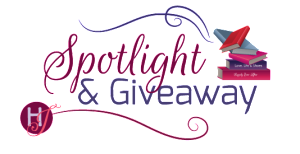 Hi Karen and welcome to HJ! We're so excited to chat with you about your new release, Winning the Cowboy's Heart (Rocky Mountain Cowboys, Book 5)!

Hi, everyone! Thanks so much for having me here today.

Please summarize the book a la Twitter style for the readers here: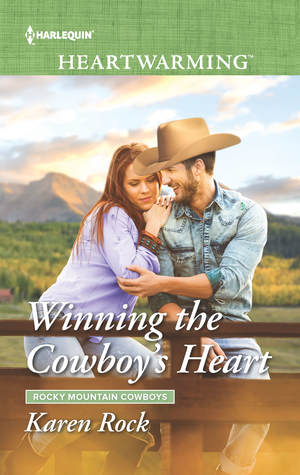 When her honeymooning mother needs sassy cowgirl Jewel Cade to team up with her country-singing rancher step-brother Heath to drive cattle through a drought-plagued summer, their Romeo and Juliet romance begins, along with high-stakes adventure and a love triangle since Heath is all but promised to his long-time girlfriend. Can these two rivals find love on the range?

Please share the opening lines of this book:
"THANK YOU FOR coming out tonight, Carbondale!" Heath Loveland shouted into the mic at Silver Spurs, the town honky-tonk. A drumroll behind him, followed by a cymbal crash, punctuated his closing set's final remark. His bass player, Clint, hammered a quick, throbbing beat.

Heath loosened his sweaty grip on his Fender and peered into the throng of country-western-dressed locals, searching out his MIA fiancée. No surprise she hadn't shown. In fact, it would have been a surprise if she had, seeing as she disapproved of his gigging. "We hope you had a good time tonight."
Please share a few Fun facts about this book…
In the name of research (ahem*) I had to spend several Friday and Saturday nights listening to country rock bands to make my hero's band, Outlaw Cowboy's as authentic as possible.
I probably rewrote Heath's fiancée about five times until I got her right. First she was too mean. Then too nice… and so on. Love triangles are tricky!
Jewel Cade is the sassiest cowgirl I've ever written and some of her fast comebacks made me laugh out loud as I wrote them.
My editor flat out told me not to write any original songs for this book- lol.
What first attracts your Hero to the Heroine and vice versa?
My hero, Heath Loveland, grew up believing his role in the family was to keep the peace. When he meets fiery Jewel Cade, who doesn't give two hoots when anyone thinks about her, he's attracted to her sass, her independence and strength, not to mention the smart mouth she has he's aching to kiss.
My heroine, Jewel Cade, always tried to outride, out rope and outdo her older brothers to gain her father's attention and approval. She's drawn to how comfortable Heath is in his own skin. His quiet strength and confidence is attractive and his deep, beautiful singing voice makes her swoon–if she was that type of gal…

Using just 5 words, how would you describe Hero and Heroine's love affair?
Passionate, fiery, complicated, vulnerable and yearning.

The First Kiss…
"Jewel," he murmured in her ear, the husky bass sending shivers dancing down her spine.

Heath's body hugged hers from his chest to his thighs, her hair brushed his face, his masculine scent tickled her nose, and his mouth was poised at the sensitive lobe of her ear, as if ready to demand surrender.

Should she give in to her feelings at last?

Heath was promised to another…

But right now, after saving him from drowning, didn't a bit of his life, even if it was just this moment, belong to her?

They stood frozen for several long seconds, locked in the strange embrace, eyes closed, mouths slightly open, trying to breathe without movement, without sound, and growing light-headed in the attempt. Jewel's hands had risen to Heath's arm when he pulled her to him, and she stood motionless against him, her hands gripping the hard limb holding her. She didn't dare say his name, didn't dare utter a sound. Surely it would break the spell. Then she felt his lips move ever so softly against the lobe of her ear, skim the uppermost edge of her jaw, then travel back again.

Jewel resisted the sweet shudder sliding down her spine, but Heath must have felt the tremor as his lips left her skin. He didn't pull away or loosen his hold, though. Was she about to have her first kiss? It felt as unstoppable as the weather, a seismic shift cracking open her heart. She wanted Heath to be her first…

Her only?

Opening her eyes, Jewel slowly angled her head back, feeling his breath mark a path across her cheek as she raised her face and lifted her chin. Then it was her breath tickling his cheek and warming his lips. Again, they paused, muscles tensed, straining to feel everything, to miss nothing, and still not cross the line. Heath's eyes remained closed and hers followed suit as they approached that line, stood at its edge, and then tumbled over it, into each other.

She turned, and his arms went around her, holding her tight. She liked the feel of his embrace, sheltering her, when she'd never craved a man's protection before. It was oddly empowering. Exhilarating. Their bodies melded as he buried his head in her neck, dragging in a deep breath. Her pulse pounded, and her hands trembled. A deep shudder rose through him and he shook in her arms, and then he moved.

Clasping her cheeks in his large hands, he said something too low and too quick for her to make out as he tilted her head back and kissed her. There was nothing soft about it, like in fairy tales or her girlhood imaginings. This was a man's kiss, firm, real, ardent, full of the same yearning clamoring inside her. He tasted of something sweet; the cold tang of rainwater was still on his tongue. Little shivers raced through her body as she lost herself in the kiss. Her hands slid up to his shoulders and her fingers dug into the fabric covering his firm skin. The kiss was doing crazy stuff to her senses, warming her through while making her shake.

She'd never felt this before. How could such sweet wildness come from a single kiss? The release and freedom of finally letting go, of complete and utter acceptance, of having what you wanted, what you yearned for without worrying about being weak. Open. Vulnerable. The immediate and absolute rush of longing was so potent it clouded her thoughts, elation springing from tasting Heath on the tip of her tongue. Nothing compared to this. Why had she guarded herself from her feelings for so long? What she'd missed…

Heath broke the kiss, breathing heavily as he cradled her face. "Jewel. We need to think about this—"

She could barely catch her breath. "We will." She dragged her hands up his neck, smoothing her thumbs along his jaw. "But not now. I deserve now. We both do."

Heath didn't move, and she wasn't even sure he breathed. A lock of wet black hair clung to his face and when he finally lifted his chin, the vulnerability in his gaze seized her heart. His handsomeness was almost too perfect, but in that moment, he looked utterly human and the slightest bit lost.

I'm here, she wanted to scream. Stop searching.

Her heart pounded fast, but her blood felt sluggish. Was he going to stop worrying about others and live in the moment with her…just this once?
Without revealing too much, what is your favorite scene in the book?
Heath and Jewel are step-brother and step-sister from feuding families suing each other over water rights. I enjoyed some of their squabbles just as much as I enjoyed their love scenes… Here's one of my favorites . Heath finds Jewel struggling to free a spare tire caught under her truck. When he steps in to help, he get's little thanks as you'll see…

"Not bad for a Neanderthal," Jewel drawled behind him.

"Neanderthal?" When he turned, she'd already fitted the spare into place and stretched a hand out for the wrench. He passed it over, impressed as she secured the new wheel faster than he'd removed the old.

"Yeah," she grunted as she tightened the last bolt. "Primitive man."

"I'm not primitive."

She sat back on her haunches and eyed her tire change. "You practically clubbed me over the head to get the tire."

"I've never raised a hand to a lady."

Her gaze collided with his. "Don't get your panties in a twist. And I'm no lady. Or some damsel in distress. Play your hero act with your fiancée."

With that, she tossed the long wrench in her truck bed, hopped behind her wheel and started up her powerful engine. It throbbed, loud, in the night air. Before she left, she leaned out her window, her expression smug. "And you're welcome."

"For what?" Shouldn't she be thanking him?

"For protecting your fragile male ego. See you in court!" She shifted into gear, then raced off, her tires kicking up gravel.
If your book was optioned for a movie, what scene would be absolutely crucial to include?
Ranching is a critical part of this book as Heath and Jewel team up to drive cattle through dry country in search of water. They encounter many dangers along the way, including natural disasters like a flash flood that nearly destroys the entire herd. Here's a snippet from a scene I'd want a movie to include:
The wind picked up and tore Jewel's Stetson from her head. Her braids whipped around her cheeks. With a solid crack, the swollen skies suddenly split above them. Rain peppered the hard-packed soil and rivulets of water rolled down the riverbed. Within minutes they were wet through.

By now only half the herd had clambered up the bank, the rest splashing in water rapidly rising over their hooves.

"Heeeee-yaaaaa!" She yelled so loudly that it felt as if the humid air was scorching her throat when she drew breath. Waving her red kerchief at a pair of hesitating Brahmans, she spooked them in the right direction.

She squinted at Heath through the now-pelting rain. He rode like the devil himself, flashing back and forth as fast as the lightning, urging the cattle forward and left without making them panic. Like her, he knew one breakaway animal could lead an entire group to their doom.

Bear splashed through the rising water. She couldn't judge the terrain beneath them, couldn't predict where a treacherous depression might turn his fetlock or worse. Compartmentalize. Focus on herding the animals from the imminent threat at hand.

Swiping the dripping water in front of her eyes, she zipped alongside the cattle, blocking their way when they tried to outrun the rushing water. It now swelled around their knees. The cattle dogs paddled beside them, fighting the current. Thunder rumbled, low and deep, and a lightning bolt hit a nearby tree and sent a limb crashing down.

As each second passed and the weather pressed in around them, her fear built into a hot, urgent creature. It threatened to explode inside her. By now, most of the cattle had made it up the embankment. The remaining Brahmans reared back at the smoking tree limb. Heath, grim-faced and bold, drove straight at them, and they scrambled over the branch to safety.

"Come on!" Heath made a sweeping gesture with his hand from the top of the riverbank.
Readers should read this book …
…if they love high-stakes, cowboy romances set in a beautiful ranching community with lots of family drama and small-town appeal. This book is part of a series but can be read as a standalone.
What are you currently working on? What other releases do you have planned?
I'm currently working on Book 8 in my Rocky Mountain Cowboy's series, tentatively titled Healing the Cowboy's Heart. For upcoming releases, look for A RANCHER TO REMEMBER (Rocky Mtn Cowboys, Book 6) in April, 2019, and TO CATCH A COWBOY (Rocky Mtn Cowboys, Book 7) in November, 2019.
Thanks for blogging at HJ!
Giveaway:

I'm giving away an advanced print ARC of my April release, A RANCHER TO REMEMBER (Rocky Mountain Cowboys, Book 6) to U.S. addresses or a digital copy of A COWBOY'S PRIDE (Rocky Mountain Cowboys, Book 4) to an INT winner.
To enter Giveaway: Please complete the Rafflecopter form and Post a comment to this Q:

Jewel and Heath couldn't be more different. Jewel is brash, has a fiery temper and is fiercely independent whereas Heath is calm, steady, sensitive and slow to anger. But opposites attract in WINNING THE COWBOY'S HEART. Does this happen in real life? Do opposites attract or is it better for a couple to be alike in temperament?
Excerpt from Winning the Cowboy's Heart (Rocky Mountain Cowboys, Book 5):
A couple hours later, Heath stood with one shoulder propped against the wall. Out on the dance floor, yet another cowboy led Jewel through a two-step. The plastic sides of Heath's cup dented as the man slid an arm up her back and drew her closer. Impotent jealousy torched his chest, yet he held himself in check. He had no right to intervene, to claim Jewel as he longed to. Watching her with other men, however, was killing him.

The song ended, and with a winsome smile, Jewel slipped outside alone. He tossed his cup, pivoted and strode through the open French doors after her. The darkness obscured his view.

Then a slight breeze swept clouds from the moon and he caught sight of her fluttering rose dress as she stood alone, down by the pond. She pulled her hair loose from her ponytail.
The sound of the fountain grew louder as he approached. It must have muffled his footfalls because she jumped when he called her name.

She whipped around, the same anger spewing from her he'd seen the first day she'd come to work with him. She brushed at her cheeks and glared up at him. "What are you doing here?"
"Looking for you."

Her slender white neck moved as she swallowed. "Shouldn't you be with your fiancée discussing your wedding plans?"

He took a deep, pride-eating breath. "I'm not setting a wedding date with Kelsey and we haven't picked out wedding rings." One red lock clung to her tearstained cheek. He reached out to free it, but he hesitated a mere heartbeat away from her skin.

"No?" Her eyes widened.

He swore she quit breathing…quit blinking, and for a second, so did he. In a deliberate movement, he freed the curl. "She's shown me dozens of pictures of wedding bands, but we've never gone to a jeweler."

She exhaled a shaky breath, and he slid his right hand down her arm, cradled her hand against his chest and swayed them from side to side. "Dance with me."

A little tension eased off her face. "To what music? I don't hear anything but the fountain."

"Slow drumbeat." With one finger he tapped the beat into the small of her back. "Acoustic guitar." He leaned down and hummed his favorite song in her ear. Her fresh scent intoxicated him.

She relaxed slightly, fitting perfectly into his body. In the soft, warm August air, they swayed together, moving to their own personal beat. His pounding heart kept time.

Craving more of her touch, he shifted and pressed his cheek to hers. Somehow it seemed like he floated above the ground, his blood ran warm in his veins, and he felt at peace—no, not just peaceful, invincible. For a moment, they escaped their troubles. No lawsuits, no feuding families, no struggling cattle, no fiancée—just the two of them dancing.

His song ended, his finger stopped tapping the beat, and they ceased moving from side to side. Jewel held perfectly still, keeping her hand in his, her head resting on his shoulder. He nuzzled into the warmth of her silky hair, tightening his hold. Jewel was becoming essential, like air.
He lowered his head and inhaled her scent at the nape of her neck, allowing his nose to skim along her inviting skin. Her chest rose and fell at a faster pace. His hand melted on the curve of her hip. He reeled with the force of his emotions.

"Heath," she breathed out.

Forgetting every ounce of sense he should have in this moment, his hands wandered up her back, twining in her hair, bringing her nearer still. He closed his eyes to regain some control over himself. He wanted Jewel. He needed Jewel, but he had to figure out how to handle his situation with Kelsey without hurting those he loved first.
Excerpts. © Reprinted by permission. All rights reserved.


Book Info:
Jewel Cade wants two things–One is Heath Loveland
The Rocky Mountain cowgirl has her heart set on becoming range boss of the Cade ranch. But first she has to accompany the son of her family's longtime enemy–and her off-limits secret crush–on a cattle drive across Colorado. Discovering Heath shares her attraction only makes for a rockier road. Because Jewel has a sneaking suspicion that if she drops her guard, the cowboy might ride off with her heart.
Book Links: Amazon | B&N | iTunes | Goodreads |


Meet the Author: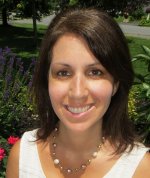 Award-winning author Karen Rock is both sweet and spicy—at least when it comes to her writing! The author of both YA and adult contemporary books writes sexy suspense novels and small-town romances for Harlequin and Kensington publishing. A strong believer in Happily-Ever-After, Karen loves creating unforgettable stories that leave her readers with a smile. When she's not writing, Karen is an avid reader who also loves cooking her grandmother's Italian recipes, baking and having the Adirondack Park wilderness as her backyard, where she lives with her husband, daughter, dog and cat who keep her life interesting and complete. Learn more about her at Website | Facebook | Twitter |Instagram |