Spotlight & Giveaway:

Born Wild

by Julie Ann Walker
New York Times and USA Today bestselling author Julie Ann Walker dives back into action with the red-hot romantic suspense Black Knights Inc. series!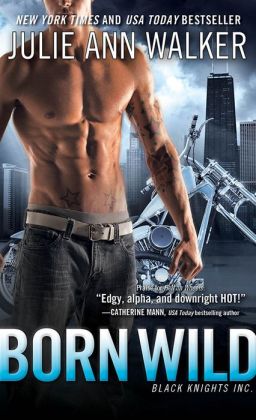 They claim they're bad-boy bikers who own custom motorcycle shop, but these special-ops guys—a mix of Navy SEALs, Army Rangers, Marines, FBI and more—handle the jobs too tough for the government to tackle.
TICK…TICK…
"Wild" Bill Reichert knows a thing or two about explosives. The ex-Navy SEAL can practically rig a bomb blindfolded. But there's no way to diffuse the inevitable fireworks the day Eve Edens walks back into his life, asking for help…
BOOM!
Eve doesn't know what to do when the Chicago police won't believe someone is out to hurt her. The only place to turn is Black Knights Inc-after all, no one is better at protection than the covert special-ops team. Yet there's also no one better at getting her all turned on than Billy Reichert. She has a feeling this is one blast from the past that could backfire big time…
Sourcebooks is giving away a Black Knights Inc. Bandana! to any reader who Pre-orders BORN WILD
Details can be found on Sourcebooks Facebook Page, As an added bonus: EVERYONE who receives a bandana will have an opportunity to win a fabulous motorcycle-themed gift basket, inspired by the Black Knights.

Giveaway: Print Copy of THRILL RIDE
To enter Giveaway: Please complete the Rafflecopter form and post a comment: Have you read this series? If not tell me why you would pick up this book… (other than for the HOT cover!) 🙂