Today it is my pleasure to Welcome author
Amy Sandas
to HJ!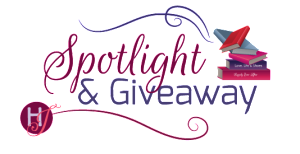 Hi Amy and welcome to HJ! We're so excited to chat with you about your new release, The Cowboy's Honor!
Please summarize the book for the readers here: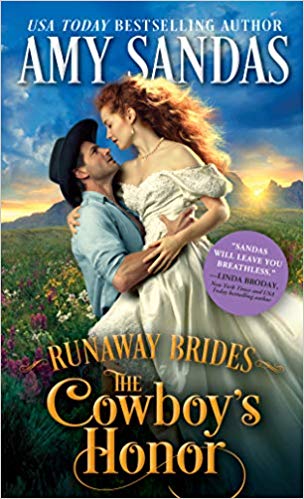 The Cowboy's Honor is book two in my Runaway Brides trilogy which follows three high society ladies as they leave behind the lives they knew in Boston for adventure, independence, and liberation in the Wild West.
Courtney Adams is a wealthy, privileged favorite of Boston's elite social scene who realizes at the last moment that the arranged marriage she'd been anticipating since childhood was not going to be the fairytale she'd hoped. On impulse, she flees the church and Boston altogether and heads westward to Montana, hoping to meet up with her old school friend. Instead, she finds herself stranded in a small town where she is mistaken for a surly cowboy's mail order bride.
Dean Lawton has everything he needs in Lawton Ranch, the cattle spread that had been entrusted to him upon his grandad's passing. For some reason, however, his reckless brother got it into his head that Dean needs a wife and apparently sent for an Eastern woman to fill that role. Before Dean knows it, he's got pretty spitfire of a woman relying on him for protection. Seeing no choice but to marry her until the mess is sorted out, he doesn't discover until it's too late that she is not a mail order bride after all. The judge refuses an annulment until they've spent four weeks getting to know each other.
A cattle ranch in the middle of the Montana wilderness is not where Courtney expected to end up, but she decides to make the most of it, despite the handsome prideful man who insists he doesn't want a wife. She comes to loves the land and Dean's family as she discovers who she is without societies trappings and learns what independence truly feels like. Unfortunately, Dean has several reasons to avoid matrimony and one of them gets more and more dangerous. As the days pass on, what started as animosity between.

Please share the opening lines of this book:
Courtney Adams stood perfectly still in front of the full-length, gilded mirror while her mother adjusted the pearls around her neck. The other attendants had already gone to find their places, so it was just the two of them in the private preparation room.
"Mother…"
Please share a few Fun facts about this book…
This story was inspired by the scene in the first episode of Friends when Rachel Greene rushes into Central Perk in her wedding gown.
My visual inspirations for Dean Lawton and Courtney Adams were the actors Scott Eastwood and Eleanor Tomlinson.
The goat kids born in the story were named by my then five-year-old daughter.
If your book was optioned for a movie, what scene would you use for the audition of the main characters and why?
I think the scene when Courtney and Dean first meet in town would be perfect for an audition. That scene would give the actors a chance to show their initial sexual chemistry while depicting the unspoken assumptions made by Dean and Courtney's response to his less than mannerly behavior. We would want to see a hint of the vulnerability and frustration in Dean's brusque manner as well as how Courtney tries to retain her self-assurance in a fish-out-of-water situation.
Here is a little snippet of dialogue from that scene.
His expression had turned suspicious now that it was just the two of them standing there on the boardwalk. "Tell me you're not one of those Eastern brides."
She could not believe she had briefly thought his voice was soothing. There was nothing in his tone but a harsh, abrasive command.
Courtney did not respond well to commands. "I do not have to tell you a thing," she replied, her tone as sharp as his. "You are a complete stranger to me."
He was not deterred in the slightest. In fact, his cool eyes became even more direct and intense. "That's a wedding dress."
She met his gaze, refusing to be cowed by his rudeness. "It is."
"And you just got to town?"
"I did."
"From where?"
"Boston." Courtney wasn't sure why he was asking so many questions. She was even less sure why she was answering them.
"I knew it," he snarled beneath his breath. "Randall's gone and done it this time."
The derision in his tone put her on the defensive, but his comment simply confused her. Best to retreat—nothing good would come of this.
"I do believe this conversation has run its course. Although I appreciate your assistance just now, I should be on my way. If you'll excuse me." Courtney made as if to step past him, but he essentially blocked the boardwalk and clearly wasn't budging.
Excerpt. © Reprinted by permission. All rights reserved.

What do you want people to take away from reading this book?
Each of the Runaway Brides books has an underlying theme. Book one, The Gunslinger's Vow had a subtle focus on adventure. The Cowboy's Honor focused, not so subtly addresses Courtney's desire to experience independence. She grew up in a way where almost everything in her life was decided for her and her actions were dictated by the society she lived in. When she ran away, she realized she wasn't exactly sure who she was without all of that to prop her up. She made a decision to learn about herself and become more independent.
I would love for readers to be inspired by Courtney's steady determination to grow and learn and evolve as a person. As well as her unfailing optimism and her belief that even when things don't go your way, you can still make the most of any situation.
What are you currently working on? What other releases do you have planned?
The Outlaw's Heart, the third book in Runaway Brides, will be coming out near the end of 2019. I will also have a novella included in a Christmas anthology of Western Historicals releasing in October. It has been so much fun writing romances set in America's wild west that I've been developing another trilogy that centers around a gang of outlaws introduced in The Outlaw's Heart, but it is still in its early stages.
While I really enjoy writing Westerns, I still have a great love for Regency Romance and can't seem to stay away from them for long. So, I've also been working on a trilogy of novellas set in England that I hope to release myself sometime this year if all goes well.

Thanks for blogging at HJ!
Giveaway:

Print copy of Cowboy's Honor (Runaway Brides #2) by Amy Sandas
To enter Giveaway: Please complete the Rafflecopter form and Post a comment to this Q:

If you suddenly found yourself on an 1880s Montana cattle ranch for four weeks, what do you think you would love about it? What would be the hardest thing to get used to?
Book Info:
Three runaway brides
Determined to escape their fates
Flee West to find freedom that can only be had
in a cowboy's arms…
Courtney Adams never questioned the future her parents laid out for her…until the day she was to marry one of Boston's elite. Desperate, she flees the church in a flurry of bridal finery and trades her pearls for a train ticket to Montana—only to be mistaken for a surly cowboy's mail order bride!
Dean Lawton doesn't want a wife—especially not some fancy Eastern lady he believes his brother "ordered" behind his back. Yet one mistake leads to another, and before the dust can settle, he finds himself married to a woman who challenges him at every step…and sets his wounded heart ablaze. But the clock is ticking on this marriage of inconvenience, and soon Dean must decide: convince Courtney to remain in his arms, or lose her light forever…


Meet the Author:
Amy Sandas writes historical romance about dashing and sometimes dangerous men and women who are often reckless, bold, and unconventional. Her affinity for writing began with sappy pre-teen poems and led to a Bachelor's degree with an emphasis on Creative Writing from the
Website | Facebook | Twitter | Instagram |