In Battle of the Bulge (OHellNo #4) by Mimi Jean Pamfiloff , Aussie Olympic gold medalist Mitch Hofer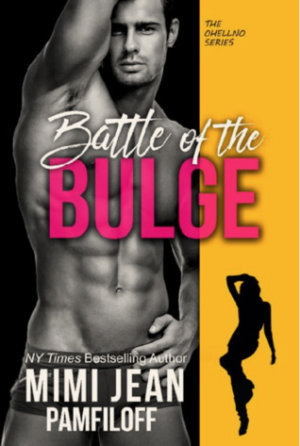 typically spends his days in the pool, honing his skills as a first-class swimmer. And while he's used to having an entourage and being in the spotlight, he's been trying to keep a relatively low profile, given the current dangers to his personal life. A bodyguard sounds like the perfect solution for Mitch. Until it turns out to be achingly gorgeous little Abi Carter. And there's no way he's going to have her as his protector–whether she ever finds out the real reason why or not.
"For the record, you're here against my will." He speaks into my ear.
I blink. "Meaning?"
"A female bodyguard? Pfft! Now there's a knee-slapper."
Wow. What a knuckle-dragging, club-thumping caveman.
The Bulge. How in the world did Abi's first gig as a bodyguard end up being for a guy known to all far and wide as The Bulge? Of course it doesn't help that they have a weird history, after their shared passionate night ended abruptly the next morning with some serious attitude on Mitch's part. Abi has no choice but to woman-up and take the job, though. She needs the money too much to lose focus on her goals. Mitch's sexist comments aside, she does like the thrill of getting paid to protect people. It's something Abi's inherently done all her life. But she has to begrudgingly admit, the more she gets to know her sexy client, the more she believes she's the right woman for the job.
"I get to carry a gun, dress like a stripper, and say stupid things. It's like facing every fear I've ever had and then being forced to make peace with them… Plus I've always wondered what it would feel like to have men just look at me like eye candy."
"And?"
"I'll find out tonight," I reply. "My dress is so tight you can see my ovaries. It's very seductive," I joke.
Battle of the Bulge was a hilarious yet heartfelt novel filled with all the raunchy, snarky goodness I expect out of Mimi Jean Pamfiloff's work. What I wasn't expecting was to fall absolutely head over heels for Mitch and Abi, or to be so surprised by the final epic plot twist. (Why do I picture MJP laughing and saying "Excellent" a la Monty Burns when she reads that last sentence?)
"Thank you."
"Don't mention it. It's always been my dream to save a world-famous swimmer from drowning in his own stupidity."
"No. I really mean it. Thank you for everything. As insane as it sounds for a guy like me to say, I don't see myself surviving this without you."
Mimi's OHellNo series might as well be called OHellYes, because I just can't get enough of it. Abi and Mitch, particularly, resonated with me. As with all of the characters in this series, there was a whole lot more to them than met the eye. I loved that these two were both reaching out beyond their comfort zone, whether it was shy Abi with her dangerous new job as a bodyguard, or Mitch pushing himself physically and socially. I will say that I didn't start off so sure of Mitch and how he treated Abi the night of the party (which we glimpse in the previous book Digging A Hole)–but give him a chance! There is always a reason for a character's actions in MJP's books. And it is generally not what the reader is expecting, which is definitely the case for Mitch.
I will warn that you can read this as a standalone quite easily but it will have some mild spoilers regarding the previous three books. But if you've been following the series, you'll have a blast getting back in touch with the couples and seeing where their lives have taken them. And we got to see Georgie and Sam (from Digging A Hole) throughout this book as Georgie and Abi were BFFs, and Sam was friends with Mitch as well as he was also Abi's new boss. Boy were the scenes fun when they all interacted. You just never knew what would come out of their mouths next, but you knew it would be comical.
A fast-paced, sexy romp that will leave you laughing and breathless, Battle of the Bulge was an exciting new addition to the OHellNo series. But it's not over yet. Mimi Jean Pamfiloff left this off in a mini-cliffhanger which will be picked up with a whole new couple to get to know in My Pen Is Huge. (Yep…she went there. lol)
Book Info:

Publication: February 14th 2019 | Pub: Mimi Boutique | OHellNo #4
From New York Times Bestseller Mimi Jean Pamfiloff comes BATTLE OF THE BULGE, Book Four of the OHellNO Series. (A Standalone.)
"Chicks can't be bodyguards. Especially hot chicks."
MY NAME IS MITCH HOFER. I'm a world-famous swimmer from Australia, best known for three things: my gold medals, my looks, and filling out a swimsuit with my…eh-hem—bulky equipment. Let's just say there's a reason my nickname is "the Bulge."
But beyond the fame, sponsors, and glory, there's more to me than people know, including one hell of a mess I've gotten mixed up in. Life-or-death stuff, so bring in the professionals. Just don't give me a chick bodyguard. Especially a young hot one who distracts me at every turn and hates my guts…
MY NAME IS ABI CARTER, and I hate Mitch Hofer. Yeah, he might be the sexiest champion swimmer in the world, but I'd give this guy a gold medal for being a first-class jerk.
Unfortunately, my boss has given me a choice—guard Mitch or get another job. And I really need the money. I can be professional, but if Mitch says "chicks can't be bodyguards" one more time, I just might strangle him myself.
Still, something about the way Mitch keeps looking at me makes me think there's more to his story. It's almost as if he's trying to drive me away. But why?