When One Night Isn't Enough  was Wendy's debut novel and WOW was I impressed.
This book reeled me in from the first page and kept me hooked to the end. The author did a fantastic job bringing the characters to life.
I loved Allison with her stubborn quirky personality and Jared who was just dreamy. The chemistry between these two characters sizzled off the pages.
I loved the witty dialogue and narration of this story. The author did a great job giving this book a modern feel; the heroine was not some shy virgin we so often come across in harlequin books.
I can't wait to read more from this author.
Rating: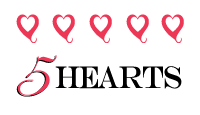 Publisher: Harlequin Medical Romances (August 1, 2011)
Confessions of an E.R. nurse…
Nurse Ali Forshay has swapped dating disasters for nights out with the girls. But after spending more time than is strictly necessary discussing the man she loves to hate–the notoriously delicious Dr. Jared Padget–Ali's horrifying realization is that she's one hundred percent crazy in lust with him! Her conclusion: spend a feverish night together. After all, it would just be a onetime thing and it would cure her obsession…wouldn't it?