#Audiobook REVIEW Unleashed: A Highland Historical Trilogy by Kerrigan Byrne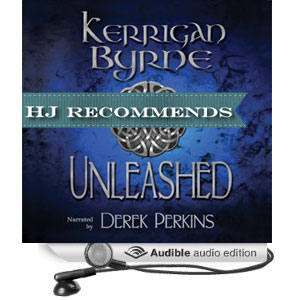 Basically, this audiobook is a series of novellas, about three berserkers, and is really a paranormal historical romance book, which may take readers who are looking for a straight up highland romance by surprise. Berserkers are warriors of legend, for whom the sight of blood sends them into a fighting frenzy where none are spared. That is, unless they have found their true mate, and then they can control their berserker power.
The first novella is Unspoken, and is about Evelyn Woodhouse of Kent, who is a English refugee, working in a inn and public house in Aberdeen, Scotland. Before a big battle, she meets Roderick MacLauchlan, the Berserker, a man feared by all for his unworldly warrior skills. The second is Unwilling, and concerns Roderick's older brother Conner, the Laird of his clan, Berserker and Baron, and Lindsay Stewart, the niece of the Regent of Scotland and the betrothed of an enemy. Finally, the last novella of the set is Unwanted, and is about Finn, a assassin and bastard Berserker on a mission, an abandoned baby he finds in a snow storm, and Rhona McEwen, a downtrodden wet-nurse whose spirit is bruised but not crushed.
The novellas go by fast, the longest not more than sixteen chapters long, but much is packed into each story. The battle scenes are somewhat gory, since Berserkers are violent warriors, and Alpha Males with capitals letters. The sex scenes are steamy, and take up a large part of each novella. Each story is well written, with enough plot and motivation to keep a person interested, and with swiftly progressing love stories. The female characters are very strong, and can stand up to their warriors and bring out the best in them. Unwanted, which in my opinion is the best one of the three, there is a nice arc from beginning to the end, with a theme of redemption and family, emphasized by a winter holiday setting.
What really makes this audiobook, however, is the narrator. Derek Perkins does a fantastic job, and his smooth brogue makes the audiobook irresistible. His reading of both the male and female characters is well thought out and the shift from male to female is very well done. His pacing seems just right, and it's easy to get lost in the story, and not distracted by the way it is being read. If there is any downside to the audiobook, it is that it's easy to get completely swept up in the story, and actually forget where you are or who you are with. I have to admit that during the racy scenes I would occasionally glance around me, and be very glad that no one could hear what I was listening to!
I highly recommend this audiobook, and this narrator. I have been looking for other books that Derek Perkins has read, and look forward to see if he continues to be just as good.
Audiobook details:
Written by: Kerrigan Byrne
Narrated by: Derek Perkins
Length: 8 hrs and 39 min
Format: Unabridged
Release Date: 03-28-13
Publisher: Natalie Ainge
Book Info:

Published December 2nd 2012 by Ardent Publishing
Meet the MacLauchlan Berserkers…
Roderick – He's death for hire, cursed by a malicious enemy who left him unable to speak. She's a refugee with a dangerous secret that could cost her life. Outnumbered by thousands, he's fated to die in battle like so many Berserkers before him. Could the strength of their love defy destiny?
Connor – He's a mercenary Laird who fears nothing but the darkness inside him. She's a noble beauty, sold to the highest bidder. He mistakenly rescues her from a fate worse than death, but now she's his captive. They must battle their pride and their explosive attraction to each other in order to defeat a common enemy who threatens the clan's survival.
Finn – He's a nameless bastard, stalking the Highlands bent on revenge and murder when he stumbles on an infant deserted in the snow.
She's a desperate woman who's lost everything, including her dignity. They are three of the world's Unwanted. On a snowy Solstice night, their tale becomes one of blood and vengeance, of love, redemption, and forging the bonds that make a family.