A Duke in the Night by Kelly Bowen is the first story in The Devils of Dover series. In The Lady in Red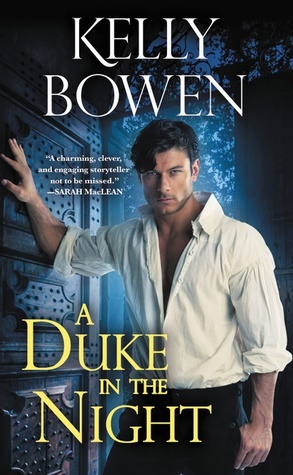 novella, the reader is first introduced to Miss Clara Hayward, the enterprising Headmistress of the Haverhall School for Young Ladies. A Duke in the Night gives Clara a chance to find her own happy ever after with a most unlikely match – scoundrel, Duke, and ruthless businessman August Faulkner.
Clara prides herself on her school for young ladies, a chance for women to throw aside family and gender expectations and pursue their dreams, if only for a short while. Due to financial difficulties her family has had to sell the school to an unknown buyer but she is still able to hold her summer classes in Dover where her sister helps with the classes and her brother, a doctor, is seeing local patients. One of the talented young ladies in her charge is Lady Anne Faulkner. The trouble is that she's signed up for the school without informing her brother.
August can't believe his younger sister has hightailed it off to Dover to attend summer classes and quickly follows her there. He's just bought the school in London with the intention of redeveloping the land and shutting down the school for good. He's also interested in the Hayward family's shipping business and figures that while he's in Dover under the pretense of inspecting a friend's land (the same friend who is lending out his property for the summer school), he can convince Clara and her siblings to sell him a stake in the company.
He and Clara have a history of sorts, a dance at a social event ten years before that had never left his mind, even if he'd become a much different man since then. A businessman through and through, his goal in life is to acquire enough money and assets to provide for his sister, making up for the years that she spent in debtor's prison as a child when his father was imprisoned. As he spends time in Dover, Clara makes him see that there is more to life than money. But when she finds out he's behind the purchase of her life's work, will it be the end of their fledgling romance?
What a delightful story! I found everything about it thoroughly entertaining. The characters are wonderfully written, with cynical and money hungry August finding himself challenged at every turn by the intelligent and confident Clara. She makes him question things he's always assumed about himself, about his sister, and about his expectations for the future. Determined to provide for his sister, he's envisioned a life for her without really listening to her wants and desires. Clara gently but firmly makes him see that his sister yearns for something more than material things and the right marriage match.
August regretted not contacting Clara after their dance together so long ago and isn't going to let this second chance to be around her come to nothing. He's fiercely attracted to her and isn't above using her mutual feelings to seduce her into his bed. Unlike other unmarried women of her time, Clara is not a virgin, nor is she ashamed of this fact. She had a lover who introduced her to the finer arts of lovemaking and she can appreciate August's skill and devotion to her pleasure. They share some sexy scenes together that intensify their emotional connection. August comes to appreciate Clara's point of view and desire to educate young women for their own benefit and I really enjoyed seeing him broaden his own views.
The relationships really make this story shine, whether it's Clara and her siblings, August and his sister (and some interesting scenes with his trusted man of business Mr. Down), or Clara and August bantering back and forth as they get to know each other. Combined with the lovely background of rural England, A Duke in the Night is a sexy, smart and thoroughly entertaining romance. I'm looking forward to reading more of this series!
Book Info:

Publication: Feb 20, 2018 | Forever | The Devils of Dover #1
Duke. Scoundrel. Titan of business. August Faulkner is a man of many talents, not the least of which is enticing women into his bedchamber. He's known—and reviled—for buying and selling companies, accumulating scads of money, and breaking hearts. It's a reputation he wears like a badge of honor, and one he intends to keep.
Clara Hayward, the headmistress of the Haverhall School for Young Ladies, on the other hand, is above reproach. Yet when she's reunited with August, all she can think of is the way she felt in his arms as they danced a scandalous waltz ten long years ago. Even though her head knows that he is only back in her life to take over her family's business, her heart can't help but open to the very duke who could destroy it for good.