A Savannah Christmas Wish by Nan Dixon is a wonderful read that had me engrossed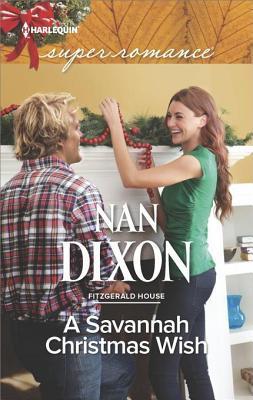 with the story from the very beginning.
Daniel and Bess are complete opposites that fall in love with each other. Daniel is all about control and Bess is easy going. He thinks she's reckless and out of control and even though he's attracted to her, he plans on keeping his distance from her….only that's not possible when they learn they have to work together.
Bess believes that she loses everything she loves. It happened with her apartment, ex-boyfriend, and her business, so I could see how she believes such a thing, but there are no guarantees in life and everything happens for a reason.
"Could all the bad things have paved the way for her happiness? Maybe she should make a Christmas Wish. I want to find true love."
This is one Christmas wish that comes true…but love isn't easy and Daniel and Bess prove that. Complications and misunderstandings turn this story into a roller coaster of emotions.
There was a lot of back and forth between Daniel and Bess. Maybe one too many. One day they were fine, the next he rejected her and this continued a few times. Heck, it took ten years and a project to get them to stop avoiding each other in the first place, but overall the story was entertaining and fresh. The characters were well-developed and a complete joy to read.
I would definitely recommend A Savannah Christmas Wish by Nan Dixon to anyone looking for a heartwarming romance.
Book Info:

Publication: December 1st, 2015 | Harlequin SuperRomance |
A relationship in need of renovation
Bess Fitzgerald is thrilled to be overseeing the expansion of her family's B and B. Working with Daniel Forester, not so much. After one wild night, they agreed to stay out of each other's lives. The attraction still sizzles between them now, but Daniel's need to be in control and Bess's impulsive nature continually drive them apart.
Keeping their relationship professional is harder than Bess anticipated. And it's not long before they give in to temptation. Suddenly it's clear Daniel needs her in a way she never thought possible. This may be the year Bess finally gets her Christmas wish!