In Sweet Ruin (Immortals After Dark #16) by Kresley Cole, Josephine, aka Jo or Shady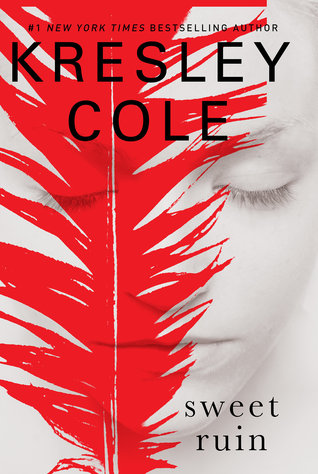 Lady, has spent years on her own, figuring out the strange powers she has such as disappearing like a ghost, being wicked strong, and also having vampiric tendencies. After losing her baby brother Thaddeus during an attack, Jo has tried keeping tabs on him. When she runs into a sexy bewitching otherworldly man named Rune, or Ruin as she calls him, she begins to hope he can help her find Thaddie. Well, if she can keep her mind on her goal instead of how much she'd like to get Rune alone and have her way with him, that is.
'She was a killer with blood on her hands, but she wanted to give her heart away. …Jo yearned for her other half with all the desperation of someone who'd always known something was missing.'
Rune's most recent mission for his brethren the Møriør has brought him to Earth to eliminate a particular Valkyrie who is trying to cause an apocalypse to begin. In his search, he comes across the most lovely and lethal female he's ever met in his almost seven millennia in the universe. Josephine thwarts his every attempt to seduce her, saying if they are not exclusive then he can forget it. Rune is still (mostly) focused on his mission, but with Jo and her brother Thad tangled up in it as well, he'll have to tread lightly to ensure everyone's safety.
'His feelings had been stunted, as cold as ash. Were they still? Josephine had gotten him excited and frantic and agitated. Frenzy had overcome control. Was that sparking cinder inside him catching flame?'
The indomitable Kresley Cole was definitely on her game with Sweet Ruin. Our main characters Rune and Jo were individual forces to be reckoned with so when they teamed up? Oh what sexy fun and horrible destruction they were capable of!
She gazed around at the appalled spectators. "Anybody else want to go to their grave tonight? I'll bury you so deep, they might never find your body down there. You might die. Odds are…you won't."
Oh, yes, he could get used to having her around.
I hope Immortals After Dark fans will be as wowed by this story as I was. I know it was a tiny bit controversial to introduce two new characters instead of going back and giving some secondary characters their due. However, this does give us more information on Thad who appeared in a previous book. (I believe it was Dreams of a Dark Warrior) In doing so, we learn about how his sister Jo was separated from him, as well as their backstory.
I have to say that I loved both Rune and Jo. But, I have a soft spot for a snarky character who is as smart as they are sarcastic. Plus, Jo was a defender of the underdog…people who couldn't help/protect themselves. And I adored that about her. She was such a lonely soul, having lost Thaddie so young and with all of the terrible things she'd been through. But Jo never gave up. I thought it was also pretty cool that even though she could have had a short-term fling with Rune (and she SO wanted to) she didn't give in. Instead, Jo decided to stick to her guns and hold out for forever. Loved that.
Rune gutted me emotionally. He had a dark past that was the stuff of nightmares. I won't give the details away because it has to be read to be truly understood. Let's just say that damaged is not a strong enough word for what was done to him physically or emotionally. And Jo was the one who could set him straight, thankfully. Rune was a seriously, seriously sexy guy. So expect some (a lot) of dirty talk and explicit sex scenes. Not that it's a bad thing. Just…have a fan or a cool drink handy! I kinda loved that both Jo and Rune were so open about their desires. It made their dialogue fun, steamy as hell, and sometimes so darn romantic you just wanted to hug Rune. At least I did!
Two badass characters with an arsenal of secret abilities and weapons. A mutual attraction that cannot be denied. And an approaching apocalypse with battle lines being drawn. Sounds good, right? If so, definitely check out Sweet Ruin. I can't recommend it enough to paranormal romance fans.
Book Info:

Publication: December 1st 2015 | by Gallery Books | Immortals After Dark #16
A foundling raised in a world of humans
Growing up, orphaned Josephine didn't know who or what she was—just that she was "bad," an outcast with strange powers. Her baby brother Thaddeus was as perfect as she was flawed; protecting him became her entire life. The day he was taken away began Jo's transition from angry girl…to would-be superhero…to enchanting, ruthless villain.
A lethally sensual enforcer on a mission
A threat to the Møriør has brought archer Rune the Baneblood to the mortal realm to slay the oldest living Valkyrie. Whether by bow or in bed, he never fails to eliminate his target. Yet before he can strike, he encounters a vampiric creature whose beauty conceals a black heart. With one bite, she pierces him with aching pleasure, taking his forbidden blood—and jeopardizing the secrets of his brethren.
A boundless passion that will lead to sweet ruin…
Could this exquisite female be a spy sent by the very Valkyrie he hunts? Rune knows he must not trust Josephine, yet he's unable to turn her away. Despite his millennia of sexual conquests, he can't ignore the unfamiliar longing she arouses deep within him. When Jo betrays the identity of the one man she will die to protect, she and Rune become locked in a treacherous battle of wills that pits ultimate loyalty against unbridled lust.