A SEAL's Courage by J.M. Stewart will have readers addicted from page one!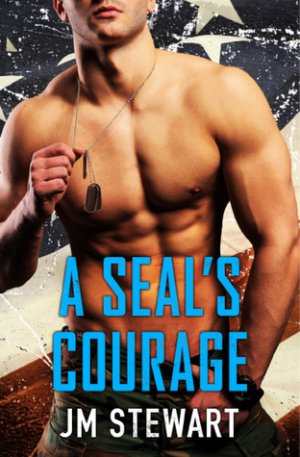 Lauren Hayes is a virgin, but she doesn't want to be anymore. Her birth mother was on the loose side and all Lauren remembers is her bringing different men around. Her adopted mother, who just died, was the complete opposite. But Lauren realizes life is short and wants to take advantage of all of life's pleasures. Who better to take Lauren's virginity then the man, she's always had a crush on…Trent Lawson.
For Trent, Lauren is his baby sister's best friend and that makes her off limits, but it's also more than that. Lauren is the only one to treat Trent like he isn't an invalid. He has PTSD and Lauren is the only person he can really talk to about his experiences without seeing pity. She's always there to listen and slowly brings him back to life.
When Trent and Lauren sign up for a military dating service, the surprise is on them, because they are both matched with each other. It really is fate with these two and there is no denying their chemistry, so Trent gives in with the stipulation that their "relationship" has a time limit of one month, and then they go back to be friends. But will either of them be the same when being friends is no longer enough?
I loved Trent. He's honest, sexy, and just a lovable character. His PTSD was handled very well and you could tell that he really had Lauren's best interests in mind. Even though, he never wanted to do anything to jeopardize his friendship with Lauren, some risks are worth the reward.
The author did a great job at developing Trent and Lauren's relationship into something more than friendship. It felt realistic and for anyone who love's contemporary romances or military romances, A SEAL's Courage is highly recommended!

Book Info:

Publication: July 11th 2017 | Forever Yours | Military Match #1
A sizzling new series about three friends looking for love-and the sexy SEALs who are ready to fulfill their craziest fantasies.
He's a man on a mission.
Navy SEAL Trent Lawson isn't a man to back down from a challenge. Ever since he opened his eyes in that army hospital to learn the men from his unit were gone, Trent has been determined to live life in their honor. Even if that means facing his most terrifying mission yet . . . dating.
She's done playing games.
Lauren Hayes has standards. In fact, she's got an entire list of them. There's only ever been one man to come close to making the cut-Trent Lawson. Except her best friend's too-sexy-for-his-own-good brother is strictly off-limits.
When Trent and Lauren find themselves matched up by a dating service, the chemistry between them is nothing short of explosive. They both know getting involved is a huge mistake, but life is too short to walk away from something this good.