A Season of You by Emma Douglas is book two in the Cloud Bay series but can certainly be read as a standalone. The first book was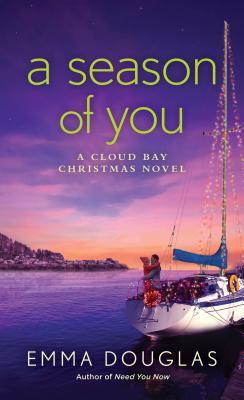 enjoyable, so I would highly recommend reading that one, as well.
When Will Frasier first met Mina Harper, he fell hard for the beauty, but she was married at the time. When Mina has an accident, Will takes care of her and her dog. Despite her protests. From this point on, Mina starts to notice Will more. As for Will, he's always noticed Mina.
Will makes whiskey and owns a bar with his brother. Mina doesn't drink. Her father drank and her husband died from a drunk driver. Realistically, Will and Mina are just too different, but it's the holiday season and anything is possible.
The attraction between Mina and Will is clear and needs to be explored, so they settle for a fling. A fling that turns into something special and more than Mina expected. But Mina already found and lost the love of her life, so this thing with Will is temporary…or is it?
I liked Mina as a heroine. Mina doesn't need to work, so she volunteers with the Search and Rescue. She's also very talented with a paint brush but hides it. But the more time she spends with Will, the more she needs to paint him. He calls to her and brings out a side of Mina, that she thought she lost. She was very young when she married and then widowed. For someone who lost so much in her life, Mina isn't jaded. She is guarded, though, which is why Will lets her set the parameters in their relationship. I was rooting for Mina and Will from the very beginning. Their relationship isn't exactly an easy one, but Will is persistent and swoon-worthy.
A Season of You is an emotionally charged, contemporary romance filled with hope and determination, all wrapped up in a holiday tale.

Book Info:

Publication: October 3rd, 2017 | St. Martin's Press | Cloud Bay #2
It's Christmastime in the quaint island town of Cloud Bay, where love is always in season… Will Fraser has believed in love at first sight since the day he first laid eyes on Mina Harper five years ago. There was only one problem: She was happily married. Then, when Mina's husband was killed by a drunk driver, Will figured she'd want nothing to do with a guy who owns a whiskey distillery. So he's kept his feelings locked away, knowing that not even a Christmas miracle would be enough to melt Mina's heart. . . Mina believes her days of true love are behind her. Since losing her husband she's kept to herself, content to do her own painting and stay out of the limelight that comes with her famous family. But when, after a freak accident, Will comes to her rescue, Mina can't quite get him out of her mind. As curiosity turns into a fling during Cloud Bay's first Christmas Festival, she finds it harder to convince herself that her feelings for Will are just mistletoe-inspired. Could Mina be ready to lay the past to rest and finally admit that what she really wants for Christmas–and forever–is Will?