Forever Deep: A Station Seventeen novella by Kimberly Kincaid: An amazingly quick read that will have you on yet again on the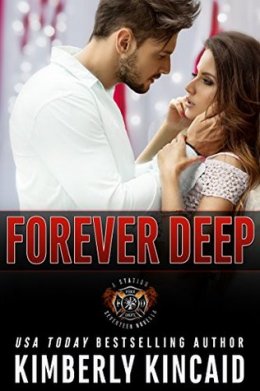 edge of your seat. I will say this, if you have not read the first book in the Station 17 series, then read it first, because you need to understand Kellen and Isabella's story before you can understand the mystery to this one.
I will not give it away, but just know that this would not be a Station 17 book without a little suspense. Even in this novella we get to see that other characters from the other books to date, all getting ready to celebrate the marriage of two of their own.
But the question is, will Kellen and Isabella make it to the church on time, or will a mystery from the past hang over them like a black cloud, ready to destroy their happiness and peace of mind. An amazing addition to the Station 17 series. I cannot wait for more to come

Book Info:

Publication: Published November 4th 2017 | Kimberly Kincaid |
Firefighter Kellan Walker lives for two things: his fiancée and his family at Station Seventeen. But when a case surfaces with ties to Isabella's past, he knows he'll do anything to help her solve it—even if that means breaking all the rules.
With days to go before her Christmas wedding, Detective Isabella Moreno should be enjoying the happiest time of her life. But there's a ruthless killer on the loose, and she's been waiting far too long to serve justice.
As Kellan and Isabella team up to solve the case, the danger hits closer to home at every turn. Will they outwit the murderer who has haunted Isabella's nightmares in time to make it down the aisle to their happily ever after? Or will the danger run too deep?
PLEASE NOTE: This novella is an extension of the first book in the Station Seventeen series, SKIN DEEP. While neither story contains cliffhangers, this novella does contain references to SKIN DEEP that could be considered spoilers. It is highly recommended that readers enjoy SKIN DEEP before curling up with FOREVER DEEP.