A Small Town Bride (Chapel of Love #2) by Hope Ramsay is another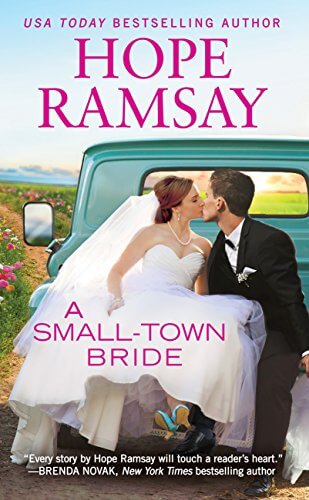 amazing story in the Chapel of Love series. I love the small town feeling of this series, but I love the connection that everyone has to each other. I love that we get to come back time after time and visit with old friends. This is the story of Amy and Dusty.
Amy Lyndon has never worked a day in her life. She was born into the Lyndon family, and because of that, she has been treated like a princess, spending money, shopping and doing whatever she wants. That all came to an end when her father tells her she has 15 minutes to get out of his house if she did not marry the man he wanted for her, a man that she did not love. So now Amy is on her own, sleeping in her car, buying cloths at the thrift shop and working as a gardener at Eagle Hill Manor and trying not too think dirty thoughts about her handsome boss, Dusty McNeil.
Dusty McNeil loves his job as the head gardener at Eagle Hill Manor. He has dreams of using his family land to into a fishing lodge where he could act as a guide and show people what he loves so much about fishing, showing them the best places to catch the best fish. But he might not get the chance if he cannot fight the Lyndon's from taking what is his. Now he is stuck with Amy, the pampered princess, and now only does she not know anything about grounds keeping, but her innocence, and her wide eyed expressions make Dusty want to protect her and kiss her senseless everytime he sees her.
But when Dusty's father comes back into town and causes nothing but problems. Dusty does what everyone does, he makes decisions for Amy's life and expects her to fall into line. Will he realize his mistake before he loses the only woman who has every been able to heal his battered heart?
What I love about Amy is that despite everything, she has a back bone and refuses to allow her family to bully her into doing something that she does not want to do, namely marry a man that she does not love. I love that Dusty, despite thinking that he is not good enough for Amy is willing to do whatever it takes to teach her, help her, protect her. They have a real connection, and it is really beautiful how each are willing to step up and defend the other. The HEA was sweet. I cannot wait until the next book in this series.

Book Info:

Publication: March 28, 2017 | Forever | Chapel of Love #2
Amy Lyndon is tired of being the Poor Little Rich Girl of Shenandoah Falls. In her prominent family, she's the ordinary one – no Ivy League education and no powerful career. But when her father tries to marry her off, she knows it's finally time to stand up for herself, despite the consequences. Now that she's cut off from the family fortune, her first challenge is to fight her attraction to her handsome new boss.
When Amy shows up looking for work with his landscaping crew, Dusty McNeil thinks there's no way such a pampered princess will ever get her hands dirty. But as Amy proves him wrong and gets down to the nitty gritty, Dusty's admiration turns to like, then lust – and then love. But can a high-society woman like Amy ever fall for a man like him?