Rescued By The Wolf by Kristal Hollis, Grace Olsen is in Walker's Run to visit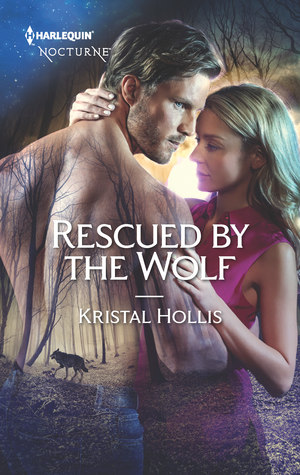 with her friend, Cassie, and her husband Brice. When she crashes her car to avoid hitting a wolf, she comes around to find Rafe Wyatt, Brice's best friend, by her side. Not knowing Brice's and Rafe's nature, she doesn't realize that Rafe is the wolf she swerved to avoid hitting.
Rafe's mate, Lexi, had been killed by poachers. Since then he was determined not to take another mate, yet when he meets Grace, he was instantly attracted to her. He's afraid to get close so he attempts to keep her at arm's length, leading him to refuse her offers to be friends.
Yep, the cold harsh truth. He didn't like her.
She couldn't understand his abrupt disregard and dismissal. She always made the effort to be kind, friendly and accepting of everyone. She didn't judge, didn't discriminate, she loved the uniqueness of each person.
Rafe still deals with a lot of guilt over Lexi's murder that he needs to overcome, as well as dealing with Lexi's father, who blames him for her death. Grace, for her part, has to come to terms with Rafe and Brice being wolves. Despite being human, she has no problem standing up to the Gavin, the Alpha of the pack, even though she finds him frightening.
"Why would I want to join an organization that played me like a fool?" She kept his gaze even though the hard, cold edge sent a chill down her spine. "You tried to manipulate me, and forced my friends to keep secrets, to lie to me."
The Sheriff seems out to get Rafe, although it wasn't really clear what his issue with the pack was. Granted, after Lexi died Rafe had gotten into an accident while drunk without being punished for it, but that didn't seem like reason enough for his witch-hunt against him. While I understood Gavin's agreement to have Rafe show his wolf to the Sheriff, I would have liked to have seen him defend Rafe more than he had. I was also disappointed in Brice that he would allow his best friend to be subject to such an act.
Rescued By The Wolf works as a standalone, but if you want a bit more of a background about the Wahyas, I would recommend starting with the first book in the series, Awakened By The Wolf.
If you enjoy paranormal stories featuring wolves, I recommend giving this series a try.
Book Info:

Publication: March 7, 2017 | Harlequin Nocturne | The Wahyas of Walker's Run #2
When a poacher killed his mate, Rafe Wyatt lost his future. While the Wahyas of Walker's Run have been pulling him back from the brink, he's certain he won't have another chance at love. That is, until Grace comes to town.
Grace Olsen is a woman without roots. That's exactly how she likes it, until a sojourn in a small, close-knit Appalachian community gives her a new vision of what home could be—and so does Rafe. He was supposed to be nothing more than a casual lover, just as wary of commitment as she is. When their raw attraction becomes something deeper, more complex, they could be looking at a new future together. But someone close to them both would rather see Grace dead than let her be with the man—and the wolf—she's grown to love.