In Accidental Cowgirl by Maggie McGinnis, Kyla Bennet is still nursing a broken heart and trying to fix her reputation. Her no good, two timing, lying ex-fiancé not only broke her heart, he also used her to steal from people and incriminated her without her knowledge. Now after so many trials and months of investigation, the final court date has arrived and she couldn't be happier. But her friends have decided to whisk her off to Whisper Creek, a dude ranch, to take her mind off everything that has happened.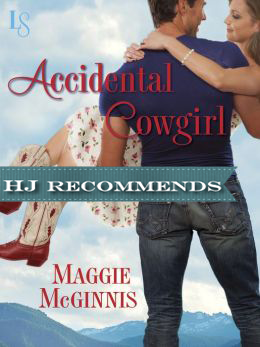 After a terrible tragedy, Decker Driscoll never thought that he would see his home, Whisper Creek again. But when he learns that his father gambled away the family's property to a Vegas gambler, he return for the summer to try and help his mother and brother keep Whisper Creek. He knows that the dude ranch is a good way to make money, but he doesn't know if they'll be able to gather enough money to pay off the debt without his mother finding out.
Unfortunately, things don't go too well for Kyla to begin with, when she arrives at the car rental place she has to take the last car on the lot, and to make matters worst it decides to break down in the middle of nowhere in a cell phone dead zone. At first she believes that she might be able to find someplace to ask for help from a higher vantage point, that being the roof of the car. When a truck approaches her she believes that she is saved, but when the supposed deputy starts asking her if she is drunk and makes her take a sobriety test, she doesn't know if she should have run from him instead. Until another car approaches and thankfully a very hot cowboy comes to her rescue.
Decker cannot believe the things that Kyla had to do on the road to prove that she was not drunk, but no matter how much he liked her and can't get her off his mind he has to keep his mind focused on saving Whisper Creek. Besides he doubts that he will run into her again.
Kyla doesn't believe that she will meet another cowboy that will be hotter than Decker on the dude ranch, but when the family and staff introduce themselves to the guest, she finds out that Decker will be much closer than she thought.
Accidental Cowgirl is a fun, sweet and very entertaining read. I seriously could not put it down, the chemistry between Decker and Kyla is immediate, but neither of them wants to act on it. And with other female guests trying to get close and personal attention from him and his brother, well things will get interesting. There will be some fun passages and some very sweet ones too. And the adventures Kyla goes on during her stay will make you laugh and wonder how she managed to survive it all intact and without leaving before the end of their vacation.
If you want a fun, entertaining, and a read that will be hard to put down, don't miss Accidental Cowgirl by Maggie McGinnis.
Book Info:

October 8th 2013 by Loveswept
In her Loveswept debut, Maggie McGinnis tells the tale of a city girl who's running on fumes—and the cowboy who shows her all the good things she's been missing.
After being betrayed by her con man ex-fiancé, Kyla Bennett nurses a broken heart. But Kyla's friends have other ideas and when they whisk her off to Whisper Creek, a dude ranch staffed by cowboys so hot they dim the Montana sunset, all Kyla wants to do is hide under a quilt. Then in rides Decker Driscoll. He's hauling about as much emotional baggage as Kyla, but when he stands close by, both of them want to stay close—and begin to succumb to an undeniable attraction.
After experiencing personal tragedy, Decker never thought he'd see Big Sky country again. But now that his family's Whisper Creek property is in deep with a Vegas gambler, Decker's back for the summer—and spending all his time running from "cowgirls" who come to the dude ranch to score some dudes. Then he meets Kyla, a kindred spirit who brings on a stampede of protective feelings . . . and a powerful hankering to sear her with a new brand of love.