Texas Secrets, Lovers' Lies by Karen Whiddon: Zoe Onella was forced to leave Anniversary, Texas, five years ago, leaving behind her fiancé, her best friend and surrogate family. She managed to make a life for herself in Manhattan with a successful career as a blogger, a life that was as different from her previous small town life as night from day. Because of the decisions she's made and subsequent events, she could never go back to the life she'd known…until her best friend's mother calls her and tells her that her best friend, Shayna, has gone missing.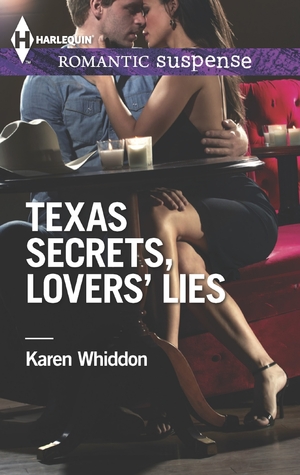 Brock McCauley thinks he's done a great job of getting over his ex-fiancée. He runs the family business, pursues his dream of being a radio host a couple nights a week, and has his mother and sister to love. Yet the moment Zoe steps off the plane, he realizes he still isn't over her. Brock is soon eager to find Shayna not just because he's concerned, but to get Zoe back on a plane before she rips his heart out again.
As the two work together to find their friend, will they rediscover the love and passion that had them once prepared to say "I do"?
I have to be honest: I never really connected with this Texas Secrets, Lovers' Lies. I wanted to connect with it. I wanted to get lost in the thrill of danger and the connection between two lovers that never really faded away. What happened, instead, was that I got bored pretty early on. The way that Ms. Whiddon portrayed Brock and Zoe early on was so cyclical I wanted to throw my kindle. I get that he loved her but he didn't want to go through the heartache of her leaving again. I got that she still had feelings for him but felt that leaving and staying gone was the right decision. It annoyed me a bit to see the same sentiments said over and over in the same ways. I can't tell you how many times "desire arced between them", but it was at least two or three times within a paragraph or two. I also felt the characterization of Brock was a little…feminine. I'm not saying that heroes can't be sensitive or have feelings, but Brock's feelings had feelings.
The suspense in Texas Secrets, Lovers' Lies felt very light to me in the beginning. I think this is because it seems like everyone downplayed Shayna's disappearance except her mother. Zoe and Brock cared that Shayna was missing, but they were often too busy rehashing the past or hiding their feelings that they weren't doing a great job of looking for Shayna. Everyone else in town seemed to believe that she had simply left to pursue her own dreams. It was hard to feel the suspense when no one else seemed all that concerned. There wasn't much suspense on how Brock and Zoe could get over the past and get together again. Without giving it away, I thought the resolution was a little bit of a cheat, and so simple for these complicated characters. Overall, I think the suspense in both Shayna's disappearance and Brock and Zoe's relationship was harmed by bad pacing.
There were a few things I liked about Texas Secrets, Lovers' Lies. The plot eventually sped up, and once the mystery of Shayna's disappearance was solved, some of the strange occurrences earlier in the story made sense. There were several good red herrings of suspects and motives in Shayna's disappearance. The supporting characters were also well written and added to the story well. That's the part that's so frustrating. This story should have worked so much better. The elements were there, but it just didn't come together. Another revision or two, and I could have really enjoyed it.
I would recommend this book to someone who likes a light bit of suspense with a tortured lovers reuniting story that involves re-evaluating past decisions and their impacts on the lives of others.
Book Info:

Publication: October 1st 2013 by Harlequin Romantic Suspense (Book 1773)
Karen Whiddon's story of abduction in the Lone Star state will have your pulse racing!
Every time Brock McCauley locks eyes with Zoe Onella, his heart aches. Though Zoe explains why she skipped town, leaving him at the altar years ago, Brock refuses to go down that road again. After all, she's only back in Anniversary, Texas, to help investigate the bizarre disappearance of her best friend, Shayna.
The sooner they find Shayna, the sooner Zoe can return to New York. But Brock can't stop thinking about the hot passion they once shared. And when danger surrounds Zoe, he must protect the only woman he's ever loved. Even if it costs him everything.&nbsp