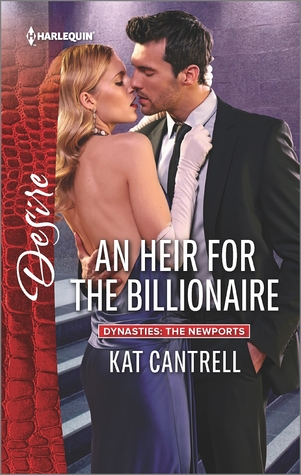 An Heir for the Billionaire by Kat Cantrell: An Heir for the Billionaire is the second book in the Dynasties: The Newports series written by different authors but featuring connected families. After reading this one, I can honestly say that the author has done a great job of making me want to pick up the rest of the series, and I've already added them to my to-read list!
Nora O'Malley (nee Winchester), a widow with a two year old son, has reluctantly returned to Chicago to be at the bedside of her estranged but dying father. Her two sisters, Eve and Grace are there for moral support too as the three of them deal with his illness and the revelation that they have a half-brother, and a Newport at that. The stress of the hospital visit is relieved by the surprising delivery of a sumptuous meal for the family, by none other than her old childhood friend Reid Chamberlain. Having suffered his own family tragedy that turned him into a reclusive workaholic, he's in a unique position to understand Nora's loss and also her hesitation to get involved in any kind of committed relationship. An affair while she's visiting though? That's something he can't deny he wants, even if he'd always said he'd never get involved with a woman who has a child , fundamentally believing he's not father material. Their re-connection as friends and new relationship as lovers is a balm to both of them, healing some of the wounds left by loss. But when Nora is ready to go back home, will Reid be able to let her go?
What an enjoyable romance! The explanation of the background to the characters is just right – the perfect amount of information to enable the reader to pick this up as a standalone and feel comfortable knowing where it fits in the series, while still giving some hints as to the relationships that will be the focus of other books. This can be tricky to do when it's not the same author writing all the books in the series, but it's well handled here.
The strength of this story comes from the characters, and I really liked both Reid and Nora. Nora has had a fractious relationship with her father for years, and when she got the chance to get out from under his thumb she did so. Even now, she refuses to take any family money, preferring to live on her army wife pension and support her son with her own funds. She knows that money can't buy you love, and feels that keenly when she thinks of her own father. However she has a very good relationship with her two sisters who are happy to have her home even if just for a little while, and delight in being able to spend time with her and her son. Reid also comes from a very wealthy family, and experienced some of the same kinds of issues with his father, though he was close to his mother and siblings. He grew up in the same social circles as Nora and they were close friends until they started to drift apart as teenagers. Rekindling their friendship now reminds him of the better times. And they are both very aware that they aren't kids anymore. From the moment they meet again as adults there is a delicious sexual tension between them. Their love scenes were some of my favorites in this harlequin line, sensual and dramatic.
The scenes with Nora's son Declan were sweet and funny, showing the reality of raising a two year old without being annoying or cliche. As the story progresses and Nora and Reid spend time together, it becomes clear that they are falling for each other, though neither wants to be the first to admit it. Reid definitely has cold feet about his ability to be a father figure to Declan. I loved seeing how they dealt with their issues, opened up to each other and took the steps needed to get to their happy ending. This is going on my favourites list and I'll be looking for more from this author!
Book Info:

Publication: Aug 9, 2016 | Harlequin | Dynasties: The Newports #2
Will a single mom and her baby become an instant family for this all-business tycoon?
After learning her billionaire father is dying, Nora Winchester O'Malley rushes to his bedside in Chicago—and right into an old friend's arms. Reid Chamberlain is there to comfort the young widowed mom when she needs it most. But what passes between them isn't mere compassion…it's sheer passion.
Reid has been all business for so long, shutting down his emotions as he built up his hotel empire. Now Nora and her adorable child have come along, stirring up demons he must face to have a shot at a future…