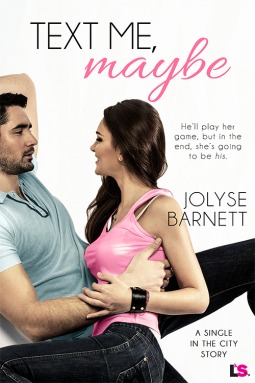 Text Me, Maybe by Jolyse Barnett: New member of a gym, with the sexiest trainer she's ever seen, Lexie might look, but she certainly won't touch. And when her boss has Lexie texting her desired hookup, a trainer at the same gym, Lexie might have trouble not falling for her boss' guy, the Brit Lit professor sending romantic quotes. But no matter what she may feel for either guy, Lexie knows not to trust a man.
Matthew can't get his new client out of his mind. Shy, sexy Lexie is all he wants, and when he discovers Lexie's boss is using Lexie to text him, he'll play along, if only to learn more about Lexi. But he finds himself falling harder and harder as he gets her to open up. And soon, he has no idea how to tell Lexie and keep her.
"What's on your mind?" she asked.
Matthew continued to stare at the screen. "You."
This story was hard to get into. They had all this attraction and fell for each other so quickly, it just didn't make sense. Also, I don't love the writing style. It felt a little overdone and cheesy, and it didn't engage me enough. Plus, I just can't say I liked Matthew or Lexie. Lexie was hard and cold, in a way I just don't get why. And Matthew, while sweet, was too much of a sap for me. What worked though, is they definitely fit together.
One thing I did like was that they had real issues defining their characters. I don't think they were developed enough because it was a short story, but I felt promise in this novel. Also, even short as it was, there was a cast of friends I really liked and am intrigued in seeing more of – though I am wary considering this story didn't work so well for me.
Even the conflict, the type of which normally bothers me, was done as well as could be. It was stupid of Matthew to lie like this, but I get why. Overall, I would say Text Me, Maybe is a short and cute read, and if you like the sexy, sappy professor I recommend this story for you.

Book Info:

 August 8, 2016 | Entangled |
New to the Big Apple, the last thing Lexie Bloom needs is to fall for two guys at once. Especially when she can't have either. One is her personal trainer, an Adonis way out of her league. The other? A Brit Lit professor her svelte boss insists she woo for her—via text message, no less. Little does she know, the two are the same man…
Matthew Hennessey is intrigued by his shy new client at the gym. But before he gets the chance to ask her out, he discovers she's the one crafting the flirty texts sent to him by a woman who wouldn't know Lord Byron from Lady Gaga. To get to know her better, he allows Lexie to play her role. She may have given up on the idea of romance, but Matthew's bound and determined to show her love is alive and well in New York City.