Baby Out of the Blue by Rebecca Winters is part one in a two-part series. They center around a pair of BFFs and their love of Greek men. Kellie, the subject of book two, is already married but is having trouble – and asks her friend Fran to join her earlier than planned for a vacation in Greece.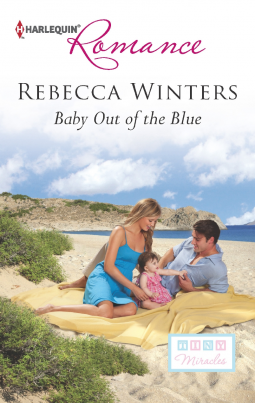 On their way to Kellie's husband's resort, a rare series of tornadoes arrive and lay waste to the very hotel they'd been headed towards. Luckily, the pair stopped when the weather made it too difficult to continue, and they weren't there when the resort was damaged and lives were lost.
Two of those lives were the sister and brother-in-law of the book's hero, Nik. Nik, being a young man that has just become the high-profile CEO of his family's company, appears in the tabloids too much for his liking. The truth is that he doesn't have the 'love 'em and leave 'em' mentality they portray, but instead he leaves women before they become too attached. Before he has to subject them to his secret pain.
As the girls get ready to depart, Fran heads to their temporary hotel's patio for a quick breakfast when she hears a whimpering noise from the garden. What she thinks might be a kitten is actually a baby. Scratched and hurt – close to death, Fran and Kellie rush the baby to a nearby hospital.
Nik and his brothers arrive at the resort to take away the bodies of his family, but they can't find his young niece. When his friend, Kellie's husband, makes the connection – he rushes to the hospital to find Fran holding vigil over a very sick Demi – his sister's child.
Nik and Fran develop a friendship quickly, as Demi fusses unless Fran is around. He tries several times to hire her to stay on and help him take care of his new ward, but she refuses.
They open up to each other through a series of events, and after they've revealed all, they learn they love each other, and decide to raise the child together.
I'm not sure how Kellie's story will be handled – so far the relationship between her husband and her is tenuous and strained. However, even though we learn about them in this book – Baby Out of the Blue can be read as a stand-alone book.
I quite enjoyed the read. Mid-length and quite chaste, it was a tiny bit bland, but the main characters held the appeal to make up for that. Not the best I've ever read, but entertaining.
Book Info
Publisher: Harlequin Romance Series , #4365 Publication date: 2/5/2013
Found: One baby…
Holidaying in Greece, Fran Myers is shocked to discover a tiny baby, swept away by a tornado. As she hugs the precious bundle a protective maternal instinct she thought she'd never experience kicks in.
One bachelor…
Relief is what the baby's uncle, CEO Nik Angelis, feels when he sees Fran with Demi, and he asks for her help to care for the little girl.
And a little ray of hope?