In Famously Engaged by Robyn Thomas Rock Star Jake is estranged from his family and life for him centers around his music. He has no desire for a relationship and lives from city to city, concert to concert…the famous Bad Boy! His half sister Skyla (who as far as she knows is only an employee of Jake and his band) is getting married though, and all she and her fiancee Brad can talk about is Brad's ex-wife Beth! According to Skyla and Brad, Beth is great and only 'a best friend'. Jake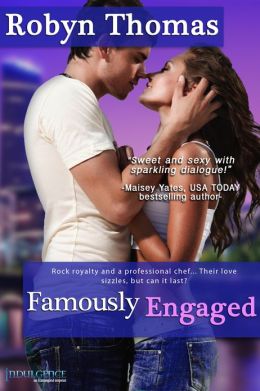 has his doubts though, he is convinced Brad is still in love with Beth and might cheat on Skyla. In a bizarre scheme to keep Brad away from Beth, Jake shows up on Beth's doorstep. He tells her she is temporarily his fiancee having won a fake bridal lottery Jake made up! Beth has just been through a traumatic experience, needs someone to lean on, even temporarily, and decides to go along with Jake's plan, even though she disagrees with him that Brad is not over her.
As soon as Jake sees Beth, he is even more convinced that Brad still wants her…she is that hot! Beth and Jake get to know each other really quickly, and their instant attraction heats things up! For Jake "The whole better-than-a-glass-slipper thing had been a ruse to touch her, and yet she really did fit him like a glove." Beth finds Jake easy to open up to, even if Jake is more closed off about any part of his life other than his music. After only a couple of days together alone, it feels like they've been together much longer…even if it is all a ruse! Jake and Beth both know this is a temporary arrangement, but both of them find themself falling hard for the other. Reality crashes in once the paparazzi discover them, Jake's team shows up, and there is no more private moments even in her own house (and I mean none!).
Beth is pretty sure she could never get used to how Jake lives, constantly being watched and followed even if she does find herself loving him. Her home is her sanctuary and where she plans to stay! Jake wonders if he could give it all up for Beth…but his music is so much a part of him he can't, even if it means losing the one real thing in his life.
Jake and Beth fit so well together, but is there even a remote possibility they can make a relationship work? Beth had her Prince Charming, can she possibly have a Happily Ever After too? Can Jake convince Beth that she fits in his world?
If you can let go of the fact that this is not even close to reality, Famously Engaged is a great fairy tale! Who wouldn't want a handsome hottie showing up on their doorstep when you most need someone?
Famously Engaged was a bit difficult for me to get into because I usually read books that fit more with 'that could really happen'! But Robyn managed to write a fast moving, at times witty, at times heart wrenching book that drew me in and had me wondering if Jake and Beth could possibly work things out. Jake comes across as a bit full of himself, but inside he has his hurts well hidden – I wanted to give him a big hug! Beth is grieving her mother – stuck in a big house by herself and all her memories. Jake was just what she needed at that exact moment in her life. I couldn't believe she went along with his idea of the fake engagement, but she did! Beth was strong, she doesn't do anything she doesn't want to do, and she has a big heart.
I'd recommend Famously Engaged to anyone looking for a steamy, modern day fairy tale romance!
Book Info
Publisher: Entangled: Indulgence (May 13, 2013)
A chef and a rock star. They couldn't be from more different worlds…

Rock star royalty's favorite son, Jake Olsen, couldn't help but interfere after listening to his future brother-in-law talk non-stop about his ex-wife, Beth Carlisle. Jake decides that the only way to get the groom's mind off his ex-wife is to give her a fake fiancé.
Before Jake can convince Beth of his plan, he's forced to move in with her to avoid the paparazzi. Their instant attraction makes for a sizzling "first date", but soon Jake's fame gets in the way and Beth wants out. Too bad Jake's figured out just why her ex is so obsessed with her, and he's afraid he's not going to be able to give her up either.
Now it's up to Jake to convince this chef together they make the perfect recipe.