In Best of My Love (Fool's Gold #20) by Susan Mallery, Shelby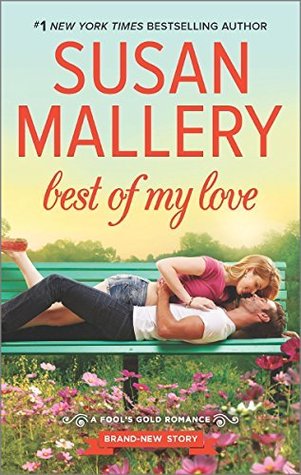 Gilmore is happier in Fool's Gold than she ever hoped and working at Ambrosia Bakery is a dream come true. The one thing she still longs for is a family. But given her troublesome upbringing, trusting a man doesn't come easily. So Shelby makes a plan to get over her fears by becoming platonic friends with Aidan Mitchell, a guy she all ready knows is trustworthy. Her little experiment works perfectly until she realizes her feelings for Aidan are suddenly not so platonic. And whether to stay just friends or try for something more is a decision that could change their friendship forever.
'…Getting involved on a physical level would change everything. But… How was she supposed to forget? How was she supposed to let it go? It wasn't the wanting that haunted her, it was the rightness of it all.'
Aidan's business, Mitchell Adventure Tours, has always been a steady resource for hook-ups with the lovely female tourists that abound. But it's been brought to his attention that he's become a bit of a playboy, something he's not proud of. Vowing to change his ways and give up women for a while, Shelby's experiment makes sense to Aidan so he agrees to spend time with her as a friend. He's surprised just how much he learns from her. But being near Shelby becomes a test of his willpower when he can no longer overlook his attraction to her. Is he ready to take their relationship to the next level? Or would it ruin the best friendship Aidan's ever had?
"I'd like you to come inside," he told her. "Then I'd like to make love with you."
She swung her head back to meet his gaze. Her eyes were wide, her expression surprised. "But you said…"
"I was wrong."
"About us being friends?"
"About me being able to resist you. I can't. But I need you to be sure. It's going to change everything."
Best of My Love turned out to be a truly sweet friends-to-lovers romance. I always enjoy my time in Fool's Gold, but this 'trip' was especially fun and had me longing for more time with these wonderful characters.
'Love meant giving, not taking. Love wasn't about making excuses… Love wasn't being stuck–it was about being set free.'
The premise behind this story was a pretty cool one, I thought. It was sort of a social experiment to see if Shelby and Aidan could strictly become friends and work on the personal issues they had regarding the opposite sex. Not really a man vs. woman thing, but a way to compare and contrast what makes them tick. What ended up happening was pure magic, with some incredibly comical–and some nicely poignant–moments. And not only did they get to the bottom of their issues, but they also became better people because of it.
There was a lot to love about Aidan and Shelby. They were both great people to begin with, but had grown up with difficult family problems which skewed their thoughts on love and trust. Their hopes with the experiment was that Shelby could trust men and believe that they wouldn't hurt her, physically or emotionally, and Aidan wanted something more long-term with a woman instead of a one-and-done attitude. Both were very admirable goals. But one thing got in their way: chemistry.
I loved the attraction between Shelby and Aidan. They certainly did become friends over the course of their experiment, but the sexual tension between them was just too much to ignore. And lucky for us, it made for some smoldering scenes! I loved the moments where they realized how their feelings were changing, especially when their friends pointed it out, but Aidan and Shelby kept denying it. Also, there were a ton of lighthearted scenes that spoke of the differences between what guys and ladies like to do for fun and it was a riot to see them getting involved in those pastimes.
At times thoughtful and tender and other times laugh-out-loud funny, Best of My Love was everything I look for in a romance from Susan Mallery. I think Shelby, Aidan, and his new canine companion Charlie, will win over the heart of just about every reader out there.
Book Info:

Publication: April 26th 2016 | by HQN Books | Fool's Gold #20
An irresistible new love story from the #1 New York Times bestselling author of the Fool's Gold series, set in a town Library Journal calls "so appealing, readers will want to start scoping out real estate."
To overcome her painful past, baker Shelby Gilmore goes on the hunt for a friend—a male friend—to convince her stubborn psyche that men can be trusted. But where in a town as small as Fool's Gold will the petite blonde find a guy willing to not date her?
Dark, charming Aidan Mitchell puts the "adventure" in Mitchell Adventure Tours…and into the beds of his many willing female tourists. Until he realizes he's inadvertently become that guy—the one-night Casanova—and worse, everyone in town knows it. Maybe Shelby's boy/girl experiment will help him see women as more than just conquests so he can change his ways and win back his self-respect.
As Aidan and Shelby explore the secret lives of men and women, the heat between them fires up the Fool's Gold rumor mill. If no one will believe they're just friends, maybe they should give the gossips something to really talk about!