Off the Hook by Laura Drewry: Kate has been a dedicated employee at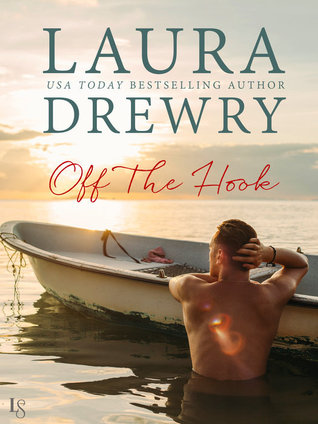 the Foster Group for a while and she's hoping that she'll finally get the promotion she's angling for if she can successfully renovate The Buoys. Except she didn't realize that her ex-husband is a part-owner of the fledgling fishing retreat. Liam has put everything into pulling the family fishing lodge out of debt, but he sort of has one foot ready to be out the door. Ever since being injured, he's been working towards healing his shoulder enough to get back into the majors as a relief pitcher.
Both are shocked to see each other after 10 years and they aren't exactly happy to be reunited. While both would like Kate to get on the next seaplane, they have their reasons for wanting or needing her to follow through and get The Buoys ready for the season. Kate has focused on her career ever since the divorce and she can't give up this opportunity.
"Well, you can understand how that might be unclear, since you've pretty much done nothing but talk at me, about me, or around me until now. But if you're asking me how I feel about working here with you, then my answer would be simple. I don't have a problem with it, because even I made it out of eighth grade."
It's pretty awkward to have your ex-wife essentially move in and then be so dependent upon her for the family business to stay in the family. It doesn't help when they immediately recognize that the chemistry is still there. Kate handles the situation with grace, especially considering how they came to be divorced in the first place. Before long both Liam and Kate are remembering all of the best parts of their crazy week in Vegas together.
"Yeah, I have a vague memory about something like that," he said, laughing when she snorted behind her wool.
"Then you'll agree neither one of us wants to make that mistake again."
"'Course not. But what if we just did the other stuff without getting married this time?"
Off the Hook is an entertaining, funny, and sexy second chance romance. Laura Drewry struck the right balance between the heavier, more serious or emotional parts with humor and heat. Ms. Drewry created great characters and plenty of banter. Fans of Kimberly Lang, Jenna Sutton, and Marie Force will enjoy Off the Hook.
Book Info:

 Publication: April 12th 2016 | Loveswept | Fishing for Trouble #1
Welcome to The Buoys, a West Coast haven where love comes in with the tide. Perfect for readers of Jill Shalvis and Susan Mallery, the Fishing for Trouble series features three unforgettable brothers—each of whom is a great catch.
Major league pitcher Liam O'Donnell knows his best days are probably behind him, but that doesn't mean he's ready to retire and become a fishing guide. Still, after all the time he's spent chasing his dreams, he owes it to his brothers to pull his weight around the lodge. The Buoys is their father's legacy, and they can't let some developer take it from them. The one snag Liam isn't counting on is a blast from the past: his ex-wife.
The moment Kate Hadley steps out of the seaplane, she knows this assignment is going to be trickier than she thought. She has to persuade the owners to sell—and one of them is Liam O'Donnell. Ten years ago, she made the biggest mistake of her life when she married Liam during a fling in Vegas. Now he's her only lifeline in the middle of nowhere. Kate's trying to keep things cool, but Liam just reminds her of the scorching few nights they spent together—and tempts her to make new memories that are just as steamy as the old.