ionR: 
Reading Book Reviews!
When to Read a Review: Before, After or During a Novel?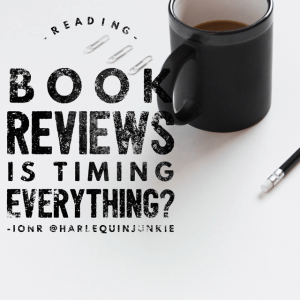 Today we are taking a break from our more heavier topics that we have been discussing here at HJ to examine when is the best time (if any) that a reader should read a review. We hope that you will once again join us.

As I have previously indicated in similar articles I am a professional book reviewer. The title is a little too fancy for myself. Basically all I do is write reviews for companies (not HJ) and publishers to receive earnings for a number of those reviews written whether or not my opinion is positive or negative. In reality I consider myself to be nothing more than a reader who loves to read and that is why I started reviewing in the first place.

For myself I think reading the opinions of others when grading a novel is a good place to start when discovering a new series or author. We all have our own opinions, we all grade novels differently and as we have learned from the HJ community we all know what we want out of romance novels and their authors. Yet, when is the best time to actually read a review written about a certain novel?

I have done some research this past week to find the correct answer to this question and as you have likely guessed there is no best time to read a review. Yes, that is right there is no right time and the reason is simple, everything is based on the reader as an individual. Now, publishers would likely disagree with me about my statement as reviews are meant to influence readers into reading a new series, new release or a debut author. I for one do not read any reviews until after I finished my own reading of the material. The reason? I grade any novel/author as honestly as possible and do not want any outside influence to broaden my judgement.

Still, what about reading a review before the start of reading something new. Of course! As I just mentioned publishers that I have spoken to would highly encourage readers to do this. Most reviews used by these publishers are meant to excite the reader, comparison to well-know authors that have judge their fellow writers are meant to point the reader into the right direction and of course any review that is written in a positive way is going to inspire the reader to buy the book.

Now, let's discuss the last bit of the topic and that is-reading a review during the novel. Many of my fellow PR's do this. Most do it as a break from the reading (usually when the story is beginning to take a nose dive) to see what fellow reviewers are saying. This is meant to uplift the reviewer or the reader into continuing to read the story. Naturally if all the reviews are disagreeable with the author's writing tone then the decision to not finish the book has be based on those same reviews. To be fair I just want to point out that one should never in my opinion and in my experience in the four years that I have been professional reviewing should you ever stop reading a novel based on someone else's opinion, unless you absolutely fell you cannot read a single word forward in the book and if that is the case I think it is only fair to state so if plan to write a review for the novel.

In the end and for a large number of readers a person just wants to read without the annoyance of some reviewer telling them what to read. As I have mentioned to my main boss if I want to read a novel I plan to do so regardless of what others say and many readers feel the same way. Reviews are fun, entertaining and I enjoy writing my opinions and sharing it with others, but there is nothing wrong with just wanting to read.

Lastly as I have written at the start of the article it all comes down to you, the reader. These topics are meant to explore what you guys want and how you read a novel because it is YOU, that makes the largest difference in this billion-dollar industry. It isn't reviewers such as myself, nor the authors, but the readers that do truly have the say.
When do you think is the best time to read a review? Do you read reviews? If so please tell us why or why not you read reviews.