Bound by the Millionaire's Ring by Dani Collins is part of the Sauveterre Siblings series, about two sets of twins – Henri and Ramon,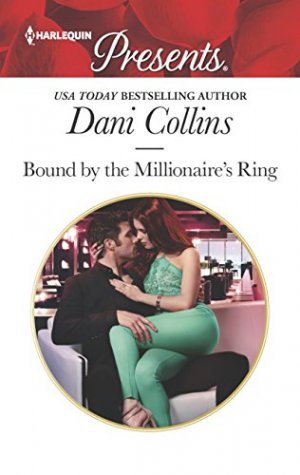 and their younger sisters Angelique and Trella – who come from a wealthy Spanish and French background. The kidnapping of Trella at a young age, and the death of their father had profound impacts on all of them, and led to a permanent paparazzi following. Angelique and Henri have found their life partners in Pursued by the Desert Prince and His Mistress with Two Secrets, respectively. Ramon has always been the protective brother, and he once again finds himself in this role, only having drawn in an unwitting accomplice who captures his heart.
Ramon and his brother Henri work long and hard hours in their family business but with Henri occupied with his new wife and twin babies, Ramon finds himself taking over the Parisian office. He's a race car driver, a man who has always been something of a daredevil, but to protect his sister Trella, who is pregnant, from the paparazzi, he has decided to retire. He hopes the announcement will catch the press's attention. When it seems they are not biting, he sweetens the pot – by publicly proposing to longtime family friend and their public relations spokeswoman Isidora Garcia. It would be a match made in heaven, if only Isidora didn't hate his guts!
Isidora at one time had a childhood crush on Ramon, but it was broken irrevocably when she discovered Ramon leaving her mother's house one morning. He let her think he'd slept with her mother (a woman notorious for her love affairs) and she'd wanted nothing to do with him since then, accepting the PR job from Henri but with the knowledge that Ramon would rarely be at her office site. Ramon's public proposal puts Isidora on the spot but she is willing to put up with it for the sake of her friend Trella, if only for a short time. When she finds out why Ramon lied to her about what happened with her mother, her feelings towards him soften. The attraction between them sizzles and despite her misgivings, Isidora finds herself falling for Ramon. Can an impulsive engagement lead to a lifetime of happiness?
I read Angelique's story and really enjoyed it, so I was looking forward to reading another of the Sauveterre's siblings romances. I like how the siblings are close to each other and support each other. Each has their own guilt to contend with over Trella's kidnapping, and for Ramon, it led to a desire to never become too emotionally attached to someone, should something happen to them. It's why he ruthlessly cut off Isidora's growing feelings for him as a teenager (he's eight years older). Now though, he sees her as a very attractive woman and while he still wants to guard his heart, he is happy to share some sensual scenes with her, though only with her full consent.
The conflict in the story comes from Ramon's developing feelings for Isidora while still staunchly believing he can't risk something bad happening to someone he loves, so better not to love at all. As well, Isidora must find a way to forgive Ramon for all the hurt he's caused her. Family plays a key role and there are several scenes with both Isidora's estranged parents and Ramon's siblings. In the end, this couple gets their well deserved happy ending. I look forward to reading more about this enigmatic and complex family!

Book Info:

Publication: Sep 19, 2017 | Harlequin Presents | Sauveterre Siblings
The playboy's temporary fiancee Millionaire racing driver Ramon Sauveterre is no stranger to fame, but he'll do just about anything to keep the spotlight off his family. Including propose a decidedly short-term engagement to his gorgeous head of PR, Isidora Garcia! Isidora cannot forgive Ramon for dragging her into this farce–just as she'll never forgive him for the indiscretion that broke her heart. But while their relationship might be fake, the burning longing his kisses spark is all too real–and resisting Ramon's heated touch until the end of their arrangement proves utterly impossible…