Bride by Royal Decree by Caitlin Crews: The latest Harlequin Presents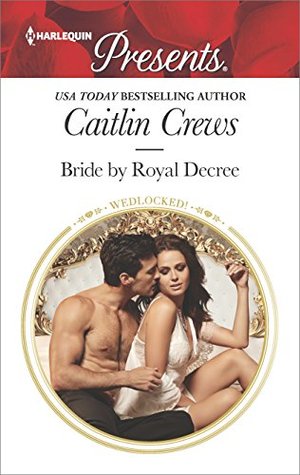 novel by Caitlin Crews takes a Cinderella theme and combines it with a Pygmalion transformation in a sexy and entertaining story.
Orphaned child Maggy ended up in the foster care system at the age of eight with amnesia and no knowledge of her past history. Tossed from one home to the next, she developed a hard exterior shell and her drive to survive is what sustained her when she was left alone again at 18 to fend for herself. Described as 'difficult', she's gone from one job to the next, her temper causing her grief, though her latest waitress job in a small resort town has been going well since she's curbed her tongue.
But things aren't always what they seem, and the night that Reza, powerful King of Constantine shows up in her coffee shop starts a whirlwind effect on her life. He claims she's really Magdalena, princess of Santa Domini and his betrothed bride since childhood. Thought to have died in the car crash that killed her parents, for mysterious reasons she ended up in America with no memory of her childhood. Discovering her by chance solely due to a photo and her uncanny resemblance to the late Queen, a blood test confirms the truth – she is really a princess, a foster child's dream turned reality. And Reza is determined that their betrothal will stand. He needs a wife, and an heir.
Maggy for her part is stunned, but quickly accepts the news. I mean, who wouldn't? The chance to play Princess doesn't come along every day, and though she still harbors a fear that it's all a dream, she's going to enjoy the charade for as long as she can. It's not hard to be attracted to Reza, the handsome, dominant King – but he tries hard to resist that attraction. His father was ruled by his emotions and not his mind, and Reza is determined not to make that mistake. He offers Maggy a cold and business-like arrangement – can she convince him that the fires burning between them will be long lasting?
Lots of introspective monologues in this one, with Reza and Maggy having multiple thoughts on their pasts and the present. Maggy takes to being a Princess very well. She proves herself to be a fighter from start to finish. I really liked her as a character, her quick wit and her fiery spirit. Some of that gets subdued in her transformation from street hoyden to royalty, though she can't contain all that heat for long, especially when she senses that Reza is having a hard time resisting her. She's not above seducing him, and though it's a slow burn romance, they share some very sensual love scenes in the second half.
Reza's internal fight over keeping Maggy at a distance so as to prevent any emotional intimacy lasts for quite a while, but eventually he gives in. I really enjoyed the setting of this one, the private island that is a family retreat is well described and the sumptuous royal life is one everyone would love to live (and a private spa, heaven!). It's an easy and enjoyable read and we get a sweet happy ending for this couple.

Book Info:

Publication: Jan 17, 2017 | Harlequin Presents | Wedlocked!
His lost princess bride!
King Reza abandoned the search for his childhood betrothed, Princess Magdalena, years ago. Until the shocking appearance of a photograph of the elusive princess reignites the legend that gripped his nation. Now Reza must return to the hunt and claim his queen!
Waitress Maggy's family history is a mystery, and even though she often dreamed of Prince Charming, he was never as devastatingly handsome as Reza! Fiercely independent, she won't accept her birthright on any terms but her own, so if Reza can't use legal bindings, he'll use sensual ones that Maggy will be helpless to resist!