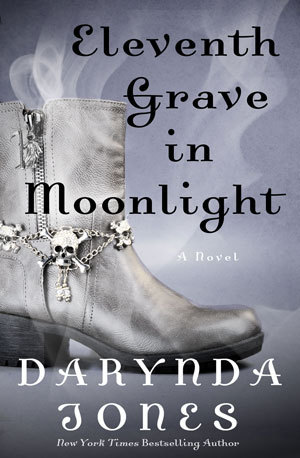 In Eleventh Grave in Moonlight (Charley Davidson #11) by Darynda Jones, Charley Davidson is a woman with a plan. Well, sort of. Since finding out she's a full-fledged god–in addition to already being a private investigator and the grim reaper–she's been on the hunt for another god who's bent on destruction here on earth. But in the process, the men in Charley's life, namely her delicious husband Reyes and her well-meaning Uncle Robert, are intent on not only telling her what to do but are also not keeping her informed of issues that could affect her personally. And that just doesn't fly with her at all.
'It was at that moment precisely that I knew I was staring into the cold eyes of true evil. Evil hiding under the guise of righteousness. It wasn't the first time and certainly wouldn't be the last, but it still astonished me.'
Charley and her quirky band of friends and loved ones are soon enmeshed in seemingly unrelated cases of abduction, abuse and even murder, wondering who would be capable of such horrific crimes. The answer is shocking and unravels to show years of deceit and bad intentions that strangely involves people Charley and Reyes have already had their eye on. But with their new daughter still in hiding and the lines between good and evil becoming even more blurred, the strength of their relationship will be tested in ways they could never have imagined in the many years they've known each other.
"I like to think that *that* part of him, the good part, is stronger than the evil part that emerged when he was forged in the fires of sin and raised by demons in a hell dimension. Though," I said, scooting closer, "the minute you get a load of him, your first thoughts will be the carnal kind, if you know what I mean." I gave her a conspiratorial wink. When she only stared, I added, "Boy's hot."
Reyes dipped his head, trying to hide a grin, as the doctor picked up her pen and started outlining again.
I'm still reeling after finishing Eleventh Grave in Moonlight, the exciting, explosive book eleven in the super popular Charley Davidson series. The pace was fast, the stakes were even higher, and with a whopper of an ending, who knows what will happen next. But I know I can't wait to find out!
'And then I realized the truth. I may have just made the biggest mistake of my entire existence. I may have just unleashed hell on earth.'
I'm honestly not sure how the fabulous Darynda Jones does it. Because every time I pick up the newest Charley Davidson novel I am completely swept away with the intricate plot, the steamy relationship between Charley & Reyes, and of course the giggle-worthy moments that us fans live for. And this book found many, many changes taking place, but we thankfully had Charley in rare form, back to her old pun-filled, lovable, sarcastic self. But there was also a maturity emerging as she dealt with being kept from her daughter and in learning her full range of power with the help of her oh-so devilishly handsome hubby Reyes. *sigh*
Now where this is a continuing storyline, building and changing from book to book, I would caution readers to start at the beginning. It will make for a better reading experience and the events will make more sense once you get up into the double digit installments like we are now. I do have to say that things were just as exciting and complicated as ever here. And I felt like even though Reyes & Charley and even Cookie & Robert were a bit at odds at times, the love these people had for each other continued to shine, making them all stronger for it. I also really enjoyed getting to know some of the other secondary characters better such as Amber and Osh and fell in love with them even more. Especially Osh. Who knew a demon could be so funny and likable?
Things are reaching a fever pitch for Charley, Reyes, and their crazy-sexy-funny group of friends and family. I have a feeling readers will need to be ready for the unexpected, have a lot of coffee on hand, and hold on tight for a wild ride when book twelve rolls around.
Book Info:

Expected publication: January 24th 2017 | by St. Martin's Press | Charley Davidson #11
A typical day in the life of Charley Davidson involves cheating husbands, missing people, errant wives, philandering business owners, and oh yeah…demons, hell hounds, evil gods, and dead people. Lots and lots of dead people. As a part time Private Investigator and full-time Grim Reaper, Charley has to balance the good, the bad, the undead, and those who want her dead. In this eleventh installment, Charley is learning to make peace with the fact that she is a goddess with all kinds of power and that her own daughter has been born to save the world from total destruction. But the forces of hell are determined to see Charley banished forever to the darkest corners of another dimension. With the son of Satan himself as her husband and world-rocking lover, maybe Charley can find a way to have her happily ever after after all.