Burn For Me (Secrets & Shadows 0.5) by Shiloh Walker: Burn For Me is a brisk, emotional, read. Shiloh Walker introduces readers to her latest contemporary series, Secrets &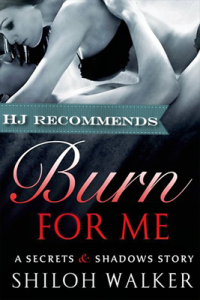 Shadows, with this novella featuring Tate Bell. I enjoyed the subtle suspenseful undertone that I believe will continue as a story arc throughout the next two novellas – about Tate's younger sisters – Break For Me (Jensen Bell) and Long For Me (Christina Bell).
Tate Bell was devastated by the mysterious disappearance of his mother fifteen years ago; it has overshadowed his entire life. Although he is written as emotionally unavailable the author allows his intensity to bleed though – creating a conflicted character. Ali completes the story; it is her strength that gives this novella backbone.
Book Info:

April 1st 2014 by St. Martin's Paperbacks | (Secrets &  Shadows 0.5)
Scarred long ago by the disappearance of his mother, Nichole, Tate Bell aches to spend his days and nights with Ali Holmes, a woman he's loved for years. But while Ali's heart pines to be with Tate, her head has reservations… Ali knows that Tate has never forgiven his father for the fight he had with Nichole right before she left the house—and was never heard from again. Ali thinks that Tate's unresolved anger is a force to be reckoned with…even though the heat that blazes between them is undeniable. Now both Tate and Ali are left to wonder: Can love really conquer all?