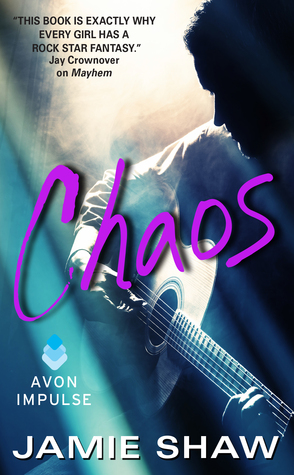 Chaos by Jamie Shaw: Three constants exist in Kit's life: her pushy family, her love for the guitar, and her love for the green-eyed rock star who, when he played in their school's talent show, started her on her love for the guitar.
When she was fifteen, Kit finally got her chance with eighteen year old Shawn, but he never called, hurting her lovelorn heart. Six years later, she auditions to be the new rhythm guitarist for his band, and since it appears he doesn't remember her, she's ready to never ever mention it to him. Preferring to just go on as friends, keeping her crush a secret.
What begins as friendship, with a hot spark of attraction mixed in, slowly leads to more as the band heads to tour. They argue constantly, trying to fight the building desire, but it only adds to the growing passion between them, even as they both hide secrets from each other.
"'Actually, no, you know what? You made it pretty damn clear you didn't want me in this band from day one. So, whatever, you got your fucking wish. I don't need this shit. I'm out. You –'
'You're amazing,' Shawn blurts, and every word I'd planned to heave at him gets stuck in the back of my throat. His green eyes sincere when he says, 'You're amazing, okay?'"
I could not put Chaos down. I absolutely loved reading it. They're fun-loving rock stars, but they're not the drugged up and whoring rockers so common in others of the same genre, making me like them a whole lot more. And I definitely plan on reading the two previous books in the series.
The conflict between Kit and Shaw is a bit juvenile, based on secrets that should have been shared, and yet it was oddly understandable. Normally, with this sort of conflict I'd be annoyed, but Shaw pulled it off pretty well, making me like the characters rather than be annoyed by them.
And I adored the side characters. Kit's family and Shawn's bandmates. All of them were hilarious and so cute together. I'm a sucker for the protective family bit, and Kit's family, especially her twin brother, hit the spot perfectly.
I wholly recommend Chaos by Jamie Shaw for romance readers, especially those a fan of the rock band romance.
Book Info:

 July 21, 2015 | Avon Impulse | Mayhem #3
From the moment she saw Shawn Scarlett perform at a school talent show, Kit Larson has loved two things: the guitar, and the gorgeous, green-eyed boy who inspired her to play. But one careless night in high school shatters her hope of ever being more than a notch on his bedpost.
Six years, two bands, and one mostly-mended heart later, Kit's about to make her rock star dreams a reality as the new guitarist for Shawn's band, The Last Ones to Know. He may not remember their reckless night together, but Kit has never forgotten… and she's determined to make him eat his heart out.
The release of their new album means a month cooped up on a tour bus, sleeping inches away from the ridiculously sexy musician she's never quite gotten over. And as Kit gets to know the real Shawn—not Shawn Scarlett, the rock god, the player—their attraction becomes too hot to resist. But the past is paved with secrets, and when they finally surface, Kit could lose everything: the band, the music, her dreams… and Shawn.