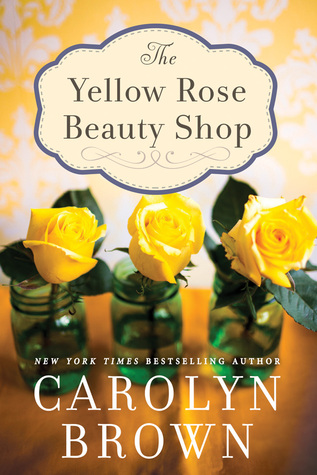 The Yellow Rose Beauty Shop by Carolyn Brown is utterly delightful. Filled with southern sass, charming characters, and an appealing storyline, this is one book readers need to put on their must read list.
It all started because of a prayer.
"Pray for my daughter. She needs a husband."
Those eight words caused a big commotion in Cadillac, Texas. Nancy Braxter put her daughter's name down on the prayer list, which in return, created a scandal as to why the daughter needed a husband. Just as it is with any small southern town, the gossip was plentiful and everyone had a reaction to the news….especially her daughter.
Stella Braxter's life turned to chaos when the prayer committee decides to put up a sign on the church lawn indicating everyone should pray for her because she needs a husband. She wants no part of this, but there isn't much she can do about it.
"The more you stir in shit, the worse it smells."
The only thing she can do is keep her head held high and laugh it off. Things might look bleak at the moment, but don't worry, she'll have the last laugh.
This story highlights the highs and lows of living in a small town and how important family and friends are. Every one of the characters in this story was significant and made an impact. Most of the characters were hilarious and lively, and together they enchanted me on small town living. Of course you have your catty busybodies in the town, who think they know everything, and know what's best for everyone, however God doesn't like ugly and karma will get them. The story also focuses on moving on from the past. We can't change what happened in the past, just learn from our mistakes and embrace our future.
I adored this story and honestly, anything Carolyn Brown writes is a pure gem. If you love romance, feel like laughing, or reading about close families and friends, definitely pick up this book!
Book Info:

July 14, 2015 | Montlake Romance | Cadillac, Texas #3
Stella's mama never should've put Stella on the church prayer list. With Stella's twenty-seventh birthday coming up fast, Nancy desperately wants to see her daughter married and giving her grandbabies. Petitioning heaven seems like a surefire way to get it done. But in Cadillac, Texas, where the gossip's hotter than the city's famous jalapeño peppers, it isn't long before all hell breaks loose.
Heather, the bossy leader of the church's Prayer Angels, thinks a summer ball will get Stella and the town's other single gals paired off. But nobody can tell redheaded spitfire Stella what to do—not her mama, not Heather, and not even the sexy beau Stella's been seeing in secret. Together, Stella, her best friends Charlotte and Piper, and the loyal customers of the Yellow Rose Beauty Shop hatch a good old-fashioned scheme to sabotage the ball. But will it wreck Stella's relationship with her mama forever? And what will the church folk think when Stella reveals the identity of her mystery man?