In All About Charming Alice by J. Alene Culiner, Alice Treemont lives in Blake's Folly, such a small community with only 52 residents, that everyone knows everyone's most intimate business, the cars are old, the music is bad, and the land is dry. Alice moved there after she got tired living in the spotlight of society and decided to leave it all behind. Now she spends her time cooking vegetarian meals, rescuing strays and saving the snakes from those who mistreat them.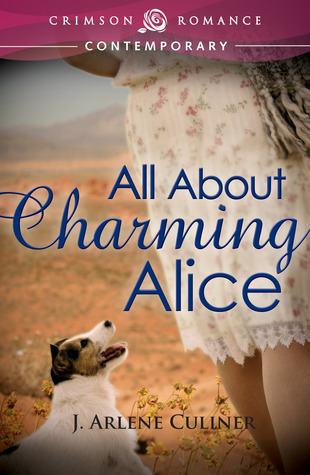 Jace Constant is a writer who lives in Chicago's high society, surrounded by elegant women, fine dining and art. While in Nevada doing research for his next book, Jace finds a stray dog on the freeway and decides to take it somewhere where it will be taken care of. When the guy at the station tells him where to take the dog, he expected an old lady or something similar, not the young pretty woman who answers the door.
Alice immediately knows that Jace means trouble for her, he can't stand the dust of the desert and keeps cleaning his shoes and car. He may be handsome, but he definitely would not be able to handle her lifestyle, while she would not be able to return to what is obviously his. So she decides to be just plain rude to him and accuse him of abandoning his dog, even if she can easily figure out it's not his.
What surprises Alice, is that days after leaving the dog, Jace returns to look into him and to enquire about the room she is renting. She cannot believe he honestly wants to be there, and she doesn't want him there. But with the towns second biggest gossip in her house fixing her water heater she won't be able to get away with the lie that she is no longer renting it.
Now having him under her roof, she will have to find a way to keep away from him as much as possible. If she has to be rude and be out most of the time so be it. But Jace will not allow her actions for long and he will find ways to make them interact when she least expects it.
Jace and Alice have some tough decisions to make, but first they must find out what they really want and find a way to convince the other to agree, compromise or change their priorities a little. Otherwise, they will both continue living in two separate worlds, but without the happiness and love they found in each other's arms, and in what most people consider a barren landscape but they have found the beauty in.
A great read done with a fun, quirky and different setting, that you won't be able to put it down until you know what happens next. Don't miss All About Charming Alice by J. Alene Culiner.
Book Info:

August 12th 2013 by Crimson Romance
Alice Treemont has given up hope of meeting the right man and falling in love. Living in depopulated Blake's Folly, a quirky community of rusting cars, old trailers, clapboard shacks and thirsty weeds, she spends her time cooking vegetarian meals, rescuing unwanted dogs and protecting the most unloved creatures on earth: snakes. What man would share those interests? Certainly not Jace Constant whose life in Chicago includes elegant women, fine dining and contemporary art.
Jace has come to Nevada to research the new book he's writing, but he won't be staying; as far as he's concerned, Blake's Folly is hell on earth. He's disgusted by desert dust on his fine Italian shoes, dog hair on his cashmere sweaters and by desert bleakness. As for snakes, he doesn't only despise them: they terrify him.
So how is it possible that each time Alice and Jace meet, the air sizzles? That she's as fascinated by him as he is by her? That they know their feelings go deeper than raw desire? Still, it looks like this relationship is doomed before it starts: Jace won't be around for long, and Alice wants to avoid the heartbreak of a short fling.
In need of some juicy romantic gossip, the other 52 residents of Blake's Folly have decided Alice has been alone for long enough. The attraction between her and Jace is obvious to everyone, so why worry about essential differences? If you trust in love, solutions do appear. But don't those solutions call for too many compromises, too much self-sacrifice?