In Heart of Venom (Elemental Assassin #9) by Jennifer Estep, Trouble seems to find Gin Blanco at every turn. Good thing she's a trained assassin. Her predecessor Fletcher taught her how to make quick, deadly work of anyone who threatened the safety of her family or the town of Ashland, for that matter, when she became "the Spider". Feared throughout the area by those living a life of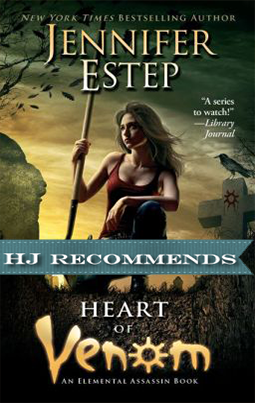 crime, Gin has earned a reputation as being ruthless and unforgiving. She's going to need that reputation to defeat a menace who kidnapped one of her close friends, Sophia.
'Because the other cold, hard fact was that Harley Grimes wasn't the only one who had a heart of venom. I did too.'
Gin will have to call on all her strength and powers, plus some of her Elemental friends to bring down their foe. She isn't sure if she can count Owen as one of those people to help her as their relationship has been dealt several blows recently. (See book #8 Deadly Sting) This situation finds them at a crossroads with Gin wondering what the end result will be. As long as she can save Sophia, then she'll deal with all of the consequences later.
'His eyes met mine, violet and gray, and the emotions roared over me again, even stronger than before–heat, desire, need, want, love.'
Heart of Venom is a prime example of why I enjoy Urban Fantasy. It's gritty, smart, sexy. But most importantly it has a complex plot and characters. I have to warn you: this is definitely not a sweepingly romantic, touchy-feely kind of book. Nor is it for the faint of heart. The action scenes Jennifer wrote are graphic and our heroine is as badass, sarcastic and cynical as they come. And I loved every second of this story. Don't get me wrong…there are still moments of passion and love. They're just layered in with knife fights and stuff getting blown up. Simply. Awesome.
'I embraced the rage until it was the only thing thrumming through my body–along with the will to survive.'
Gin is ruthless, making decisions that none of us want to be faced with and she does so with absolute conviction. The most important reason she fights is to protect her loved ones. She takes her anger and uses it to fuel her determination to rid Ashland of underworld scum and keep her friends and adopted family safe in the process. I got swept away in the epic action scenes, which were written so vividly it was like watching a movie. I could picture everything so clearly. The pace of the book was great, with action that just didn't stop. I love the Elemental aspect of the story as well, combining fight scenes with Air, Fire, and Ice abilities. It gives it that little bit of a fantasy twist that is so intriguing.
Don't be thrown off by the fact that this is book nine in the Elemental Assassin series and let it keep you from reading this amazing story. Jennifer did an excellent job including just enough of the backstory that you can read this as a standalone or make your way back through the series after reading this one. Which is exactly what I'm going to do.
This is an Urban Fantasy worth reading and rereading. Highly recommended!
Book Info:

Published August 27th 2013 by Pocket Books
The hotly anticipated ninth novel in the hugely popular Elemental Assassin series finds Gin Blanco on a dangerous mission to rescue a friend.
When a terror from the past threatens Gin's friend and body-disposer, Sophia, Gin will stop at nothing to protect her, even if it means walking straight into a killer's trap. Meanwhile, the rocky romance between Gin and Owen reaches a turning point—can they reunite and rekindle their love? Or will the things Gin has been forced to do in her line of work as the deadly assassin the Spider keep them apart forever? Assuming, that is, she survives long enough to find out…