Command Performance by Sara Jane Stone: According to Google, one of the top ten places to pick up men is at a car show. So professor and author Margaret Barlow and her best friend Olivia, get all dressed up and go to the local car show being held at the Hudson Valley fairgrounds to prowl for men. Maggie recently broke up with her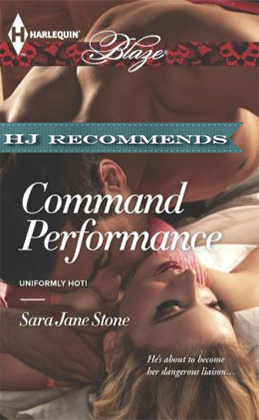 cheating, good for nothing, lack-luster in the bedroom fiance, and wants an orgasm or two desperately. She dreams of a no strings attached evening of mindless sex with the man being in total control of her pleasure.
Chief Warrant Officer and Army Ranger Hunter Cross is looking forward to being deployed once again. Although recovering nicely from a gun shot wound, he can't wait to return to the action, danger and thrill that his job provides. He is single and the only family he has is his sister Sierra. Sierra is an addict and all of Hunter's earnings go to her rehab facility costs. He is town on army business and at the car show helping his friend Riley shop for replacement parts.
Maggie notices Hunter a few minutes after she takes a seat at the bar. Their eyes connect and there is instant heat. After endless flirting and talking, Maggie lets Hunter know about her needs for the evening. Within a very short time, they are at his hotel and he is in charge. They both experience the best sex of their lives, plus something more. Maggie's orgasm needs are satisfied.
As each day goes by, both Maggie and Hunter are thinking about their incredible evening together. They are both truly happy, as well as surprised, when they discover that they will be working with each other on Maggie's new book. Maggie is interviewing Hunter and his teammates about their heroics while deployed in Afghanistan. So that the Army does not look incompetent, Hunter and his teammates are under orders to not divulge some of the non-heroic details.
Maggie and Hunter spend a lot of time together and end up falling hard for each other. Maggie's controlling and independent nature is superseded by Hunter in the bedroom, while Hunter's need for danger is being replaced by his lustful feelings for Maggie. However, truthfulness and trustworthiness is the foundation in any relationship, which they both have difficulty managing.
I really liked Ms. Stone's debut novel. Command Performance had just the right combination of romance, conflict and heat to keep my attention without any time-out for breaks. Yes, it is that good. The characters of Maggie and Hunter are well-developed, likeable and engaging. Ms. Stone was able to express their emotions, doubts and fears with palpable realism. The storyline flows effortlessly from beginning to end. I highly recommend this book.
Book Info:

Expected publication: September 17th 2013 by Harlequin Blaze Series , #770
Subject: Chief Warrant Officer Hunter Cross
Mission: Keep Margaret Barlow distracted…using any means necessary!
Ranger Hunter Cross is the army poster child—excitement, danger and no strings in sight. And he's been in town exactly three hours before a curvy blonde named Maggie flashes him a look that says "You belong in my bed." It's a night of wicked satisfaction. And it's a night they can never repeat….
All Professor Maggie Barlow wanted was an orgasm—or three— from the dead-sexy Ranger. Having him as her official army liaison while she works on her new book? That wasn't in the plan. Especially when she learns that Hunter has orders to "control" her. Little does the army know that when it comes to their deliciously naughty nighttime activities, Hunter is at Maggie's complete command….
Uniformly Hot! The Few. The Proud. The Sexy as Hell.